Mendocino Lake and Reports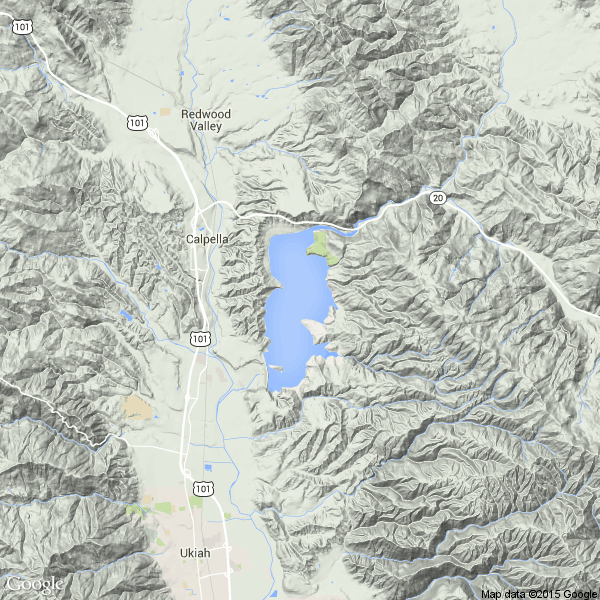 Click for Navionics/Google interactive map
Sunday, May 9


Monday, September 5th, 2005
Water Temp: n/a

Water Clarity: Muddy (0-2 foot visibility)

Report: ent camping this weekend. Friday evening fished from shore and caught a lot of little fish on top water and also a fat 3 lber. Decided to go back on saturday and caught some on DT's, drop shot and top water lost one that went about 3.5 to 4. Turned out to be a good trip before seeing a guy drown out there for not wearing a life jacket.
City: windsor

Tips: Always wear a lifr jacket no matter what!!
Monday, April 4th, 2005
Water Temp: 59 to 61

Water Clarity: Muddy (0-2 foot visibility)

Report: Fished Mendo monday and tuesday in the evening for a couple hours. Caught 5 nice fish on monday, 3 to 3.5 lbs and 3 quality fish on tuesday including a 6lb 13oz largemouth. Flipped senkos around any cover I could find.
City: Davis

Tips: Find staging areas and spawning areas with cover.
Wednesday, March 23rd, 2005
Water Temp: n/a

Water Clarity: Muddy (0-2 foot visibility)

Report: just wondering if anybody has fished lake mendocino lately. What are the bass bitting if their is any their, and were are they bitting. Does anybody have a clue were I can also catch crappie and on what
City: santa rosa
Friday, March 11th, 2005
Water Clarity: Stained (2-4 foot visibility)

Report: O.K. guys, for the July 4th trip, You want to get out early before the skiers and jet skis hit the water. Try your favorite topwater (mine is the Zara Spook in bass or shad) along the end of points or dam. The dam always holds both small and largemouth and will produce in the morning. Also, try long point, across the lake and just north from the south boat ramp. Topwater on the flat until the sun hits the water and then pull off to deeper water with jigs and dropshot until the skiers make you so mad that you want to scream and then go find some deep water out of the way and dropshot red and green pumpkin 4-6" worms. Deep water and shade are a must in July. As far as catfish....stinkbait, worms, and bloodbait all work well at night. Throw it out on a big hook and grab the ice chest of Bud and be glad you ain't workin'.
Stripers are a hit and miss proposition here at Lake Mendo. If you hit it right (April,May/Sept, Oct are usually best) it is a blast. If you are in a boat, you "chase" them. In the morning, they will drive schools of shad to the surface and feed or as we call it"boil". This is so fun to do, you run up to the boiling fish but not into them. You must stop as soon as you can reach them with a cast and stop the boat and shut off your motor. This is important because if you run into the school or leave your motor running they will spook and disappear. If you are in a boat with a trolling motor, throw it down and follow the school as you fish. If they stay up, the school will drift and this will allow you to stay within casting distance without firing up the big motor and spooking the fish. Cast a white fluke or Bass Assassin rigged weightless on at least a 2/0 hook into the boil and twitch it. Ripbaits also work well at time. Stipers "lock" onto the size of the bait they are feeding on so try to use a size close to their food. You will see dead shad floating after they boil. Then hang on for a great time. I use a 7' spinning rod spooled with 10 florocarbon for the best action. If your there at the wrong time, forget it. You can try trolling deep diving plugs in shad pattern but that is best in March and April only. If you are on the bank, try headless anchovies off the bottom.
City: Ukiah

Tips: Hope this helped. Please remember to be courtious to others fishihg around you. This is a small lake and gets real crowded in the summer. See you out there.

Tight lines and good luck!
Tuesday, March 8th, 2005
Water Clarity: Muddy (0-2 foot visibility)

Report: going up there 4th of july weekend any body know what to use for bass. Might try catfishing at night so it would help if someone gave me some tips.
City: windsor

Water Clarity: Muddy (0-2 foot visibility)

Report: Does anybody have any repots. I need tips on catching striped bass and catfish in lake mendocino
City: windsor
Wednesday, January 5th, 2005
Water Temp: n/a

Water Clarity: Muddy (0-2 foot visibility)

Report: Mendo Bassers in Ukiah is currently seeking new members for our small but growing bass club. We meet on the second Tuesday of each month and fish usually the following Saturday. We fish mostly Clear Lake but also fish a few on Mendocino, Sonoma and Pilsbury. This is a low cost/low payout club in which our goal is for everyone to have a good time while maybe learning or teaching a few things about the sport of bass fishing depending on your level of fishing knowledge. If you are interested or want more info, e-mail me your contact info and I will fill you in.
City: Ukiah

Tips: Attending meetings is encouraged but not required so out of town members are welcome. We welcome boaters as well as non-boaters.
Friday, October 17th, 2003
Water Clarity: Clear (4+ foot visibility)

Report: On the water 8 A.M to 1 P.M. Caught 5 our ish. Fish the entire lake using crank baits. 1 ish came in shallow water in a cove and the other three in 10 eet o water on rock points. Not very productive didn't see any stripers boiling.

Tips: Stick with crank baits and ind the points.
Tuesday, March 25th, 2003
Water Temp: 55 to 59

Water Clarity: Stained (2-4 foot visibility)

Report: Storm ront moved in over night,on the water at 6:00 and headed to barn cove and missed one on a spinnerbait, headed to another cove were I had 2 the night beore and did'nt even get a nibble. Cloud cover thickening and temp dropping. Ran to big cove and got one small one in the back o the cove on a spinnerbait. A little break in the cloud cover started to get the ish a little more active and brought the shad and the stripers up. A buddy that went with me got one striper on a spinnerbait and a couple o bass rom 1.5 to 2.5 lbs, one smallmouth at the back end o the cove on a big lat. It was just a small school o stripers today, they actually suraced right next to the boat tearing up shad, it looked to be about a dozen ish or so. Continued around the cove covering water with a spinnerbait and lucky crat bevy shad, picked up 5 more on the spinnerbait one healthy 3lb 5oz'er and the rest in the 2lb ot 2.5lb range. Let big cove and went over to the dam area and picked a 2.5lber. Buddy got a good smallmouth on a spinnerbait on a shallow point about 3 to 5 eet deep. Weather started getting real nasty and was o the water by 3:00. Tough day, but still managed a couple o good ish.
City: Ukiah

Tips: Get the lake right now while its hot, not alot o bass isherman, mostly striper isherman on the lake right now. Through blades and crankbaits to cover some water and locate ish, i you ind one there are usually a ew more there. The good weather seems to turn the bass and the bait ish on. Fish Hard and Be Patient.
Monday, March 24th, 2003
Water Temp: 57 to 61

Water Clarity: Stained (2-4 foot visibility)

Report: Headed out late monday, on the water by 4:45 pm. Headed straight to big cove and started throwing blades down the north bank, grey skirt w/ silver and copper blades. Just about to the end o the cove, threw one cast right along a grass line, two cranks later a nice 5lb 3oz emale with a ull belly hammered the blades, a good ight, ripped some drag. Got one more in big cove, smallest ish all year a dink. Ran over to a cove just south o barn cove and landed 2 more nice 3lber's eeding on shad piled up in the back o the cove. Hit barn cove just beore it got to dark and had a hawg hit it right at the boat and throw it just as quick as he hit it. I estimated a good 6 to 7 lber, gaugeing by the size o its bucketmouth I saw my spinnerbait come out o just as it came to the surace. STILL FEELING BITTER! Finished the night o good with a 3lb 10oz largie on the last cast. O the water by 7:00 pm.
City: Ukiah
Tuesday, March 18th, 2003
Water Temp: 55 to 59

Water Clarity: Stained (2-4 foot visibility)

Report: Launched out o the south boat ramp by 7:00 am, headed straight across to big cove. Paralleled the right bank with a Castaic Trout, no takers. Hit the 2nd cut down the right side and nailed a good 3lb 7oz largemouth in a manzanita tree about ten eet deep on a black/chartreuse jig n pig at 7:15. Cover the rest o the right side throwing a spinnerbait, but to no avail. Scootted over to the let side and say a big school o stripers chasing shad. Creeped into the school and starting throwing a Lucky Crat Bevy Shad and hooked up on 3 landed 2. 7lb 11oz'er and a 7lb 15oz'er, great ights on 8lb test spinning gear. As soon as the cloud cover cleared by 8:15, the stipers went deep and the bass came up chasing and tearing up the shad. Worked a 50 yard strip o bank down the let side about 3 to 12 eet deep, and absolutely slaughtered the smallies and largies with the Bevy Shad, trout color. Pulled 5 smallies going rom 2lb 2oz to a nice 3lb 6oz. Nailed 7 largemouth rom 2lb 5oz to a eeding emale that went 4lb 9oz. At one point I had 4 ish on 4 casts. Let big cove at about 11:00 and ran down to the mouth o the river, a little muddier and colder water, no bites. Ran up to barn cove and caught a smallie and largie on the bevy shad and 2 on a white/silver spinnerbait with silver and copper blades. All ish were in the 2lb to 3lb range. O the water by 1:00 and had boated 6 smallies, 10 largemouths and 2 stipers. The best day I have ever had anywhere or poundage and quality, 5 ish limit went 19lbs 2ozs.
City: Ukiah

Tips: Fish the coves, the bass are eeding on anything they can get right now, i you locate shad you will ind ish not ar.
Saturday, March 15th, 2003
Water Temp: 55-59

Water Clarity: Stained (2-4 foot visibility)

Report: Like Jason said, Lots o nice big, healthy looking ish in the coves. We had a great time, got out late, 4:30pm, but stuck nice ish till sundown. Best I have ever seen Mendocino.
City: ukiah

Tips: White crank baits and slow moving big swim baits.
Sunday, September 16th, 2001
Water Clarity: Clear (4+ foot visibility)

Report: GOT OUT LATE, AROUND 9:30. TRIED WHITE AND CHART SPINNERS, BLACK/PURPLE JIG, 4 IN AND 6 IN WORMS IN VARIOUS COLORS, GRUBS, CRANKBAITS......NOTHING. GOT A HIT ON A 4 IN PURPLE PADDLE TAIL WORM, BUT WAS ASLEEP AT THE WHEEL. DON'T KNOW WHAT WORKS ON THIS LAKE.
City: SANTA ROSA
Thursday, May 24th, 2001
Water Temp: dunno

Water Clarity: Clear (4+ foot visibility)

Report: i actually didn't ish but this is or scot.
City: RP

Tips: I used to go out there every memorial weekend but not or the last 2 years or so. But it seems alot o striper luck has been trolling minnows under a split shot or two at the lat next to the mouth o the river. Also right around ther corner rom that past the small rock wall there is a big drain pipe that shoots into the water ishing o that at about 7 am is good also. For large, small, punkin, crappie ish the northern bank when you can. watch out or kids. I have seen some monster bass while ishing there. The oddest thing i have ever seen o that bank is a 16" crappier being caught by a 10 YO punk i was campin with on a peice o HOTDOG (???). I dunno how he did it but it was a nice ish.-+
Sunday, March 25th, 2001
Water Clarity: Clear (4+ foot visibility)

Report: I'm posting this with hopes that some one out there in the ishing community can help. On Sunday night,03/24/01, sometime ater 10:00 p.m. I had all o my ishing gear stolen out o the back o my truck in the vicinity o west college ave. and Stony point rd. in Santa Rosa. my gear consisted o;One G-Loomis medium-heavy 6 1/2 t. spinning rod with a silver rear drag quickire reel.One FLW burnt orange medium-heavy 6 1/2 t. baitcasting rod with a red Quantom baitcasting reel that was in serious need o a tune up.One Bill Dance blue 7 Ft. medium heavy baitcasting rod with a silver baitcasting reel.One red 6 t. medium action spinning rod with a silver rear drag spinning reel.one green plastic lat type tackle box with a white double lid(creates two level storage)illed with numerous plastic baits, hooks, wieghts, etc.One brown and ivory split lid tackle box with side latches and six trays(3 small and 3 large) illed with numerous crank baits, spinner baits, top waters, a box containing Cabella's 31 piece jig kit, a box containing a 5 piece scum rog and popper rog kit, Castaic threadin shad and many other blade, spoon and swimm baits. I any one comes across any o these items or can assist in there recovery in any way please contact me at 546-3401 or e-mail me at randy@ren-o-masters.com. As most o you can understand, ishing is my passion. Please help i you can. Thank you
City: Santa Rosa
Wednesday, July 26th, 2000
Water Temp: 74

Water Clarity: Stained (2-4 foot visibility)

Report: Stripers weren't biten today. Only got one strike while I was trolling a broken back rebel. I seen a couple o blueguile on the dams edge. Lake won't get better or bassin'till next spring.
City: Gualala

Tips: I you go striper ishin', sink anchovies to the bottombetween the two islands by the dam.
Sunday, May 7th, 2000
Water Temp: 61 F

Water Clarity: Stained (2-4 foot visibility)

Report: Sonoma County Belly Boat Bass Club ished Blue Lakes on Sunday, May 7. Winning weight or team tournie (7 ish) was 17+ lb, with all ish coming rom clear lake. Second place (& day's big ish o 5+ lb) or 14.84 lb or 5 ish came rom mud lake. Third place was 13.3 lb, with 7 ish rom both lakes. 19 anglers took part. Bass went or spinnerbaits, sot plastics, jigs & a ew or crankbaits.
City: Santa Rosa

Tips: *** I you're interested in loat tube club, check out our web page @ www.tweenit.com/scbbc/index.htm, or e-mail me. We hold monthly events @ various lakes & waterways in North Bay. Meetings 1st Wednesday o each month @ 7 PM @ Coddingtown Round Table Pizza. ***
Monday, December 27th, 1999
Water Temp: 50's

Water Clarity: Clear (4+ foot visibility)

Report: **********TERRIBLE***********Don't waste your time coming up here!!!The striped, largemouth & smallmouth bass up here should be put on the endangered species list, because I think they all let. I haven't caught a ish or months here, and I was talking to some guys that haven't seen a ish pulled out o this lake or quite some time!
City: Rohnert Park

Tips: Don't waste your time coming here
Sunday, September 5th, 1999
Water Temp: 72 - 76 F

Water Clarity: Stained (2-4 foot visibility)

Report: Fished Blue Lakes (lower lake)on Sunday aternoon with another loat tuber. We combined to catch 6 bass on sot plastics & crankbaits. Lake has good algae bloom going. *** Float Tubers/Kick Boaters: Sonoma County Belly Boat Bass Club is holding event @ Blue Lakes (near Ukiah) this Sunday, September 12th. I you'd like more ino re: event or club in general, e-mail me or check out our website @ www.tweenit.com/scbbc. ***
City: Santa Rosa

Tips: Saw some big ish splashing around in the shallows. This is one great bass lake.
Friday, June 18th, 1999
Water Temp: 65

Water Clarity: Clear (4+ foot visibility)

Report: This is a test o the automatic report cgi
City: San Jose

Tips: lets hope it worksFishing Reports or Lake Mendocino