Mendocino Lake and Reports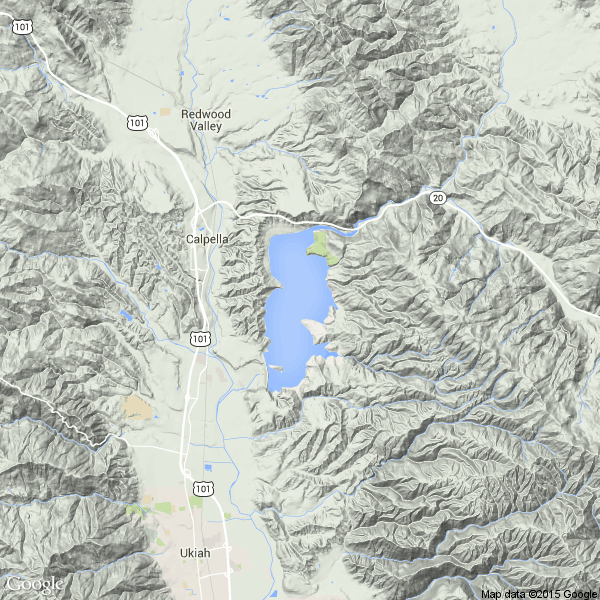 Click for Navionics/Google interactive map
Sunday, May 9


Thursday, March 12th, 2009
Water Temp: STILL COLD

Water Clarity: Muddy (0-2 foot visibility)

Report: Took a chance fishing the island for smallies on a buzz bait. Surprisingly, picked up two (a 4 an a 1.5). This bite only lasted for an hour at best in the morning. The water level still really needs to come up for the fishing to turn on. There is o much great structure that is still high and dry right now.
City: Ukiah

Tips: Pray for rain!!
Tuesday, March 10th, 2009
Water Temp: COLD!

Water Clarity: Muddy (0-2 foot visibility)

Report: With freezing temps in the morning, the Smallmouth bite was the only option. Caught three (two 4's and a 2.5) on a white spinnerbait shorefishing the river channel at the north end. The bite COMPLETELY shuts down by 10:30 at the latest.
City: Ukiah

Tips: Slowrolling a spinnerbait along the bottom.
Monday, May 12th, 2008
Water Temp: 66-70

Water Clarity: Stained (2-4 foot visibility)

Report: First time to the lake in two years. Camped at Kyen which is great since you can launch your boat right there and park it on the beach for the duration of your stay. Fished Saturday and Sunday Morning and Saturday Afternoon. Saturday afternoon was a bust with only a 12 volt trolling motor, it was next to impossible to hold a position to fish. Saturday morning was okay. Found a creek channel with a nice population of small males that liked senko type baits. Caught three keepers and missed a couple more. All three fish were in the 1 lb range. Had some shaker striper bashing bait all around , but couldn't find anything they were interested in. Sunday morning was better. pulled up on a secondary point and on the second cast with a swim bait nailed a nice 24 inch striper. That was it for the striper, but the largemoth would not leave me alone. Caught four on the swim bait, three on a drop in the submerged bushes off this point, another 2 on the senko and two more on a fluke.
Best five went 9 pounds. Not huge but not a bad three hours of fishing. Would have stayed longer, but we had to break camp and head home.
City: Sonoma

Tips: Keep trying different lures and colors until something works. They loved the water melon black flake senko and the ghost color Maverick swimbait. Unfortunately I only had one left and it got trashed by the Striper. So I threw it a few more times and caught two more before it was history Put the hitch pattern on instead and caught a couple more, but no where near as consistent as it looked like the ghost pattern was going to produce.
Saturday, March 29th, 2008
Water Clarity: Clear (4+ foot visibility)

Report: I forgot the most important pieces of info.Of the fish we boated the weights ranged from 1# to 1 3/4# the large mouth that broke my line looked 8# + you could fit a cantalope in it's mouth we boated around 20 fish.
City: Ft.Bragg Ca.

Water Temp: 56-57

Water Clarity: Clear (4+ foot visibility)

Report: Me and the wife, Bassgirl, fished worms and tubes today ,and caught several large and smallmouth bass. We started at the mouth of the river on the north side working the bank and the first drop-off. I tossed a smoke and purple 5" worm, no weight, let it settle to the bottom and worked it back slowwww stop and go .They would hit it as I started the retrieve again.On the south bank of the river there is a shelf with a quick drop-off, caught a few switching between the worm and a 3 1/2" tube in Blue Gill pattern,1/4 oz. slipin weight. When we got up on the shelf I casted the tube toward the shore, next to a bush and let it settle down. When I took up the slack, My line was going left pretty fast. I set the hook three times, this fish was heavy,I worked to the boat and thought this was going to be a short fight. As the bass went under my boat it saw me move and broke me off with two flicks of it's tail. You would have thought I spooled my reel with thread cuz my rod hardly moved, the line just went "Tink". Then we moved to two other midlake shorlines we like to fish and caught fish at both of them using the same technique. O'l Bassgirl caught her fish using a 3 1/2",1/4 oz. tube in a browncraw pattern with the same technique
City: Ft. Bragg,Ca.

Tips: I think most of the fish we caught today were males. The change in weather has got the on guard,be patient and you'll catch fish. Also don't be shy,leave your own report!!!!!
Wednesday, May 9th, 2007
Water Temp: 72 Degrees

Water Clarity: Stained (2-4 foot visibility)

Report: Went out this evening looking for boils. It was very slow, saw a few small boils. lots of boats fishing for stripers. The last 10 minute before dark we saw a huge boil, lasted for an easy 7 to 10 minutes. we landed three fat hogs! the biggest was 10lbs. The other two were around 3 to 5 lbs. After that it got dark.
City: Ukiah, Ca

Tips: Any thing that looks like a shad. the bigger the bait the better!!
Friday, April 27th, 2007
Water Temp: 64 Degrees

Water Clarity: Stained (2-4 foot visibility)

Report: Wnet fishing on saturday morning at 7:00am, picked up a large mouth with a kast-master in a cove.4 pounder! Sunday morning i went back to the same cove and picked up a 8 pounder, striper on the same lure. it slowed down and we went to the cliffs by the old winery,landed a 10.5 pound striper.few boils not to many.few minutes late a friend picked up an 18inch stiper on a rapala. it was a great day on the lake more to come!!
City: Ukiah

Tips: look for boils!
Sunday, April 8th, 2007
Water Temp: 60-62

Water Clarity: Stained (2-4 foot visibility)

Report: Went out on the lake today with two of my friends it was their first time bass fishing so they were really pumped. We started out on the south end parking lot My second cast i picked up a about a two and a half pound smallie on a clear lake hitch rip bait. Then we went and fished the bridge on the dam my friends first cast he picked up about a two pound largemouth dropshotin a shop special. Then I picked up my swimbait and the fun began . Caught two three pounders on a chartruse and white 8" inch swimbait also a couple of twos and fours my biggest went about 6 and a half. Then we were down at the little cove behind where the dock is at the end of the dam and saw about a five sittin on a bed with her male so i put on a big green brushhog i worked her about an hour and finally i threw up on her nose and she went crazy so theere was another big on so after that i picked up three more and we split because the wind was pickin up and my friends weren't doin to good. So i caught over fifteen fish today my individual weight would of gone about 26 and a half so it was a great day to get out of the house and get on the lake.
City: Ukiah

Tips: When the wind picks up you wil want a dark ripbait if you just want to haVE fun but if you are lookin for big fish have a big chartruse and white swimbait tied on leave your drop shot at home, well good luck and tight lines.
Sunday, April 1st, 2007
Water Temp: 58-62

Water Clarity: Stained (2-4 foot visibility)

Report: Launched with Dad again about 7:00 AM. We landed 6 fish in the first 2 hours, 1.5 - 2 lbs and one big boy at 8.0 lbs. Should have just gone home then. Landed 2 more in the next 4 hours but what can I complain about? Great day!
City: Hidden Valley Lake

Tips: Water is still cool. Nothing would hit by crank bait. Still fishing slow on the bottom.
Saturday, March 24th, 2007
Water Temp: 60-62

Water Clarity: Stained (2-4 foot visibility)

Report: Went out and fished a club tournament saturday. i wasn;t expecting the bite to be red hot but i hoped we would get some fish but i was wrong. At least we didn't. There were 8 teams everyone but us got a limit. We started out at long point my partner got one on a speed trap then we fished two rock i lost two there on a blade.Then we went to cropy and watched three guys in a 12 foot aluminum pull out about a 15 pound limit we couldn't get touched there so then we went to the dam could'nt get bit there either. I threw everything i could think of but didn't get touched until about ten minutes before weigh in i threw my drop shot up in about 1 foot of water on the dam and after two seconds there went my line i set up fought er for about 1 minute had her at the boat it was at least five and a half but the hook would'nt stay in her mouth so that was that we took last with 3 fish for 4.82 pounds.
City: Ukiah

Tips: STAY HOME!!!!!!!!!!!!!!!!!!!
Saturday, March 17th, 2007
Water Temp: 64

Water Clarity: Muddy (0-2 foot visibility)

Report: Headed out with wife and dog. Haven't fished this lake in about 10 years so I thought we would try out our new boat somewhere other than the Delta. Managed 4 bass from secondary points on same dropshot setup I kill 'em with on the delta. All fish were from 3 to 5 lbs. Lost 2 other large bass that threw the hook at the boat. Also landed one on a craw colored lucky craft lipless crank bait. This fish went about 3 lbs. Long drive for me but I will surely be back very soon. Much better than I remember when I fished here with my grandfather as a kid.
City: Antioch

Tips: Watermelon/black flake 6" yamamoto dropshot worms fished in coves and on points on Eastern side of lake.

Water Temp: 62

Water Clarity: Stained (2-4 foot visibility)

Report: Crappie bite was great my boy's and I took home slabs all caught on a little jig.
City: Ukiah
Monday, January 15th, 2007
Water Temp: 46

Water Clarity: Stained (2-4 foot visibility)

Report: Fished with Dad. Launched about 11 AM, fished until 2:45 PM. Fished sinkos very slow for about an hour with no luck. Started fishing a creature bait, red/purple, very slow Texas rigged, 5 - 20 ft. of water where access to deeper water is near. All bites were pressure bites except one that tried to jerk my pole out of the boat because I laid it down. We landed 6 nice bass. One smallie and 5 largemouth to 3 lbs. no dinks. It was a great day on the lake.
City: Hidden Valley Lake

Tips: Each time you pick up your rod tip feel the bait. Most of the time if there is a fish, it just doesn't feel right. Sometimes your bait just isn't where it is supposed to be. Don't expect to feel the fish hit.
Monday, December 4th, 2006
Water Temp: ?????

Water Clarity: Muddy (0-2 foot visibility)

Report: DOES ANYBODY FIDSH THIS LAKE NEED HELP
City: MOUNTAIN VIEW
Saturday, May 13th, 2006
Water Temp: 69-71

Water Clarity: Stained (2-4 foot visibility)

Report: Camped and fished two days and had a great time catching tons of shaker stripers (none bigger than 15 inches) throwing rattle traps at boils. Too many to count. Also caught three largemouth biggest about 4 on gulp worms. Also caught an 8lb catfish on a gulp worm. Lots of fun and the best time I've had on Mendocino since we started this annual trip 4 years ago.
City: Sonoma

Tips: Throwing a rattle trap at boils was an almost guaranteed hookup. I only wish there was some size to 'em. Th lmb were all sitting on wood and hit the worm as soon as it hit the water. Bites were just few and far between.
Thursday, May 4th, 2006
Water Temp: 70 degrees

Water Clarity: Muddy (0-2 foot visibility)

Report: Today I went strpier fishing with a few buddys, we chaced the stripers while they were boiling. WE say about 15 boils, got to at least 8 of them. We brought in 6 stripers ranging from 28 to 32inches. I brought in 4 all from 8 to 12lbs. Two of my friends brought in one each, from 8 to 10 pounds.It was a great day to chase stripers. We fished from 6:30 till dark.

Tips: none!
Sunday, April 23rd, 2006
Water Clarity: Stained (2-4 foot visibility)

Report: I know everyone is ready to go fishing...Mendo is starting to fish well, (out of boat or float tube) Sunday I launched out of North ramp, and fished the west side of lake from my kayak.
landed 4 nice small mouth and one Largemouth in a few hours. Best luck came on a shad colored rattle trap, but also had luck on black rooster tail and shad colored diver (crank). Get out, have fun, catch and release.
City: Santa Rosa
Thursday, April 20th, 2006
Water Temp: 55

Water Clarity: Stained (2-4 foot visibility)

Report: Fished the west side of the lake in coves. Threw a green spinner bait and caught 2 that were between 2 or 3lbs. Went back to get the boat out of the water and decided to throw a jerk bait and caught one smalley and a striper.
Had a good day and hope to see more people out on the water.
City: Ukiah

Tips: If you got it throw it cause everything is starting to work. Good luck every one...
Monday, April 17th, 2006
Water Temp: 55

Water Clarity: Stained (2-4 foot visibility)

Report: Fished for Smallies off the bank on the south side and caught 4, two were pushing three pounds and the others were about 1.5. I caught them on a pumkin seed gitzit tube jig with green flakes. fish hit hard and fast.
A couple guys from a boat were hitting the smallies on spinner baits and jerk baits.
City: Ukiah

Tips: Try everything you got because there starting to bite on everything good luck and good fishing...
Saturday, February 25th, 2006
Water Temp: 50

Water Clarity: Stained (2-4 foot visibility)

Report: Hi my name is casey im 13 years old,i went out to mendocino today caught five nice fish including a 8 and a half. I started throwing a swim bait then tied on a blade and nailed a 8.then caught three on a drop shot.right before i left i caught a 3 pound smallie on a crank bait.
City: ukiah

Tips: throw spinner baits deep water and drop shot deep water.throw cranks shallow and try to find rock pillings.