Clear Lake and Reports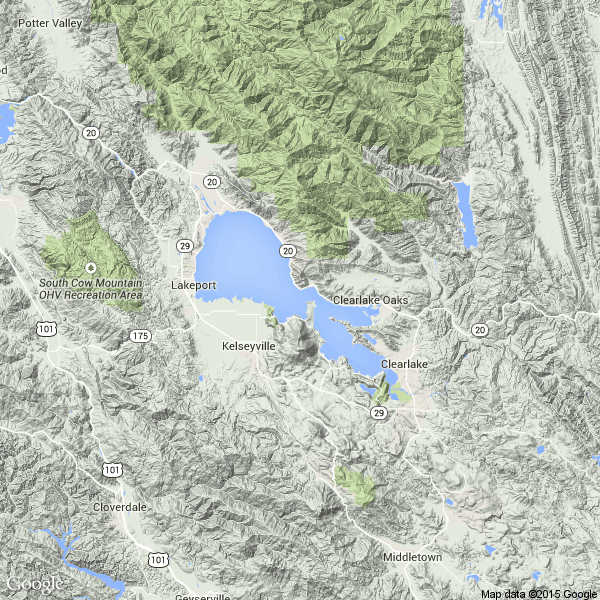 Click for Navionics/Google interactive map
Thursday, Feb 20

Sunday, July 14th, 2019
Water Temp: 75

Water Clarity: Clear (4+ foot visibility)

Report: Fished Clearlake the last week from July 7th- 12th. The algae is still not nearly as bad as it usually is for this time a year, there is a little bit of a bloom starting in the south end. The weeds are still not matted either like they usually are this time of year. Fished mainly the north end of the lake. Top water (frogs and whopper ploppers) worked great early in the morning and late In the evening. I was throwing whopper ploppers over submerged grass and along the edge of the tules. Caught a couple squarebill fish but nothing too crazy. Once the sun came up I flipped senkos and jigs under all of the cover ( docks, tules, and brush). Deeper water was also working midday using drop shots and jigs on offshore rock piles. Overall it was a good trip. Get out before the sun comes up and when the sun starts to go down to catch the best fish. I will be posting more reports because I go up to Clearlake almost every weekend. Thanks, Nate. If you get the chance check out my YouTube video, I will be posting more as my camera skills improve. Thank you guys and good luck! https://m.youtube.com/watch?v=9KCdaFeNw0A

Tips: Fish early, don't be afraid to throw the frog deep in the tules/weeds.
Sunday, June 30th, 2019
Water Temp: 70-80

Water Clarity: Stained (2-4 foot visibility)

Report: I finally fished Clearlake this Saturday. I'm moving out of California and I needed to make this trip and fish it once. Some friendly members here gave me some advice. I thought it might be interesting to post what I did and how I went at it as a newcomer. I had only one day to learn and fish the lake, thus I had to split my valuable time graphing and fishing.

First impressions....wow what a lake, compared to what we get near San Jose. The defining feature of the lake to me is how abundantly diverse the cover is. There's tules, submerged vegetation, rocks, docks, mats, laydowns, dropoffs, rock walls, seawalls. I don't know if I just came at a certain time, but if there's a type of fishing you like, you can do it. Most lakes have a handful of techniques that work at a particular time of the year. My impression at Clearlake was you could do whatever you wanted and still have some success. You wanna spend all day flipping tules? Go ahead. Drop shot rocks and docks? Sure why not. Crank all day? The world's your oyster. I could go on but I digress.....

I wanted to fish Friday night but it was too windy and dangerous. Saturday 6:30am I launched out of Clear Lake State Park. I immediately started flipping tules. It's the first obvious thing you see and very tempting. However, you can waste a lot of time and get trapped doing so. Plus everyone and their grandmother flips tules. It's the basic bitch pumpkin spice latte technique of fishing. I saw at least 8 boats at Quercus Point. There is submerged vegetation now and the fish are dispersed. I saw some people pick off fish here and there flipping shallow but I quickly changed strategies. Remembering the advice about rocks, I looked at my navionics and tried to find some. This is where having a good map card really helps. This particular one had good contour lines and lots of labels of potential spots. Shag Rock really stood out to me. I made the run there from Quercus point and quickly graphed rocks. I tied a dropshot with a googan baits drag n drop, and quickly caught a few 2-3 lbers. I then tied on a Keitech football jig with a Keitech crazy flapper and caught a few more. All healthy 2-3 lbers. The drop shot and finesse jig would be my primary weapons.

Having caught all the fish I could around Shag Rock, I consulted the map again. There are just so many viable spots, it was hard to choose. I decided to keep my radius short and made my way to Soda Bay, which seemed to have docks near deep water. Again, having a map card really really helps. I picked off more fish at the docks. Saw a guide and his 3 clients on a boat. All 3 clients were fishing dropshots. Saw them catch some. Caught a few more at the docks then I then graphed around a little more to try and eliminate water. Ate lunch, then went back out, alternating between Shag Rock, Soda Bay, and near launch. Biggest was a nice 3, pushing 4 on the dropshot. Lost one of similar size. Came back out in the evening, the water was white capping and it was dangerous to venture out, so I stayed near the tules near launch. I got a new flipping stick and I was determined to catch some flipping. Managed to hook 3, land 2. Thus ended my trip. I didn't catch an enormous amount, or anything huge, but I learned a lot and made the most of my time. I saw people power fishing, dropshotting, jigging, flipping, all with varying degrees of success.

Tips: I don't have any other meaningful tips. Just fish the way you want, you'll probably catch something lol. The only thing that I didn't do much of was fish reaction. If you're at a new lake, use maps, online or a map card. Get good at reading contour lines, have the patience to spend time graphing, have some faith, and just go for it. It's easy to do what you're comfortable with, but what you're comfortable with won't work all the time. Another thing I noticed at at each spot there were a ton of boats. Usually that's a bad sign, but this lake is so loaded with fish, I would catch them side by side with other anglers. I can only imagine what I can do with a small crowd and more familiarity with the lake.
Thursday, June 27th, 2019
Report: by ash » Thu Jun 27, 2019 8:18 am

Word on the street is wide open bites, docks with deeper water and rock piles are seeing more action. The Brown Jig like Canopy Grenades CA Craw or Brown Purple are always good on Clear Lake. https://canopygrenades.com/collections/jigs/products/fbjca-craw Match it up with a Berkley Max Scent Meaty Chunk in Watermelon Red and hold on. If they want less action that Berkley Max Scent Creature Hog in Watermelon Red fits the crawdads up there. Bluegil brown purple with a purple trailer that MaxScent Chunk in Black and Blue has been great for me up there earlier this year.

You really cant go wrong right now drop shot a Max Scent Hit Worm Grande in bluegill or check out Texas Johns 10lber he caught on Monday on the Grande Lures Rattlesnack

Water Temp: 71.4

Water Clarity: Stained (2-4 foot visibility)

Report: Wow, what a difference a day makes! We started at 10 pm Weds night & it was chilly! The wind blew most of the night, the water temp went down 4 degrees in 24 hrs & the bite caught the last train outta town & went south! We boated only 7 fish and they were substantially smaller than last night. The wind restricted where we could fish so we hit the areas where we did really well last night. Once again they were hitting jigs & Texas rigged double wide beavers. We threw blades & crank a lot and were rewarded with a few short strikes. Ted did nail a nice 5lb 1 oz lean and mean post spawn fish & we managed a pair of treys with a few 2 1/2'ers. Best five went 16 lbs 1 oz & we felt fortunate to get them! Once again we fished Konocti & still feel they're on a crawdad pattern. I think when the weather stabilizes & warms up, it will be off to the races once again! Have a great 4th!

Tips: Throw jigs & double wide beavers or similar baits with red in them. We tried a few other color patterns with no success. Tonight they preferred a slower presentation barely crawling over the rocks. Look for rocky structure off of points and rockpiles. It was a great four days of fishing, we caught some numbers and a few nice fish! Glad to be back on the water and will be back in a few weeks!
Wednesday, June 26th, 2019
Water Temp: 75.2

Water Clarity: Stained (2-4 foot visibility)

Report: Ted & I started out on Sunday night and got into them right off the bat. We were fishing south in Konocti and were getting bit on wacky rigged senkos, Texas, blades & cranks. They were fairly tight and were plentiful ranging in the 2 1/2 - 4 lb range. Our biggest went 4lb 9 oz and our best 5 was around 19 lbs. Great starting night!

Monday saw us start around 6pm with the pattern being pretty much the same. The wind was very brisk, but the fish were a little bigger with our biggest going 4lb 12 oz and our best 5 a little over 22 lbs. The wind died down a little and we picked up a few jig fish with the other previous techniques. Wind stayed brisk all night and they were on rocky structure. Reaction bite was really good early but dwindled as it got later.

Tuesday, we started at 11 pm waiting on the wind to ease up. It didn't so we went out anyway & I'm glad we did! The reaction bite disappeared but the jig & Texas bite went nuts! We were limited on fishing area ducking the wind, but we found them on rocky structure off points & on rock piles! They were fairly deep, wanted a slower presentation, but when they hit, they plowed into the bait! Our best 5 went 28 lbs, 11 oz with our biggest at 7 lbs even. We tried like anything to cull our bottom fish to get to 30 lbs but the wind eventually blew us off of the water. We going out tomorrow night & I hope this pattern will stay the same! It was interesting to see the pattern shift in just one day! We couldn't buy a blade or crank fish when the two days prior, they were attacking it! Tonight they just went into full blown crayfish eating as the fish were puking up crawdad parts & their mouths were all red. Kind of like a kid with chocolate all over their face & the chocolate chip cookie jar's lid is off!

Tips: Everything we threw had some red in it. We threw double wide beavers or 1/2 oz jigs and never changed. If it ain't broke, don't fix it! Look for any rocky structure & work the bait slowly. When they hit it, it was with conviction! We got bit on every spot we fished to so they were definitely on the chew. We averaged around 20-25 fish per outing. We tried other creature or worm profiles but got no takers. Like I said earlier, they seemed to prefer baits with red in them & a slower presentation. Be safe, I'll post later for Weds night's action.
Thursday, June 13th, 2019
Water Temp: 76

Water Clarity: Stained (2-4 foot visibility)

Report: Well, I had a late start to this season due to hip replacement surgery but at least I can finally fish now! Wow Larry, sorry to hear about the close call! People like that are one of the reasons I favor fishing at night! We pulled into Konocti around 1 AM & saw a boat fishing dark! If I wasn't using my spotlight and came in 20 feet closer to the left, it could have been close!

Tuesday Ted & I decided to give Mendocino a try during the day. Wow, it was hot & so was the water. Make a long story short, we got off after 45 minutes & one 2 lber. Fished Clear starting at 10 PM & the bite was really good! They were hitting jigs, Texas rig, & senkos. After a bit, Ted asks if they hit drop shot at night to which I reply " I don't know " since I don't throw it very often. Had one rigged from Mendo so I pop an Iovino 6" straight tail green weenie on and they were on it in a big way. We probably caught 40 fish ranging 2 - 3+lbs but also had a 6.8 & 4.6 off of the jig. We were south once again. The jig & senko fish were tight again off of rocky structure or in front of tules. We moved a lot but caught fish everywhere we stopped. No reaction fish to speak of. We went out again Weds night fishing the same pattern. Found some a little deeper in the 15 ft range, but were up close too. Didn't get anything over 4 lbs & it was a bit slower, but around 2 AM they started hitting spinner baits. That lasted for about an hour then things slowed down but it was nice when it lasted! Best five Tues nite went around 22lbs, Weds nite a little over 16lbs. Color we used was watermelon with red flake on the jig trailers, senkos, and the Texas rigged baits. The Iovino worms were the big hit on the drop shot.

Tips: Look for structure with some deeper water in front of it. Weeds are a problem mucking your rigs up shallow. Move around a lot & throw tight then deeper. Rig your drop shot with enough tag to keep the worm above the weeds & twitch slowly. The jigs were presented slowly with light twitches. We also downsized our Texas weights to get thru the weeds. Senkos, Toss them as close as you can, you either get bit or a mucked up senko! We were able to fish some moderate wind both nights, gotta love the ultrex! All in all this was a fun trip! We didn't run into any really big toads, but we caught a bunch of fish! Beats working any day in my book!
Wednesday, June 12th, 2019
Water Temp: 74-77

Water Clarity: Stained (2-4 foot visibility)

Report: Oh NO - hide the bass - CLUM is back!!! Some former clients just keep coming back for more fun!! Seriously, I thought your report was right on. I took a former client - good friend, to Clear Lake yesterday. Yes, CLUM, I do day trips too! We found the bite to be pretty good in the early morning for bass up to 4 lbs. Several in the 2 to 3 lb range. Walls (shadows), pilings, and weed edges were our structures. Totally flat water. Once in awhile a small breeze would come up, helping to survive the upcoming heat! Finally the lake want totally flat - and hot! No wonder CLUM and I night fish!!! After 11 am, we caught one here and there but the bite slowly died. back to the ramp by 1 pm! Fun trip until we got near the Red Bud ramp. Please KEEP reading!!!

Tips: You.ve heard the term "WATCH YOUR BACKSIDE" !! Well, it happened again! We were traveling south, straight towards Red Bud, just off the pipeline, maybe 125 yards offshore. I am about the make the left turn towards the ramp but hadn't started yet. My client yells 'WATCH OUT" and here is a pleasure boat of some kind doing about 20-25 MPH about TEN FEET on my left side, trying to cross in front of me. This is a wide open lake area with no other structures or boats around. What goes thru a mind like that - IF there is a mind at all!! I don't think I was targeted - he would have not know me or my boat. That would not have been the end of it had I been alone, and there was no time to get his CF numbers. It takes a minute of two to recover from something like that!! He was heading to the west side of the sound end, past the houses.


Keep you eyes open on Clear Lake!!!
Tuesday, June 11th, 2019
Water Temp: 76

Water Clarity: Stained (2-4 foot visibility)

Report: Fished last night & today and they were active. Only problem was the biggest ones topped out at three lbs! We fished south with the exception of fishing highway 20 across from Buckingham. Pretty much caught fish at all of the stops. The mucky weeds are really prevalent right now. If you want to fish jigs or Texas ect, you have to fish around 15 ft to get away from them. Trouble was we found them shallow. Decided to throw senkos to minimize the muck & it was on! So we had a great time but just couldn't stick a big one or two! Anyway, still a bunch of fun and with this Lake, you never know when that next hookset is a toad! Biggest five went around 15 lbs.

Tips: We found them tight against weeds or tules! Look for deeper water in front of the structure and cast as tight as you can. Tried fishing deeper, but no takers. Senkos were the hottest, but got a few on Texas rigged Yamamoto Cowboys in areas with minimal weeds. Stay safe out there and have fun!
Thursday, June 6th, 2019
Report: by On The Water Guide Service » Thu Jun 06, 2019 9:13 pm

An early summer pattern is finally beginning to emerge up here at Clear Lake. I couldn't hardly believe how much rain we got in the month of May and there was plenty of wind to go with it. The lake level has been holding relatively steady with the Rumsey gauge at 7.39 and water temps have been ranging from the low to mid 70's for the most part. Both ends of the lake have decent water clarity with about 2' to 3 1/2' visibility depending upon where you are at. Bass fishing is good right now with both ends producing some fish on a number of different techniques. I have been catching a few first thing in the morning on a Rico in the Tennessee shad and John Murray bass color. I have also caught some better size fish on the River2Sea Whopper Plopper 130 in the colors of Munky Butt and Terminator. I have been trying the double buzzbait quite a bit but haven't been real successful yet. water temps might need to heat up just a little more. The frog bite is starting to pick up a bit despite the overall lack of weed mats on the lake. The majority of the frog fish I have been catching have all been in areas where the floating duck weed has gathered together in a corner or pocket creating a little shelf for the bass to get under. I have been using the 2 5/8" Kopper Live Target frog with a nice quiet underhand pitch with no splash. twitch...twitch...boom!

There is also a good jig bite going on all around the lake. In the north end, I have been skipping a 3/8oz jig under docks and in the south end I have been throwing a 1/2oz on rock piles, ledges, and deep docks with crawdad colors working the best. A whacky rigged Senko is a good bait to be throwing on the tule edges and under docks right now. I Have been also catching quite a few fish on a drop shot and Ned rig at all the concrete and metal headwalls all around the lake. I have heard of a few guys getting fish on crank baits and chatter baits as well. Crappie action is fair and they are biting in the morning if you can find them. I had a couple clients catch and release about 18 in a one hour period. We were using a chartreuse pan fish assassin with a sliding bobber. Some giant catfish have been caught recently by fisherman using mackerel, shrimp and night crawlers. Some of the better spots for the catfish have been the bridge at Rodman Slough and also by Rattlesnake island.

The major bass tournaments are all winding down. The lake is full and in beautiful shape. It is a great time to hook up the boat and head up for some hydrotherapy. We will see you guys out on the water.
Good fishing, Troy Bellah
https://bassfishingclearlake.com/
Saturday, June 1st, 2019
Water Temp: 70-71

Water Clarity: Stained (2-4 foot visibility)

Report: Round two at Clear Lake started as a big surprise! I drove in to meet my clients about 4 pm at Red Bud and was shocked!! The tournament started on Friday!! I guess everyone knew except me!!! Anyway, fun to talk to some of my friends in the tournament. I guess near 25 lbs was leading. My grandfather/grandson team were ready to go and we launched as everyone was leaving!! We fished until midnight. What a difference in the bite from two nights ago - nearly a dead bite! I was happy to have a little action myself in landing a 5 and 6.1 lb bass - one at dusk and one about 10 pm. Was very happy that we all could see some larger bass. They caught a few up to 2 1/4 lbs. In fact the grandson caught their biggest at a spot I saved for last - stroke of midnight!! That's the way to end a slow trip!! Again - very slow bite.

Tips: It is amazing how well a recovered post-spawn female bass can fight - especially at night. That is a largemouth fight at its best!! They cam really pull when lean and mean!!!! We used Power worms, Yamamoto Cowboys, and jigs. The two big bass were caught on 6" Berkley Power Plus ribbed worms. Just what they wanted at night. They worked two nights ago too!


Lake was dead clam at dusk and until we quit. Swatted the bugs for a longer time at dusk - no wind! Glad they don't bite. Gone in about 20 minutes. Bass that did hit were very aggressive. Best 5 at 19 lbs - pretty good trip.
Thursday, May 30th, 2019
Water Temp: 70-71

Water Clarity: Stained (2-4 foot visibility)

Report: Mike Sperbeck and I decided to try some late afternoon-night fishing at Clear Lake, Since most of my guide trips have been at Berryessa this year, I thought that sounded like fun! We got to Red Bud about 2 pm and found that many, many folks had the same idea. Might have been some tournament, but certainly lots of pre-fishing goin" on! We fished the south end and caught a few, here and there. The lake got quiet around 7 pm, but still some folks running here and there up until dark. We found a quiet area to fish the hour before dark - and the bite was ON! Almost like the 'ol days! It continued up until midnight when we called it a day - er, a night! Best 5 around 21+ pounds, and my biggest at 5.78 lbs. I caught that one about 11 pm. Great bite The bass moved up the hour before dark - 8 to 15 feet and were using newly formed weed edges. I love Berryessa but it is hard to beat those Clear Lake big largemouth. Man, they pull!

Tips: I did a little cranking with no results. The evening bite was too good with soft baits to do much else. Senkos were working well as always. Kreature baits were great too. Worm bite was fair. First time this year found us casting to targets (weed lines, wood) as the bass were in certain feeding positions. We weren't too rusty!! Mike lost a really big fish which didn't seem to be a catfish. She got into some underwater structure and that was that! Would have like to have seen that one. Had to be a bass we thought.
Monday, May 6th, 2019
Report: by On The Water Guide Service » Mon May 06, 2019 7:54 pm

unnamed.jpg
The spawn is on up here at Clear Lake. That huge full moon we had towards the middle of April got the first few waves of fish to move up and begin the spawning process. The lake is currently at the official "full" level of 7.50 on the Rumsey gauge which gives the fish plenty of back water areas to do their thing. water temps have been in the high 60's to low 70's range. Both ends of the lake have fish in all three stages; pre spawn, spawn, and post spawn. Sight fishing has been a little challenging in the north end with the combination of slightly stained water and with afternoon algae blooms and floating pollen on top of the water. The south end of the lake has a bit better water clarity but not much better.

Fishing has been pretty good despite quite a bit of pressure from all the tournaments and recreational fisherman. There is a good flipping bite right now on the tule edges and pockets. It is hard to beat a 5" or 6" whacky or Texas rigged weightless Senko right now. Drop shotting a plastic worm has also been highly effective in the same areas. You can catch a lot of fish just fan casting in areas with a gravel or hard bottom. There is a lot of post spawn fish suspended underneath the docks especially in the south end of the lake. just remember that by the time you see them, they have already seen you long before. you can throw the kitchen sink in there and they wont touch it. The key is to make a long skip cast to the next dock ahead. Not the dock the boat is currently on.

The very beginning of the topwater bite is just starting up around certain areas of the lake recently. There has been a few frog fish caught as well as a few Whopper Plopper fish. I have noticed huge clouds of fry up in the shallows and it wont be long until those fry guarders become fry eaters and the topwater bite will get crackin'. All we need is a good week of warm weather and it will get good.

The crappie have slowed down a bit now their spawn is pretty much wrapped up. Although they were harvested at an alarming rate from the lake all spring, you can still manage to catch a few if you find the right docks where they are holding under. Talked with some folks that were catching a few catfish off the public pier at Red Bud park on cut maceral and shrimp. I did see some good size Bluegill in the north end around isolated tule patches. And finally for you bow fisherman, there are some monster carp schooled up in the shallows messing up my bass fishing. So come up and get those suckers.

Tight Lines Y'all,
Troy Bellah
https://bassfishingclearlake.com/
Sunday, May 5th, 2019
Water Temp: 64

Water Clarity: Stained (2-4 foot visibility)

Report: Fished the southern end of the lake with good success. Found some post spawners and one sight fish. Post spawners were roaming and could be picked off with a reaction bait, Sexy Shad motif lipless was working well. Chartreuse/black back medium diving crank worked well too. Ned rig had turned off on me when I threw it, and so did the jig bite but after catching them on the cranks I just continued cranking all day/evening. Wind was minimal, sun was out, I figured I'd see more boats out this weekend but I didn't.

Tips: Chartreuse was working well with crankbaits, Sexy Shad to Chartreuse Black Back and everything inbetween.
Wednesday, May 1st, 2019
Water Temp: 69

Water Clarity: Stained (2-4 foot visibility)

Report: Fishing the southern part of the lake from 6am to 6pm. The day started slow with only 5 fish for the first 3 hours. All in the tules off sinko. All solid fish from 3 to 5.43 lb. Fished the rock in the 10 to 17 foot range and started to catch numbers all on jigs. Moved to docks and the frog fish came to play. Ended the day with 30 plus fish with the numbers coming on plastic under the docks and rocks.

Tips: All is working right know but things are changing and this great fishing will not last much longer. Don't forget to support the local tackle shops around the lake.
Sunday, April 28th, 2019
Water Temp: 62

Water Clarity: Stained (2-4 foot visibility)

Report: Spent the weekend in Lakeport with the family. Bass are in full spawn mode, we caught 9 sight fishing in the backyard of the house we rented. First morning at Rodman was our worst day with only 1 bass (and a very large Crappie), but it was our biggest of the trip. Spent the rest of the time fishing docs and the grasses in between them, up and down Lakeport. Everything came on plastics, either Senko or shakey heads of various colors. It wasn't our best trip for size or numbers but the ones we caught up to 3 1/2#'s were all fighters.
Friday, April 5th, 2019
Water Temp: 55

Water Clarity: Stained (2-4 foot visibility)

Report: Was on Clear Lake April 3rd-5th. The week prior had a nice warming trend with some sunny days, but naturally, when I arrived I brought the rain and cold temps with me.

The first day was the best day. We scored around 30 fish on the north end, mostly up shallow around the newly submerged areas. I was throwing all sorts of reaction junk - crankbaits, spinnerbaits, chatterbaits all produced about equally. I would change it up depending on the water clarity and the surrounding cover. My buddy had success on dark colored plastics, again mostly fished up shallow. Largest fish was 5 pounds - they are short and chunky right now!

After that, the bite seemed to continually decline parallel to the cooling trend. Had to fish significantly slower to draw bites, and the bites we got weren't nearly as aggressive as before. Still, we found them up shallow near the fresh cover - just had to work a little harder.

Heading back up in early May to hopefully catch some warmer conditions!
Thursday, March 28th, 2019
Report: by On The Water Guide Service » Thu Mar 28, 2019 7:33 pm

Enough with the rain already. I am starting to understand how those poor folks that live in Seattle feel. We sure have been slammed with storm after storm and what seems like record rainfall amounts this year. The last couple storms that rolled through were a lot colder coming down from the gulf of Alaska. This dropped the water temps back down to the lower fifties and for the most part has moved the bass back offshore a bit. This is that time of year where the bass move up shallow and then back out deep based on changing water temps and barometric pressure. The key is making the right adjustments with regard to your techniques and boat position to find them. This coming weekend should be great fishing with warming temperatures and highs in the seventies forecasted. I would look for the bass to head back towards the shore and to get back into a good pre- spawn feeding situation.

I would recommend fishing lures that you can quickly cover a lot of water like the A rig. Stay on the move until you catch one and then slow down and cover that area thoroughly with slower lures like a swimbait or jerk bait. A white chatter bait with a Keitech trailer has been working well out in front of the docks. I have also done well on a crawdad pattern square bill crank bait when the fish are up shallow on a hard rocky bottom. I talked with some anglers that were doing quite well and catching good numbers while throwing a 6" worm on the drop shot this past week.

Crappie action remains good especially in the north end with lot's of one to one and a half pound slabs being caught on a variety of different colored crappie jigs and small live minnows. The action should get even better this coming weekend with the warmer weather.

Tight Lines,
Troy Bellah
Friday, March 22nd, 2019
Water Temp: 52-54

Water Clarity: Muddy (0-2 foot visibility)

Report: I had a chance to guide a wonderful husband/wife team on Tues, two days after the big tournament on Sunday! Yea, the lake was it's usual quiet self - even on Tuesday!! But there was room to fish and fish we did. The bass greeted us with open mouths! The morning was cloudy, but very nice with calm water. That lasted for several hours and then things changed - quickly! The south wind came up, and up, and UP, and soon, everyone was running - sort of - to the 5th street ramp. My 21 foot Ranger did it's best to keep us dry, but there was as much water above us as below us!! As we got to the ramp, waves were coming straight in - tossing our boats around. Grown men were running for their vehicles everywhere!!! I got a little bit of the trailer in the water and waited for the next swell to place my boat on the trailer. Worked perfectly!! I only had to juice the Evinrude a bit to place the boat up snug at the top. I checked everything over, and not a scratch. Very grateful!!! I wish there was some protection for one or two of those ramps. Some kind of wall. Southeast winds can be real nasty up north.

Tips: Fishing was fairly good in the morning, though we didn't get out as early as I wished. We used a variety of baits - drop-shotting Robo worms, crankbaits, swim-jigs,and the new Yamamoto cowboys (great bait in dingy water!) The blue/black was the best color. Bass were pretty shallow and some where next to deeper docks. Not sure how many we caught, but several from 3 to 3 3/4 lbs. Best 5 about 14 - 15 lbs. We fished one of the long canals on the west side. it was either cleaned out over the weekend or the fish hadn't moved in yet. We were almost out to the main lake and - he catches a 2 pounder! Saved the reputation of that area!!!
Wednesday, March 20th, 2019
Water Temp: 54-58

Water Clarity: Stained (2-4 foot visibility)

Report: Four day trip with Pony Boy from the 20th through the 23rd. The BBT event was postponed, but we decided to spend the time on the lake anyway. Who doesn't want to be on Clear Lake in March when they have the opportunity, right? We launched at the casino every day, however fifth Street ramp is apparently been open for over a week now. Heard rumors of a reaction bite especially on A rigs and we saw lots of guys and gals throwing mostly reaction. However that was not the case for us. We threw jigs and plastics up on the north end and that worked well enough for us to catch just under 100 fish in the four day stretch. Our big fish was just over six and we caught quite a few between 3 1/2 and 4 pounds but no real giants on this trip. Most of the fish we did catch were as fat as footballs and put up excellent fights. Besides the 3 to 4 foot rollers and whitecaps on Friday, the real disappointment of the trip was other anglers with no common courtesy. It's unfortunate that you can be fishing a point, a rock pile, a dock and another boat is so inconsiderate that they will either drive their boat with their trolling motor between you and what you're fishing, or right over the top of where your fishing, or they put down their trolling motor had a far distance from where your fishing but then just creep up on your spot and start making the same cast that you're making right in front of you.Absolutely no communication or even a wave hello, but just the entitlement and attitude that they're the only real angler on the lake. Too bad we can't use the "jerk rule" while out on the water fun fishing and disqualify them from being on the lake for the rest of the day. However it is quite rewarding when somebody pulls up and starts pushing the same pile of rocks that you are and you stick a couple of fours and a six right in front of them and they don't catch diddley squat.

Tips: Communicate with your fellow anglers, be courteous, and either get there first or wait your turn until a boat has left the spot you want to fish. Keep your ears open for what the bite may be, but don't let that be your only resource because the bite is always changing so try other techniques.

Report: by On The Water Guide Service » Tue Mar 19, 2019 7:55 pm

The bite is really starting to heat up on Clear Lake. Spring has Sprung and the results of last weekends tournament is testament to that. I had a chance to get out today and do a little fun fishing with a friend of mine and we absolutely crushed them on the A-rig. Conditions were just perfect for the rig. We has a cloudy sky with a slight breeze coming out of the northwest and the water temps were 55* to 59* with slightly stained water and about a foot and a half visibility. Granted we didn't catch any real giants but we stumbled on a mega school of 2 to 4 pounders and the action was just phenomenal. I had intentions of going out and mixing it up between a swimbait, glide bait and the rig but for the life of me I just couldn't put that A-rig rod down. Hell I even caught a crappie on the darn thing. Lot's of Fun.

It appears we have a couple storms supposed to come through later this week but I suspect it wont hurt the bite any. The lake level is on a slow downward trend and was at 8.91 on the Rumsey scale this afternoon. We are only going to get a little over an inch so hopefully there won't be any flooding issues.
The Hitch have been swimming up the creeks and inlets on the first part of their spawning run and that means it is time to break out the big rods and get to work. The 7" and 8" top hook Tallon's have been working well in the light hitch and chartreuse shad colors. The locally made Trash Fish swimbait has also been working well in the LC hitch and light hitch colors. If throwing big baits is not your thing, try a 4.8 or 5.8 Keitech swimbait on a weighted EWG hook. Should be an epic flipping bite this summer with the high water conditions also.

The crappie bite is turning on and they are heading towards shore to set up for their spawn. Deep water docks, flooded bushes, and creek mouths have been good areas to catch them. Some of the more successful crappie fisherman have been using a sliding bobber technique with a chartreuse or white jig. The key is to find out the depth they are suspending at and set your bobber stop accordingly.

Tight Lines and good fishing,

Troy Bellah
https://bassfishingclearlake.com/