Shasta Lake and Reports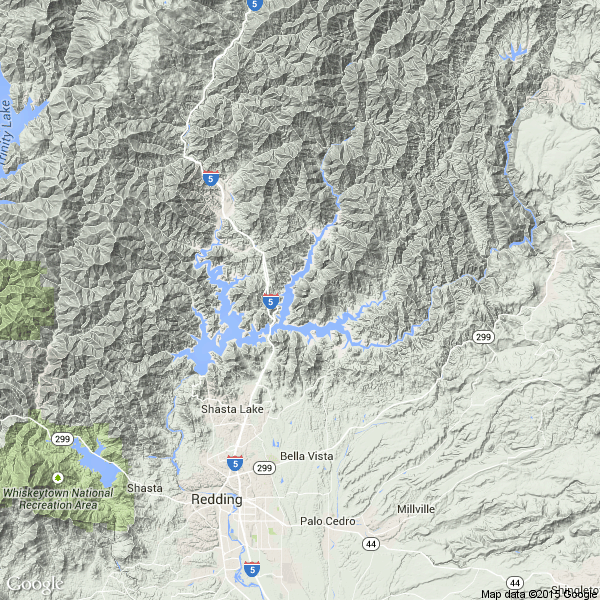 Click for Navionics/Google interactive map
Thursday, Jul 19
Storage

(ac. ft.)

Ouflow (ft.3/sec)
Inflow (ft.3/sec)
Precip.

(in.)

Evaporation (ft.3/sec)
3,343,285
10,729
2,357
0.00
344
Friday, Jul 20

Saturday, February 2nd, 2013
Water Temp: 47-49

Water Clarity: Stained (2-4 foot visibility)

Report: Left out of Antlers boat ramp again this time there was a guy out there dragging Logs in with a cable with his truck. Next time please dont block the boat ramp. 4 boats trying to launch and all of us had to launch away from the ramp because this guy was blocking it. He finally moved. Thank you. fished Jig heads with straight worms from 10 am to 5pm on sac arm. Got 13 spots and a Two pound plus Largemouth. Fish in 18 to 55 feet of water fished slow. Got a couple of reaction strikes with a 3/8 oz spinnerbait but didnt land em. Was a tough slow day but in the end , not bad again for wintertime. Most spots where right about 12 to 13 inches. Caught two dinks. Put em all back in the lake. Fish were very scattered and was mostly a very light bite.
City: Klamath falls

Tips: Be patient and try lots of different presentations . Spinner and ripbaits if the wind is blowing. When its calm and sunny , fish on the bottom . Mornings are slow. Better bite in the PM
Monday, January 21st, 2013
Water Temp: 48 to 51

Water Clarity: Stained (2-4 foot visibility)

Report: partner and i fished 1-19,20,21 from antlers ramp stayed in sac arm. lots of reaction bait fish in 2 to 8 ft deep. white blade and a-rig with 3 in swimbaits. with 3 1/8oz spinnerbaits worked well also. also later in day most caught on brown gitzits and brown and purple spider grubs. all 3 days fishing best 10 ft or less. must have been a trout stocking recently as we caught trout on everything we used. avg was 12-16 in on trout and spots typical 12-15 in. big fish was 2 1/2 for trip.
City: klamath falls
Saturday, January 19th, 2013
Water Temp: 46-48.5

Water Clarity: Stained (2-4 foot visibility)

Report: Fished near antlers marina from 930 am to 5pm. Got 16 spots 1 Largemouth (i have a photo of that one and a few spots) and two nice trout accidentally. Spots are bitin in water 15 to 60 feet of water some on bottom some suspended chasing shad. Fish slow in morning , and a little faster come evening time as they seemed to be more active later in the day. Most fish 12 to 14 inches, 13 inch largemouth and one kicker spot 3.5 pounds Caught on a jig on the way up in 50 ft of water. Not a bad day for winter time.
City: klamath falls

Tips: Fish slow in the morning and a little faster in the evening . Once the sun goes behind the mountain , then get off the lake....it will be freaking cold by then . Good luck , Tight Lines.
Saturday, November 3rd, 2012
Water Temp: 60.5-63.0

Water Clarity: Clear (4+ foot visibility)

Report: morning reaction bite sucked. no keepers on swims, blades or cranks. bite picked up about 11 am, though nothing chasing bait on top. graphed lots of fish and bait in the 18-30 foot range, but the best action was on slow worked jerk baits, light jigs or plastics. Managed just at 10 lbs for best five. Best fish barely over three.
City: Redding

Tips: use electronics, find fish and bait, if not ready to bite, move on to other areas and use your graph. come back to areas with bait balls and fish later as sooner or later they do turn on.
Saturday, October 20th, 2012
Water Clarity: Clear (4+ foot visibility)

Report: Fished the pit arm oct 20 midday. Limited out real quick drop shotting off the points of coves. Very little action on the top. Seems like most of the fish were 15-20ft deep.

Fished 6" aarons magic and morning dawn. Seems like aarons caught more fish but morning dawn was catching bigger ones. Most all fish were under 2lbs. easily couldve caught over 50 fish if i stayed on the lake all day.
City: redding

Tips: Start upwind from a point, let the wind assist you and troll around the point to the windless side. Work it real slow popping the drop shot down the bank from the point. Make sure to let the qeight hit the bottom and give it a couple seconds before shaking it down again. Fish will be holding just on the other side of the point waiting to ambush.
Friday, October 19th, 2012
Water Temp: 68

Water Clarity: Clear (4+ foot visibility)

Report: Fished Shasta Pit arm Oct 19 & 20, friday evening til 2am caught lots of 1.5 spots with only 1 going 2lbs, saturday went further up pit where water temp dropped and did very well with spider grub against the rocks, very few dinks and many 1.5 lbs up to 2.5, fished after dark til 1am and got more, biggest was 4lb 2oz spot, had one break my line that im sure was bigger, nightime bait was mostly brushog and some spinnerbait. Great trip with perfect weather

Tips: brush hogs and big spinnerbaits at night, spider grubs and some jerkbait daytime
Tuesday, October 16th, 2012
Water Temp: 68 to 74

Water Clarity: Stained (2-4 foot visibility)

Report: Hello All, I just got back from 3 days fishing Shasta. We fished the Pit arm. I saw lots of shad bait balls back in the coves but not many fish feeding on them. Saturday eve we fished the rock walls just outside of Jones Valley and the bass were feeding like crazy. I threw a white 3" s&p tube bait and killed for an hour and a half. We caught bass as fast as you could cast a land em. Most were typical 1 and a half pounders but some went to 3 lbs. SO MUCH FUN!!!! Get out there and search for those bait balls. When I did't see any we caught them on baby bass sincos, wacky and tight to the banks. Good luck
Monday, September 10th, 2012
Water Temp: 75

Water Clarity: Stained (2-4 foot visibility)

Report: On the water early, really slow buzzbait bite with a 5 degree drop in the water temp. Rat bite was slow, caught 2 nothing to brag about. Started to run main lake points and found bait and fish at 30 to 50 feet and tried spooning them with a DUH Spoon. Rick's spoon. Caught over 20 spooning. Look's like the fall spoon bite is getting started. Off the water at 11:00 am
City: NorCal

Tips: Move agound until you find them and put it in their face.
Thursday, August 23rd, 2012
Water Temp: 79.4

Water Clarity: Clear (4+ foot visibility)

Report: On the water again at 4:30 am armed with a black buzzbait with a black lizard trailer and an old school WATSON RAT. Caught a 2lb'er in no time. As it got light enough to see I started to play with the rat. I set up on a maim lake deep water chenk rock point thew the rat up tight and a 6 plus ate it. Moved around to the piers and no reaction bite. Dart head fish on the piers at atout 20 feet. Moved to a isolated rock pile in the middle of nowhere and found bass busting shad on the surface in spurts every ten minutes or so. Pick up my custom painted spook and just murdered them. Last fish of the day was a 5lb even that ate the spook so deep the rear hook was in his or her chrushers. Off at 9:30 am.
Awesome day.
City: Nor-cal

Tips: Get on the water early, look for bass busting shad after daylight. Work the main lake points early tight like on the bank. That bite only lasts no more than an hour.
Thursday, August 9th, 2012
Water Temp: 78

Water Clarity: Stained (2-4 foot visibility)

Report: on the water at 4:30am off at 9:30am. Looking for that early reaction bite. 2nd fish was a 3.5 spot on a modified black buzzbait. Caught 6 more in the first hour all weighable spots.Fished steep chunk rock keying on projections, points, and sides of points. Would not eat spooks, blades or rip baits. Found alot of bait and suspended fish on the side of points and no they would not eat an A-Rig. All buzzbaits.
City: Norcal

Tips: Stay on the chunk rock and then run shade. Get on the water in the dark and get off early.

Good Luck
Saturday, August 4th, 2012
Water Temp: 80

Water Clarity: Stained (2-4 foot visibility)

Report: Went fishing both Sat and Sunday up the pit arm. did well on Sat boating 15 dish and all were over 12 in which is good for me at Shasta. Fishing a Sammy type topwater bait in a white/chartruese color and following with a red worm dropshot rig. Sun. only fished for 2 hrs and boated 3 fish with one dink same pattern.

Tips: Have fun and enjoy the scenery.

Water Clarity: Muddy (0-2 foot visibility)

Report: Does anybody ever post a current fish report on this site any more?
If not where may I get an accurate lake report for Shasta Lake?
City: redding
Wednesday, June 6th, 2012
Water Clarity: Muddy (0-2 foot visibility)

Report: Thanks for posting about Jerry. His reports were always right on, with plenty of commentary and great information on everything from road and ramp conditions to the where the best hamburger joint could be found. I was sorry when he quit posting and will for sure think of him with the next cast.
City: Delta

Tips: Live every day without regret.
Thursday, May 31st, 2012
Water Temp: Low 70's

Water Clarity: Clear (4+ foot visibility)

Report: Bass fishing at Lake Shasta has still been great for numbers of fish caught. There are still fish in all stages of the spawn as the weather has not been consistent enough for them to really go. Look for them close to shore in the mornings with topwater baits and tubes and later in the day around the tree's with senkos. Look for a mid day crankbait bite in the mudlines once the boat traffic starts getting heavy.
City: Shasta Lake
Friday, May 25th, 2012
Water Temp: 69.0

Water Clarity: Clear (4+ foot visibility)

Report: Fished Sunday thru Wednesday. Good top water bite on Zara spook early and late on primary shallow points. Later went to plastics on same and in cover. Biggest 3# spot, 2# smallie.
City: Redding

Tips: Windy points best
Sunday, May 13th, 2012
Water Temp: 64-65

Water Clarity: Clear (4+ foot visibility)

Report: Launched at Jones Valley and run up the Pit for a 3 day camping trip. Spent morning trolling for trout at about 15-25 down, 150 feet behind boat. Hooked up 1-2 fish per hour in 80-130 feet of water (on both sides of the channel). Most ranged between 1 1/2 - 2 lbs. Caught one about 4 lbs off the bank, off bottom with a Berkley Gulp 4" minnow right at dusk (was a fluke I think). I was hoping to hit a catfish while cooking dinner but this huge trout took the bait. Wife reeled in one and bragged that she caught the biggest fish of the trip.
Mid-day I threw bushhogs (6" watermelon seed) and 8" brown power worms with lots of 1 lb spots hitting aggresively. At the last hour of the day, switched to Berkley Gulp minnows with no weight and threw into shallows in coves. What a fun time that was. Every cast we would hook a fish. They were fighting over this presentation. A few times the bass would jump out of the water and grab the lure before it hit the water. We were laughing and missing lots of hits. Fun time!
City: Cottonwood
Saturday, May 12th, 2012
Water Temp: 64

Water Clarity: Clear (4+ foot visibility)

Report: up the pit for 7 days, rented a house boat out of jones valley.( I highly recommend this company I've used them for over 20 years!)shasta clones by the hundreds. we used green tubes and 4" green wennies on 1/8oz jig heads. All bigger fish came on twin tails during the day and spin and buzz baits in the early morning and after the sun went down, we had several 2 1/2lb smallies and plenty 3-lb+ spots.Rock walls and any wood was the ticket.we openned up a few spotted clones one night for dinner, not a female in the bunch! good time had by all. Si
City: lakeview oregon
Friday, May 11th, 2012
Water Clarity: Muddy (0-2 foot visibility)

Report: Launched out of Packers Bay and proceeded to a few marinas. Had a few smaller fish on senior but nothing over 1#. Was kicked out of bridge bay but an guard with an attitude problem. Also tried flipping into submerged brush and picked up fish from 1 to 1.25#. Switched to darterhead and that was the ticket. 12 fish from 1.75 to 4 dragging across points and rocks walls. Fish were in less than 12 feet of water.
Thursday, May 10th, 2012
Water Clarity: Clear (4+ foot visibility)

Report: Bite is easy unless you are looking for keepers. Lots of dinks on senko so moved to jig and brushhog. managed some larger fish in about 10 to 15 feet of water with the largest at 3.5lb. Covered a ton of water and found the best fish off points in the Sac arm.
Ended the day with 12 keepers, with 9 off jig and 3 off brushhog. Best 5 at maybe 12lb.

Tips: As you would expect they wanted a bit of movement, so no need to dead stick. Bites were agressive and most of the fish seemed to have spawned out.
Wednesday, May 9th, 2012
Water Temp: 62 to 64

Water Clarity: Clear (4+ foot visibility)

Report: Lots of fish are being caught around the willow trees on weightless senkos and tubes on 1/8 oz. heads and flukes. Look for a topwater bite first thing in the morning and late afternoons on super spooks and poppers over main and secondary points
City: Shasta Lake

Tips: Senkos in Baby Bass, Natural Shad and smoke purple flake. Spooks in okie shad and bone white and poppers in baby bass, bone white and silver blue.