New Melones Lake and Reports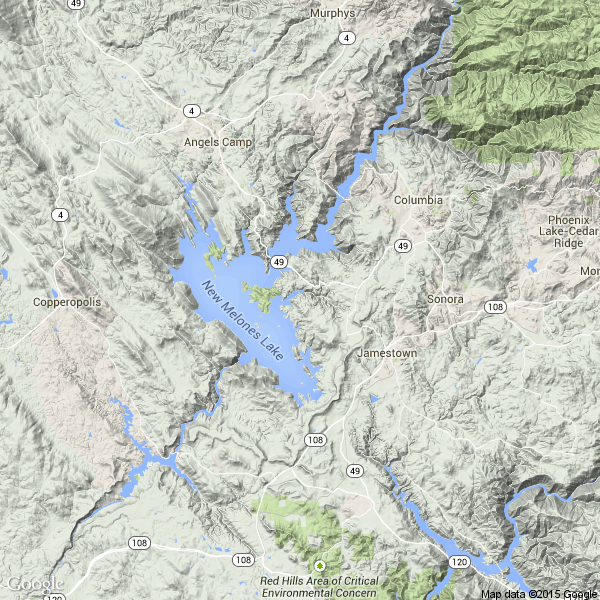 Click for Navionics/Google interactive map
Monday, Aug 20
Storage

(ac. ft.)

Ouflow (ft.3/sec)
Inflow (ft.3/sec)
Precip.

(in.)

Evaporation (ft.3/sec)
1,844,381
1,700
965
0.00
167
Wednesday, Aug 22
Saturday, November 29th, 2008
Water Temp: 61

Water Clarity: Clear (4+ foot visibility)

Report: Went out with fellow nutcase Wally and finally got into a great fall bite. The water is finally getting near the fifties which triggers the feeding frenzy. we cuaht over 100 fish with the best five spots going 15 pounds.Great time for a guide trip if ypou need any help catching fish with your electronics.
City: Sonora

Tips: Stay with the bait. The hold over trout are just now showing in the bait and the big spots come with them.
Saturday, October 11th, 2008
Water Temp: 64 west side to

Water Clarity: Clear (4+ foot visibility)

Report: Went out all day 10/11 Sat and caught 18 between 2 of us. All but 2 were very small (1 1/2 pounders) The other 2 were almost 3lbs. Did well with dart heading-6" margarita Mutilator Lipless crankbait did ok. Several on the flick shake. Rippen early in the morning with a little luck. Sat, the wind was pushing the boat quite a bit. The trolling motor got a workout. The wind was so bad sat afternoon we went in about 5pm.
Sunday went out for just a few hours and caught 8.
There was no wind at all on Sunday. Most all of the fish were at the 12 to 15 foot range. A few were right on the shore. This lake is VERY LOW. Hope we have a wet winter to fill it up.
City: Elk Grove

Tips: Stay around 12 to 15 foot deep. The bite was light on the dart head. Give it time.
Monday, September 8th, 2008
Water Clarity: Clear (4+ foot visibility)

Report: Started early around any rocky structure I could find. threw topwater shellcracker around rocky structure. alot of quality fish. biggest was 4 lbs. The sun came up and swiched to jigs. bite slowed later but lucky to have hit them early.
City: Atwater

Tips: Work the topwater slow. look for shaded areas. before sun comes up.
Saturday, August 16th, 2008
Water Temp: 82+

Water Clarity: Stained (2-4 foot visibility)

Report: I had the pleasure of fishing the August tournament with the Modesto Castmaster. We started at 4pm and finished at midnight. I had not fished this lake in 5 years and first time as the boater. The bite was great if you like catching 3 to 6" fish. The club member that I fished with, Matt, caught our two keepers. One was just under 14" and the other was 14-1/2". The best fish of the tournament was over 4#, caught by the winning team.
If you are thinking of joining a club, and live near Modesto, this is an excellent group of guys.
City: Antioch
Saturday, June 21st, 2008
Water Temp: 74-76

Water Clarity: Stained (2-4 foot visibility)

Report: First time on this lake. It was nice but get on the water early. The bite turned off at 0930 hrs. Split shot, carolina rig and crank baits did well for us. Dark green or shad color. I took the family. We had 12 fish in three hours. All of them around 1 1/2 lbs. except for the 3 1/2 lbs'er my wife caught on a carolina rig.

Tips: On the water early and get off early. Stay cool and fish deep. The fish were tight to the bottom in 30-40 feet of water.
Saturday, June 14th, 2008
Water Temp: 68-74

Water Clarity: Clear (4+ foot visibility)

Report: Normally fish delta or McClure. No topwater to speak of. Most fish were clone 12 inchers weighing in at a whopping half pound. We caught alot, maybe 30 or so on finesse worms Aarons Magic color. All were very small though. This was our first time here though. Fish caught were small and largemouth, but 9 out of ten were largemouth. Saw Gills on old bass beds, so spawn is done at this lake. My question is this, WHERE ARE THE BIG ONES? For all you veterans of this lake. We were kind of thinking we would look for big smallmouth but didn't find the technique to single them out. We went to the river channel and found the colder water but only found smaller smallmouth. Can somebody that fishes this lake regular please tell me where the big ones are, Large OR smallmouth? Are there any "honey holes?"? Catch and release here, so don't worry about your fish being gone next time you go out. djsupanova1@yahoo.com
City: Hayward

Tips: Aarons Magic finesse with brass and glass (try to distinguish between the bluegill bites (WHICH ARE MANY)) or as always.... Watermelon Seed Brush Hawgs Texas style. No Topwater in the spots WE fished early morning, but we are not too familiar with the lake.
Thursday, June 12th, 2008
Water Temp: low 70's

Water Clarity: Clear (4+ foot visibility)

Report: Andrew, I too would like to know where the big ones are? Gotta feeling you need to be deep as we too caught so many small ones it got boring... 80+ on roboworms, t-rigged, in any thing with purple or the oxblood/red flake. Biggest was 2.4, but my son also caught a real nice rainbow on a robo with scent? We stayed near Angels arm.

I'm not the best teacher/fisherman, but this trip really helped my son build confidence in fishing with plastic worms...

For us, the top water was hot until the sun was up. Throwing anywhere with shade usually produced a strike, but we were using rapala's. I even hooked into a fun 8.14# squaw-fish that was a blast on 8 pound test. Oh, and our best catch was a really nice 6" Huddleston trout...

My 12 year old and I had a blast!!! the camping was great too... Go during the week, no crowds.
City: Somerset

Tips: Downsize your tackle and the purple robo's like the MM & MM III's worked best(Glory Hole Sports has a great selection if you need them like we did). Also, stay in the shade as long as possible with either the robo's or top water(we used the rapala #13).
Tuesday, June 10th, 2008
Water Temp: 68-70

Water Clarity: Clear (4+ foot visibility)

Report: Wacked em on just about any thing. Best was a 3 lb'r on topwater. I got distracted and when I looked back I couldn't find my lure... several twitches, still no lure??? Started reeling only to find a nice 3 lb'r on the end! LOL, never heard it hit!

We had 20 by 9 in the morning and my son Jon even caught a real nice 18" rainbow on a roboworm. With the strong wind and a slight motor problem, we decided to get off the water by noon, finished with 2 dozen, mostly dinks but a blast if you have a kid with you, It's quantity with them...
City: Somerset

Tips: If you're older and fat like me, make sure you launch from the right ramp, the 1/2 mile climb back to get the truck/trailer nearly killed me...

Cast tight to the bank and into the shadows and you'll get bit!!!
Monday, May 26th, 2008
Water Temp: 68

Water Clarity: Clear (4+ foot visibility)

Report: Here it is several spots on different plastics biggest 3lbs. conditions were light rain. Somebody post what is up it's not like it's a best kept secret or something. Delta has way bigger fish (double digits) and consistently. Had to take a break and fish a lake.
City: tracy
Monday, May 12th, 2008
Water Temp: 65

Water Clarity: Clear (4+ foot visibility)

Report: What a great day on the lake . Took a client out on FRiday and had one of them days that you never forget. We launched at Angles arm and didn't start the big motor. On the
First cast my client had a 3lber on a topwater and I had a dink on a worm. The action was non stop all day long.We caught uncountable amounts of fish on mostly topwater ,what a blast. My client (Lynn) was so happy he gave me a $200 tip. That even covered the gas and everthing, lol. We did get a few fish sight fishing ,which he had never done. Book a trip and lets go get them. wwwmarkmcgowanguideservice.com
.
City: Livermore

Tips: Put a bait in the water and they will eat it. Topwater, worms , senkos
Saturday, May 10th, 2008
Water Temp: 65-69

Water Clarity: Clear (4+ foot visibility)

Report: Started about 7:30AM fished the first cove to the left of Tuttletown launch, caught 1smallie,2 large. Went up by the dam nothing, so we went all the way up into Morman's creek and fished it all the way out caught the cycle. All in all we caught a dozen. Left around 1:00pm.
City: La Grange

Tips: green weiney, Lizzards, 1001p
Monday, April 14th, 2008
Water Temp: 64-67

Water Clarity: Clear (4+ foot visibility)

Report: Went out with a friend to do a little fun fishing and we had a great day. The lake was glass untill around 11:am and the top water bite was on. We put 25 to 30 fish in the boat. The wind picked up around 11 and we switched to jerk baits. I hooked a big female but she spit my Rapala. I'm fine with that at this time of year. Most fish were in the 1.5 to 3 lb range but there is a ton of fish in the shallows right now. We had a blast.....
City: sonora

Tips: South end is warming fast and the bite is on. Catch and release. The fish in there is all we get. No stocking of bass.
Saturday, March 29th, 2008
Water Temp: 56-60

Water Clarity: Clear (4+ foot visibility)

Report: Fished 9 hours on Saturday, caught 8 fish. 5 were dink largemouths, 2 were healthy, 2 pound, very pregnant spots... finally at 7:00pm nailed a 7 pound 1 ounce largemouth in timber at the back of a cove. Sunday was a complete write-off; didn't get bit once in four hours! Fished from shore out to 35 feet deep with various plastics, both T-rigged and Carolina.
City: San Jose

Tips: Guess the cold front made the fishing tough. With a week of sun and warmer weather, this lake will be on!
Saturday, February 23rd, 2008
Water Temp: 50

Water Clarity: Stained (2-4 foot visibility)

Report: Fished a club tournament- went out blind with no practice. Caught 4 fish- 2 on a 6" swimbait and 2 on dartheads. All fish came past the second bridge on secondary points/coves. In fact, we caught all of our fish within 1/4 mile of each other. Best weight in the tourney was 14lbs. Out of 20 boats, only five limits. We took 6th with 6 lbs.
City: Elk Grove

Tips: Fish are in 25 plus feet...no bites shallow. All but one fish were on the bottom- not suspended. The swimbait bite is on...to bad I broke mine off. Hint- 6" fish trap type on a 1/2 oz head. Let sink all the way to the bottom in 30 feet then retrieve parallel to shore.
Saturday, February 9th, 2008
Water Temp: 29-53

Water Clarity: Clear (4+ foot visibility)

Report: tough bite, lots of angling pressure prior to the weekend with blue bird skies. after we pulled out we heard that salt/pepper was producing, with fish in the 30-35-40' range, but go slow slow slow. we caught 2 keepers, one on watermelon trick worm on shaky head on a 30' hump,and another way upstream against the white cliffs in 35' on a redish 4" worm drop shotting. one rat in 35' on a mm3 sculpin dropshoting. god I hate this time of year, bring on the frog bite, it just can't come soon enough
City: Sonora
Sunday, January 20th, 2008
Water Temp: 51

Water Clarity: Clear (4+ foot visibility)

Report: tough bite but managed to find a pattern around noon caught 6 fish in the 1-2 lb found a creek full of timber and just rip them for about an hour and a half then the bite died out
City: modesto

Tips: 3/4 oz. hopkins smothie spoons
Monday, November 12th, 2007
Water Temp: 60

Water Clarity: Clear (4+ foot visibility)

Report: Started fishing aroound 7:30 a.m. Went around hitting points. Found a few but couldn't get them to bite. Around 1 p.m. caught 3 spots split-shotting. Biggest going 14 inches. My partner caught one largemouth on a jig around 15 inches. Went home about 3 p.m.
City: El Sobrante

Tips: Look for calm areas with direct sunlight. Shady areas weren't producing at all or even showing fish. Good luck
Sunday, October 28th, 2007
Water Temp: 69

Water Clarity: Clear (4+ foot visibility)

Report: Took my grand daughter out for some fun fishing and we had a blast. The top water bite was hot and heavy. We cought alot of small fish and a few good ones. The water glassed over about 11:am and stayed that way the rest of the day. Very few people on the lake and that was great.
City: sonora

Tips: Look for bait fish on or near deep drops. I chunked a 5" rapala in shad and one in gold and black.
Sunday, October 21st, 2007
Water Temp: 66

Water Clarity: Clear (4+ foot visibility)

Report: Took a two day trip- total for two days was about 35 fish to 2 lbs. No reaction bite- everything came on 1/8 oz. dartheads with 6" pro worms (color 64SPF) and Senkos. I lost my $85 8" Triple Trout in the Mocassin area.
City: Elk Grove

Tips: The fish seem to be feeding on presentations above, not below. I don't know the lake so we didn't did not get to dropshot any offshore structure.
Tuesday, October 2nd, 2007
Water Temp: 64-68

Water Clarity: Clear (4+ foot visibility)

Report: WOW! Started in Horseshoe with #16 Huddy 1st light this morning and scored 2 fish, bam bam, shaz-am! The 1st fish was 4.8 the second fish was 8.9. Points, points, points. Missed 2 more fish (thought I would leave somtin fur ya all). After the sun came out went to the main Lake fishing the submerged islands and never caught a fish on the Hud, but I did stick several pines and oaks. Hearing how tough it's been I tried and scored on the baby brush hog (water melon/ red flake) drop-shotting in 30' to 50' off the deep river bluffs on those islands. a few largys, but the bigger fish were the spots up to 2-1/2 pounbs. After pounding the main lake humps I traveled south of the Dam, still main lake/ski-cove entrance and spooned some more fish on a 3/4 oz hopkins. My best fish was a 3.5 largy. This lake is on FIRE!!
City: San Jose

Tips: After the sun comes up, watch that graph for bait!