New Melones Lake and Reports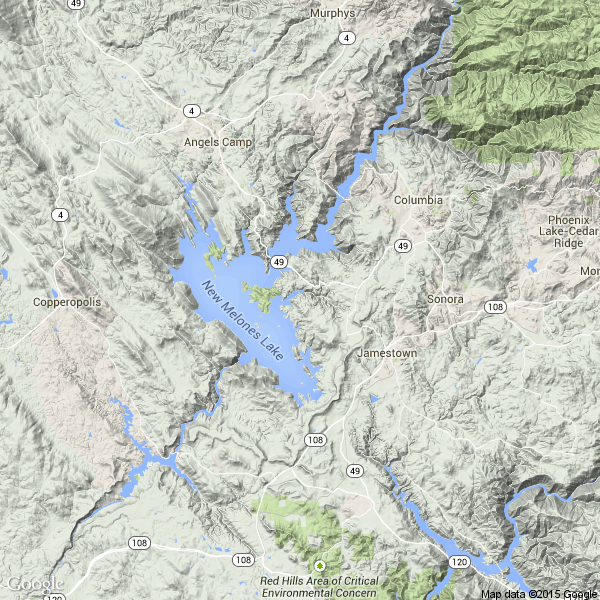 Click for Navionics/Google interactive map
Thursday, Aug 16
Storage

(ac. ft.)

Ouflow (ft.3/sec)
Inflow (ft.3/sec)
Precip.

(in.)

Evaporation (ft.3/sec)
1,850,290
2,292
1,031
0.00
123
Saturday, Aug 18
Saturday, October 2nd, 2010
Water Temp: 72

Water Clarity: Stained (2-4 foot visibility)

Report: 2 on top water popper, 2 on texas rigged greenie weenie. Lots of miss hits and thrown hooks. 1 on top water around 5pm before a fast, incoming storm forced everyone off the water. All were healthy 2-3 pounders barely hooked on the lip.
City: San Jose

Tips: Let them bite a millisecond longer before setting the hook. Wear your life vest. Afternoon was sunny/hot. Sunset storm caught everyone by surprise. Even the camp host wasn't expecting a sudden wind/rain storm.
Monday, August 23rd, 2010
Water Temp: 76

Water Clarity: Clear (4+ foot visibility)

Report: Fished mostly up river above Parrots ferry bridge. Top water popper bite great early on rock walls with wood. Crank bait bite decent mid day when wind picked up. Caught a few on texas rigged worms. Caught mostly small spots. Only two largemouth came up the coyote arm. One about a pound on Norman crank the other a three pounder on t-rigged worm. Where are all those nice 2 pound spots that used to hammer everything? Should I be fishing the main lake? Any advice would be welcome. Tightlines everyone!!
City: Bishop Ca.

Tips: If you want to get a kid hooked on fishing. Find wood on rock walls upriver, and throw topwater early.
Tuesday, June 29th, 2010
Water Temp: 71

Water Clarity: Stained (2-4 foot visibility)

Report: an ok day...caught a lot of smaller fish on drop shot and texas rigged worms. Nothing on top water in the morning. Fished the bridge piling and produced 5 keepers the largest 2.5 pounds. Lot of activity on the water as a trout derby was going on and water skiers in the afternoon, Over all caught 27 bass.
City: SACRAMENTO
Monday, June 14th, 2010
Water Temp: 70s

Water Clarity: Clear (4+ foot visibility)

Report: awesome day out on the kayak. caught 15 fish from between 6am and 1pm. biggest was almost 3 lbs. caught them on pretty much everything but the kitchen sink. guy about the float tube, go to the free launch ramp and just go up and down both sides of the bank. good luck!
City: modesto

Tips: throw it all, try everything u got
Tuesday, June 1st, 2010
Water Clarity: Muddy (0-2 foot visibility)

Report: Does anyone know of good areas to float tube here. Somebody's of mine will be camping here and I was inrterested in bringing my float tube. Thanks.
Sunday, May 16th, 2010
Water Temp: 61-66

Water Clarity: Clear (4+ foot visibility)

Report: began the morning off fishing timber using dropshot and topwater. nothing on topwater though we did catch five on dropshot then when the sun was up we moved into coves and points with wood using dropshots and jigs. caught about 10 until the bite slowed down then the wind picked and the bite went crazy caught 3 two pound largies in a row on consecutive cast down a creek channel. the largies r in lookin for beds. we decided to stick to this pattern and looked for creek channel with wood around them and as we were fishing we started seeing a bunch of fish suspended on the wood in the back of this coves and then a big with two huge laregmouth guarding it. soo we backed off and came back in and after 45 mins finally pissed her off enough to bit it turned out to be a 6 pounder.
City: castro valley

Tips: finished the day with 45 fish all using dropshots and jigs and senkos. sight fihsing was fun.in some spots u could see 20 ft down in others about a foot. using a watermeleon dropshot wrom and also shad patterns like holo shad.
Saturday, May 1st, 2010
Water Temp: 61.5

Water Clarity: Muddy (0-2 foot visibility)

Report: Was only able to fish for about 3.5 hours. Picked up 17 and lost another 6-7. Stayed in the river past the second bridge for the first 1.5 hours and picked up 10 but nothing over 1.25lb. Headed into the main lake and the size improved but still nothing over 2lb.
Saw larger fish on the finder but they ignored everything I threw at them.
City: Danville

Tips: Stay shallow in the main lake and fish the timber. Fish were between 5 and 10 feet. Eveything caught on drop shot and darter head tube. Drop shot worm color was purple punisher.
Sunday, April 25th, 2010
Water Temp: 63 to 65

Water Clarity: Clear (4+ foot visibility)

Report: My cousin and I went up to the river area and caught over 50 bass. Shad color was the ticket, they hit on almost any color plastic we through.Biggest fish went 3lbs ,but most were 12".
City: Modesto

Tips: If you want to to teach your child to catch fish nows the time. P.S. They must be catching trout also main lake was full of boats trollingfor them .Plus we caught three fishing for bass.
Saturday, April 24th, 2010
Water Temp: 65 degrees

Water Clarity: Clear (4+ foot visibility)

Report: One of the good days in between the rains. I tried this lake the week a couple weeks before and did pretty well. This time the fishing was much better by weight. We caught an accumulative of about 40 fish. Most of the fish were between 1.5 and 2.5 lbs. Around noon, I hooked onto a 4.5 lbs spot, on 6 lbs test none the less. Incredible
City: Lodi

Tips: I stand by it. 6 lbs 100% florocarbon, on a drop shot set up. Best colors I could find were MM2 and MM3. I have used others, but none with this success. Good luck to all.
Friday, February 19th, 2010
Water Temp: 52-54

Water Clarity: Clear (4+ foot visibility)

Report: Thought I would try this hot lake (lake record caught last weekend). Fishes very much like oroville (steep rocky canyons). dropshot and splitshot only. Lost more than I landed. Landed 7 up to 3 lb and lost over 10. Most were lost within 5 sec of me setting the hook. A few times broke off but probably due to line rubbing rocks but most times the fish just works its way free from the hook. was using 6 in staight tail worms w/ 1/0 hook. Has always worked well in the past. One thing I noticed is that the fish was already swimming w/ the worm (no feel of the bite) and would set hook. In hindsight, I should have let it swim longer so that the worm is further in the mouth? Anyway, good day for my 1st time in years. scouted the river area and it is serene and beautiful.

Tips: land the fish that bite !!!
Saturday, February 6th, 2010
Water Temp: Low 50's

Water Clarity: Clear (4+ foot visibility)

Report: Had a club tournament at New Melones.
Weather was overcast to start the day and started raining by 7am. It rained moderately hard until noon with gentle wind 5-10 mph that blew off and on. Then a cold front came over and the wind and rain stopped.
Water color was not a clear as last month, but still clear. Visibility was down to around 5-8'. Water temp was low 50's and water level had been rising.
We fished main lake points that had wind blowing onto the bank and most of our fish came on Norman Deep Little N's during the wind and rain in less than 10 feet of water. I thew lavender shad and my brother threw chartreuse with purple back. Once the wind and rain stopped, so did the bite.
We switched to plastics and only caught 2 more. Both came on Zoom watermelon candy shaky head worm, on a 3/8 shaky head in 20 feet of water.

In talking with folks at weigh in, it seemed like everyone threw different stuff. We heard of guys throwing spinner-baits, wacky senkos, jigs, shaky heads, spider jigs, drops shots...you name it. I think all but 3 boats out of 22 weighed in a limit (7 fish).

Still had fun, despite the weather.
City: Sonora

Tips: Bite was very soft. Even on the cranks it just felt heavy, like pulling through brush or over rocks. Watch your line when fishing the plastics. You might feel a slight bump at most, but you will definitely see your line start to move out to deep water...then set it!
Saturday, January 30th, 2010
Water Temp: 52.5

Water Clarity: Clear (4+ foot visibility)

Report: My wife and I went up to the river area, had very good day just no big fish.The biggest 3lbs, ended up with around 40 fish. We draged brushhogs swallow to the deep, linewatching a must and around woodand rock.
City: Modesto

Tips: We used watermelon green and dark red on a 1/8oz jig
Saturday, January 9th, 2010
Water Clarity: Clear (4+ foot visibility)

Report: Fished club tourney Saturday. 18 of 22 teams weighed in limits and all were culling. Nearly all fish were 1-3 lbs with the exception of on that was 5.05 and another that was 7.56.

All of our fish were caught dropshot in 20-25 ft during the overcast morning. Once the sun came out fish moved up to 15 ft and bit like crazy for an hour. Then they moved deeper 30-40 ft. Caught dropshot and spoon.
City: Sonora

Tips: Fish submerged islands on the main lake and/or main lake points. Better bite comes when there is a little breeze. Green and silver were the colors that worked best for us.
Wednesday, December 23rd, 2009
Water Clarity: Clear (4+ foot visibility)

Report: lots of spots fished jigs ,drop shot,swim baits,carolina rig fish slow. on water by 6:45 caught limit by 8. biggest 3lbs between 20 to 50 ft deep
City: modesto

Tips: be patient it will pay off
Saturday, December 5th, 2009
Water Temp: 56

Water Clarity: Stained (2-4 foot visibility)

Report: Caught fish on jigs in the morning then the bite died as the sun came up. The best jig fish was 2 lbs and we caught 6 .Then fished dropshot, darter head, and senkos. The senko fished very slow worked , caught 5 more with a four pounder being the best fish.Probably had 11 lbs for best five
City: Granite Bay
Saturday, June 13th, 2009
Water Temp: 74

Water Clarity: Clear (4+ foot visibility)

Report: Fished three days practicing for the FPT. Lots of fish however very tough for size.You can catch fish on everything, I caught three bass on a MS slammer wake bait but all of them were smaller than the bait. Went up the river last Saturday and caught around 70 fish, three were keepers. This Saturday fished the tourney and weighed just shy of 8 lbs. All on jigs in the main body on steep walls, probably had around 14 keepers all day. Dropshot seemed to shut off compared to the previous trips.

Fun lake to fish, I would like to try it next year in the spring when the big girls are more plentiful.O'
City: Granite Bay Ca.
Thursday, May 21st, 2009
Water Temp: 72-79

Water Clarity: Clear (4+ foot visibility)

Report: 2nd time fishing new melones caught 100+ fish mostly dinks a couple nice spots and largies. caught most on darthead,carolina rig,drop shot & crankin.
ribpait worked real good in the morning caught fish all day on spook also most plus sized fish came on cranks.
City: elk grove

Tips: watch for the bait fish, dont cast right on the action cast just short of it or just past it, the deeper the better
Thursday, March 26th, 2009
Water Temp: 59

Water Clarity: Stained (2-4 foot visibility)

Report: fishing was extremely slow. some small spots were caught on a nightcrawler with a split shot. Largemouths hit 5 inch senco in black with purple flake
City: San andreas

Tips: Fish Slow!!!!
Thursday, March 19th, 2009
Water Temp: 53-58

Water Clarity: Clear (4+ foot visibility)

Report: Water was clear to 15 feet. Two small fish were caught on a split shot thrown near the shore. Four bigger fish (2 lbs aveage) were caught on a wacky senko in deeper water.

Tips: No tips
Saturday, November 29th, 2008
Water Temp: 61

Water Clarity: Clear (4+ foot visibility)

Report: Went out with fellow nutcase Wally and finally got into a great fall bite. The water is finally getting near the fifties which triggers the feeding frenzy. we cuaht over 100 fish with the best five spots going 15 pounds.Great time for a guide trip if ypou need any help catching fish with your electronics.
City: Sonora

Tips: Stay with the bait. The hold over trout are just now showing in the bait and the big spots come with them.