Collins Lake and Reports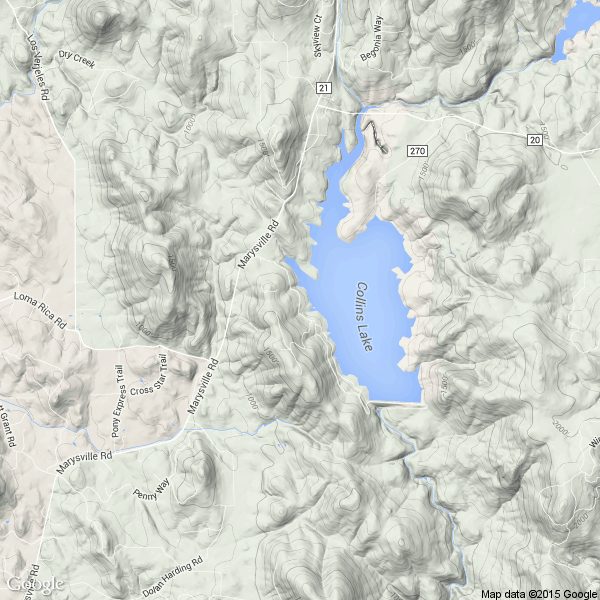 Click for Navionics/Google interactive map
Tuesday, Jun 18
Wednesday, June 17th, 2009
Water Temp: 76

Water Clarity: Stained (2-4 foot visibility)

Report: I took myself to Collins yesterday evening to see if anything was going on! Lots of people having lots of fun at the lake. I fished the river arm from 5 to 7 pm, catching three - biggest a 2 1/4 lb spot. Then I moved back to the main body - dodging wakeboard boats! I was ready to quit about 8:15 when some smaller spots went on a bite - landed 6 more. Most were 1 1/4 to 1 3/4 lbs - just a lot of fun. I caught all my fish on a chartreuse/white D&M Piranha swim jig. I tried several other topwater baits, swimbaits, Senkos, worms, and jigs. Nothing!
City: Yuba City

Tips: I imagine the early morning bite is better - before all the boating traffic. All my fish were 6 to 15 feet deep.
Monday, June 15th, 2009
Water Temp: 74

Water Clarity: Clear (4+ foot visibility)

Report: Dad and I went out to get a big one. It didnt happen,lol. Tossed the Hud, Born again wake bait and some soft plastics. Had some GIANTS follow my bait to the boat. Had one BIG blow up on the born again but it didnt stick. Was able to get a few when I put down the bigger baits. Flick shake and a 6in swimbait was the trick. After seeing the Giants Ill go back. BTW dont forget to get that ice cream!
City: Roseville

Tips: Put down the fairy stick.
Wednesday, April 22nd, 2009
Water Temp: 62-63

Water Clarity: Stained (2-4 foot visibility)

Report: Took my friend rick out a little late on wendesday got on the water around 9:30 we started on the east side near the dam looking for beds and for active fish we found out that both were there had a decent top water bite mostly bucks guarding but did get a couple spot hens they were little but had bellies the big girls were moving up next to the bushs throwing a wake bait next to them would draw them out then i would follow that up with an rof 5 hud got allot more follwers and one 6.5 largie ate the hud.
City: grass valley

Tips: In the afternoon top water and bed fishing will produce but in the early morning try for the big bite with the hud and the wake baits I use a dead or alive by daiwa and a 3:16 wake jr a little expensive but worth every penny.
Tuesday, April 7th, 2009
Water Temp: 57-59

Water Clarity: Muddy (0-2 foot visibility)

Report: Took a couple friends out on collins yesterday wow what a windy day. Darn weather reporters did'nt call for 30+ winds. Tough to feel the bites tougher to catch fish except the abundant trout which we ended up with four of, one was a 6.4 caught it on a texas rigged red crawler robo.The bass we did catch were under the limit all on texas rigged robos fished very slowly in any calm area we could find (not many). Only had one in the wind but had allot of strikes mostley short ones grabbing the tail one hit on the hud and one on a wakebait but both were small. Don't quite understand whats going on with the lake right now but my confidence is that it will be in full spawn in about three weeks so keep trying the big girls are still there and there moving up soon most are just popping to spawn.
City: grass valley

Tips: The bite right now seems to be for small fish, 2lbs and under but it should turn soon. If you are going out and just want to get some fish right now fish slow, and if you get bit pay attention to were it was. Fish it again its probably a buck on the bed. Might want to try the breaks from 12 -20 feet for the big ones holding out and waiting to move up
Saturday, April 4th, 2009
Water Temp: 55-57

Water Clarity: Muddy (0-2 foot visibility)

Report: Took a short trip with my wifey last night she had buisness meetings till 1pm so we didn't start till around three talked to a few guys as I was checking in they all told me the same thing fishing is tough had not caught a fish all day. My second cast 1.5 spot fifth cast 2.0 spot few minutes later 2.5 largie the point is don't listen to dock talk you can get the wrong attitude heading in. Those all came on mm111 4.5 drop shoted in about 8 to 10 feet of water. put the dropshot down picked up the hud and started chucking I've got to say it was a terrible day for huds slight north wind and then that died so I went from a rof 12 to a rof 5 and fished it much slower. about an hour before dark I hooked up with a giant spot 5.5 lbs great fight and my wife got to show off her netting skills.The trout plants are ridiculous right now and if you want to catch trout I highley recommend collins there everywhere.
City: grass valley

Tips: Collins is getting ready to be good again the water is muddy so there arent allot of fish spawning but they want to so keep trying with the hud it will still produce big fish infact a 9.2 and 15 pounder were caught on 4/2/09 on huds good job.
Saturday, March 28th, 2009
Water Temp: 55-58

Water Clarity: Stained (2-4 foot visibility)

Report: Well took my sons best friend out today to see if we could get some big collins fish but today was'nt the day. we fished all over the lake with the hud no takers couple hits but I'm pretty sure they were small spots guarding there beds yup I said beds. We found about twelve bed fish today not really visible but I could get hit in the same spot four and five times then come back in awhile and get hit again in the same spot all were in 8 to 10 feet of water which makes sense with the water coming up four feet recently. They were all spots and most were bucks with two being hens caught lots of other fish but only three largies the biggest was about 3.5 pounds came on blades most came on dropshot mm111.
City: grass valley

Tips: The hud will turn back on when the lake stabalizes again but till then enjoy the fact that you can go to a local lake and catch a ton of fish and the reaction bite appears to be getting ready to start first thing in the morning we had quite a few hits and landed three on the lim-it lure 1/2 ounce white and chart dble willow with chart and silver blades so enjoy the nice weather and go fishin p.s. You can get trout on blades also lost one about 6 today.
Friday, March 27th, 2009
Water Clarity: Stained (2-4 foot visibility)

Report: Well, I made the run this evening from Roseville for another vein attempt at catching the ever elusive and mythical Hud fish... Fished from 5:00PM until dark. After reading the last report I decided to focus on the area between the launch ramp to the dam slow rollin an 8" ROF5- nada. Finished the evening on the East shore fishing all depths for the usual HUD goose egg. Talked with a guy who apparently caught 3 Hud fisn earlier in the day (groan)... The water looks great now with up to 4ft of viz near the dam. There were apparently 3 trout plantings since the 25th and they were jumping everyhwere. Beautiful evening.
City: Roseville

Tips: Use senkos

Water Clarity: Muddy (0-2 foot visibility)

Report: Hey new hud guys don't get discouraged! they just stocked the lake again at collins there for there has just been a new meal bell going off now that the truck has dumped try in front of the swim beach at the drop off point and the south side of the lake between the ramp and the dam also switch to rof 5 fish it slower on calm days (watch out for ospreys the will carry your bait off if they do just hold pressure they will drop it don't pull you will just tear your hud)I will be back out there tommorrow the best bite has been first thing in the morning and then after 4pm hope this helps see you out there.
City: grass valley

Tips: If the wind comes up follow it fish whichever bank it is blowing against but let it blow for about an hour before you give it a try during slow times mid day you can catch spots with dropshot on the flats or move to about 15 feet of water and use 10 inch black and purple power worm those big girls will eat this bait also.
Thursday, March 26th, 2009
Water Clarity: Stained (2-4 foot visibility)

Report: Still trying for my 1st Hud fisn.... Threw the 8" ROF12 from 9:00AM to 3:00PM. Worked the East shore from the Dam to the bouy line. Nothing. Switched to the 8" TripleTrout for the last hour-nuttin. Ended the day at 4:00PM. Oh, I took a break around noon for 10min and stuck two dinks on a Senko... Man, I'm WAY over due for Hud fish. At this point I've got at least 30hrs total time invested for zero.
City: Roseville

Tips: If you want a workout throw the Hud all day.
Tuesday, March 24th, 2009
Water Temp: ---

Water Clarity: Clear (4+ foot visibility)

Report: Heading to Collins lake April 4 and 5. Wondered if there was any generous individual that might suggest some locations on the lake that tend to produce.. Dont want your secret spots and I know its a small lake so any information would be appreciated. you can email me if you would like. Thanks guys, apparently i will be bringing a Hudd.
City: Reno, NV
Thursday, March 19th, 2009
Water Clarity: Muddy (0-2 foot visibility)

Report: Uh - I should have said 8" Huddleston. Actually, I wanted you to guess - 8" what?!!

Water Temp: 56-60

Water Clarity: Stained (2-4 foot visibility)

Report: I spent Wed and Thurs afternoons a Collins to see what is going on. The big fish bite from last weekend has slowed some because of lack of wind and lots of folks fishing! I threw swimbaits mostly and did get some light hits - maybe from smaller bass. Finally, about 6 pm, I got THE bite and almost couldn't get the 8" out of her mouth! She was a beautiful largemouth at 8 lbs 14 oz and was able to release her totally unharmed. Congrats to the other anglers who are releasing their big ones too!!! Thurs afternoon the lake was dead calm and the bite really died for everyone. I did throw some Senkos in bushes but missed 3. I caught a spotted bass off-shore on structure.
City: Yuba City

Tips: The majority of bass are still to move shallow for spawning - which should happen in the next two weeks. Brush hogs and Robo worms will work well as the bass move up. Don't forget spinnerbaits while the water is murky!
Saturday, March 14th, 2009
Water Temp: 51'ish

Water Clarity: Muddy (0-2 foot visibility)

Report: Jensen and I took a tip from Matt and hit collins today. Late start around 4pm. Jensen picked up 2 keepers on a rattlebait while I struggled w/the huddleston. I finally got bit, 2 times on one cast, which kept me throwing it. Matt shows up w/ two 7's and his personal best, an 11.8.........omg, I am so happy for him! He tells me where to go, so I went there. Stuck a 5+ spot which comes off...........rats. stick another that comes off. Jenson misses one.
City: Yuba City

Tips: Fishing a huddleston is a workout. I figure I had 4 bites in 4 hours...........It was frustrating as guys around us were catching way more than we were.

Thanks Big ED for the helpful hints. Thanks for Matt also as he is somewhat computer illiterate.

Maybe it will get even better!

Water Temp: 52-55

Water Clarity: Stained (2-4 foot visibility)

Report: started out today at around nine o'clock again in the boat was my good friend will we decided last night that today was a hunt for big fish day so he only brought three swim bait rods but he only needed one the huddelston deluxe was the food for the day I started the day with a 6 pound spot near the dam then a 4 pound largie on the east side followed by a 5.5 pound largie on the east side then will picked up a 3.5 pound largie all were hud rof 5 and 12 in rainbow trout around 1:30 the bite died so I switched to a drop shot marg mut and picked up 4 small fish for will's mom at around 4:30 the hud bite started back up will stuck a 6 pound spot same place i got mine near dam then he strocked an 11 pounder after the hoopn and holarin i caught a 8.5 in same area on east side of the lake this concluded our day after pics and weights at the store they were all released to be caught again.
City: grass valley

Tips: HUDDELSTON DELUXE!!!!!!!!! 5 TO 8 FEET the fish are moving up to spawn and feed so go catchem chuck and wind it will work!!!!!!
Friday, March 13th, 2009
Water Temp: 52-55

Water Clarity: Stained (2-4 foot visibility)

Report: Back out to collins whith my good friend will took our time rollin out of bed and got on the water around nine not much going on for the first twenty minutes the wind was calm and there were alot of trollers since they stalked on the 12th the lake is about 17 or 18 feet from spilling so we headed for the points with light on them first had no takers on cranmkbaits or tubes switched to rof 12 hud and picked up a 3.75 so threw the huds for the rest of the day i got two more a 4 pound spot and a 6.75 large mouth will picked up his 3.75 largie on a rof 5 hud i lost another giant close to ten in the same area as last month this time she hooked up jumped and threw the bait i will get this pig!! I hope? talked to a few bass guys but they were'nt having any luck back out tommorrow hope for the same sucess its beautiful out there right now so go have fun

Tips: the water is still cold alot of the fish are very pale so there coming out of deep water i have been cathing them in about 5 to 8 feet on points and dark rock areas so throw huds till your arm falls off just chuck and wind like crank bait it will work.
Wednesday, February 25th, 2009
Water Temp: Red Hott

Water Clarity: Clear (4+ foot visibility)

Report: Threw the Hudd and landed 8 5 pounders. Missed 2 15 pounders at the boat but oh well thats fishing.

Tips: throw a swimbait and your guaranteed a bunch of big fish! Oh YEAHHHH! Of Course No pics Sorry.
Saturday, February 21st, 2009
Water Temp: 43-44

Water Clarity: Stained (2-4 foot visibility)

Report: Well took my buddy matt to collins started out on the east side of the lake around 9am fished till noon using splitshots,jigs,worms,senko'sand of coarse huds no takers. Fished from shore to 60 feet no takers. Then the wind came up about 1 o'clock and the clouds rolled in. Around 2 we headed back to east side looking for points next to deep water threw out the rof 12 hud bam!! first bite 5LB large next point bam!! 5LB large went to elmers point had a big girl around 10LBS miss my hud at the boat. Then fished the swim beach got another bite got off around 4LBS. Great day with good friend! NICE NET JOB MATT LOL. Make sure you get some lessons from c before season starts
City: grass valley

Tips: Go with your gut the bites not great but they got to eat sometime. points with deep water access seemed to be key for me.
Saturday, February 14th, 2009
Water Temp: 47

Water Clarity: Stained (2-4 foot visibility)

Report: Fished swimbaits and jigs for Spots to 4.5 pounds.

Tips: fish were 12 to 22 feet deep but wind and cloud cover were present the swimbait bite improved. Great Fun place look forward to this weekend.
Sunday, January 18th, 2009
Water Temp: 48

Water Clarity: Stained (2-4 foot visibility)

Report: We took 4 total, 2 Largemouth, 2 Spot, Largemouths to 2.5 lbs. Spots about 15 inches. All on the main lake, but all were scattered. On fish at 17 feet, on fish at 30 feet, one fish at 10 feet and one at 40. The two deep fish came on Senkos the other 2 on 4 inch worm.
City: Woodland

Tips: All was scattered for us with no particular pattern that we could get on.
Sunday, November 16th, 2008
Water Temp: 54 degrees

Water Clarity: Clear (4+ foot visibility)

Report: Caught 5 fish. 1 on a salt and pepper grub back in the river at 7:30 am in 16 feet. Took 3 on the face of the dam at late morning all on sinko's natural shad with 4 lb test and a red circle hook. Last fish caught in front of the regular ramp in 16 feet also used a sinko,early afternoon.
City: Granite Bay

Tips: Dead stick fish and fish slow. Recommend 4 lb test and back reel. I partner used 8 lb and didn't catch any fish.