Almanor Lake and Reports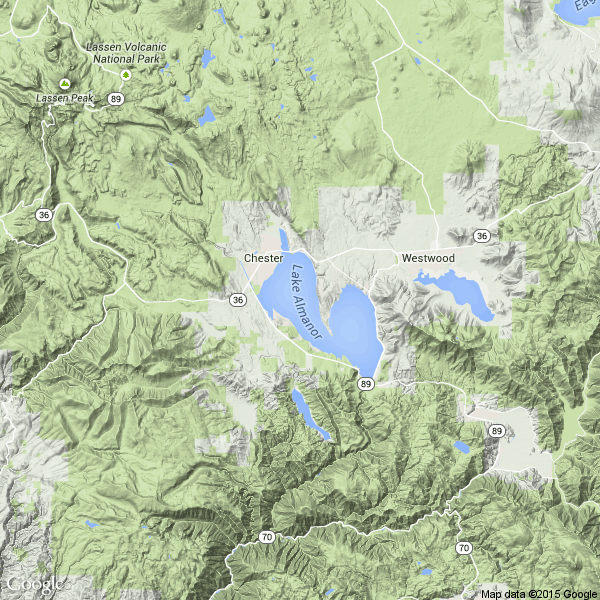 Click for Navionics/Google interactive map
Wednesday, Oct 20

Rain/Snow Likely
Precip: 63%

Wednesday, May 2nd, 2007
Water Clarity: Muddy (0-2 foot visibility)

Report: Thanks for posting the tourney info here guy! Why don't you take you and your locusts to someother lake? Why come and ruin our fishery by promoting a tourney during the heart of the spawn? Stay Away!!!
City: NORTHEAST CA
Thursday, April 26th, 2007
Water Clarity: Muddy (0-2 foot visibility)

Report: Hey guys-- Almanor is heating up! Back to back tournaments coming up May 5&6. Great Basin Bassers on Saturday, Cal. Bass Fed. on Sunday. Both of these are team opens and you can sign up at the launch(The Dam). Be there early. With this weather and moon........ Email if you need to.
City: Redding
Saturday, March 10th, 2007
Water Temp: #0's

Water Clarity: Clear (4+ foot visibility)

Report: The Trout bite is starting to pick up. Trollers are picking up fish pulling needlefish along eastshore. With the water temps still in the 30's the smallies have not come alive yet. When the temps get up in the 40's they will start showing up. Remember its up to us to take care of our fisheries. Please practice catch and release.
City: Chester

Tips: Turney guys we still need your help by keeping those largemouth out of the bags. also we will be doing some xmas tree work in a couple weeks any one who would like to get involved let me know. we can use the help.
Tuesday, November 28th, 2006
Water Clarity: Muddy (0-2 foot visibility)

Report: WHATS UP NOBODY FISHING HERE NEED INFO BMFD
City: mountain view

Tips: ONLY HERE IN SUMMER WANT SOME WINTER HELP? DUFF MFD
Wednesday, October 11th, 2006
Water Temp: ?

Water Clarity: Clear (4+ foot visibility)

Report: Sorry I have not given any reports lately. the Foest Service put me back to work with all the fires that have been going on. Things are slowing down and just baybe I can go back into retirerment again. I think the fall is the best time to fish this lake once you find them. Two years ago on Sept. 22nd is when I cought the 8#er. so stand by and I hope I can get out there and get a better idea whats going on.
City: Chester

Tips: The fall is all most like spring fishing they move back in the shallows and feed up for the winter.
Saturday, August 26th, 2006
Water Temp: 70

Water Clarity: Clear (4+ foot visibility)

Report: took the new klamath bass boat and the wife to alamnor for 8 days, stayed at pratville, cabin on the lake for va-ca. fished on the pininsula acros from the resort for smallies, cauth and released 265 fish, ranging from 1/2 lb to 1 1/2 lbs, every morning and every evening, used a 6 ott hook open with a half of a chatreuse worm end, around bolders and shorline drop offs, just killed um', wife cauth 50 or more when she came out with me, water so clear , you could see the bottom in 15 feet of water, beautiful area at lassen/almanor lake, lots of deer, and small animals. willson camp had carols cafe, gret food. people very friendly and allways willing to help with fishing tips, all n all a great trip, my wife and I will allways remember, fish on ya all, keep tight lines, RB
City: pittsburg cal

Tips: down size hooks and worm presentations, bright colors worked for me!
Tuesday, August 1st, 2006
Water Temp: 75

Water Clarity: Clear (4+ foot visibility)

Report: AWESOME SMALLIE FISHERY, DONT KNOW WHY MORE PEOPLE FISH OR REPORT HERE? OUT WITH FAMILY WENT OUT WHENEVER WIFE WOULD LET ME AND HAMMERED THEM.
ENJOY THIS LAKE I WILL BE BACK NEXT YEAR.
PS
NO REPORTS ON TROUT DID NOT HAVE TIME OR PATIENCE
City: MOUNTAIN VIEW

Tips: DROPSHOT WORKED BEST BROWN SEEMED TO BE COLOR
Wednesday, July 12th, 2006
Water Clarity: Muddy (0-2 foot visibility)

Report: I NEED SOME REPORTS BRINGING KIDS UP IN AUGUST
City: mountain view
Friday, June 9th, 2006
Water Temp: 57-74

Water Clarity: Clear (4+ foot visibility)

Report: Yes, the water temps are correct - but this report is over a 10 day period!! I was up at the lake with my wife for about 8 of 10 days for some relaxation, fun fishing, and two guided trips. The first trip was for about 5 hours with a husband and wife and one of their dads. We fished the east side and caught 15 smallies, mostly 1 1/2 to 2 lbs 11 oz! Guess who caught the biggest - that's right - the lady!! I had her split-shotting a 4" green pumpkin Berkley Power worm. We saw a few smaller bass on beds but didn't really try for them. The other fellow I guided Thurs caught 4 bass, but nothing over 13 inches and I only got bass to 2 lbs - about 6 or 7. It was the beginning of a cold front. This last Tues and Wed evenings - when there was some warm weather - the evening fishing was really good for quality - fishing alone I caught 5 or 6 smallies from 2 1/2 to 3 lbs 2 oz - all post spawners except one. Lots of 2 to 2 1/2's also - fishing the south side of the peninsula. Unfortunately, lots of unsteady weather and south wind most of the days I was there. Rick Tietz came up and fished with me on Tuesday and we did well (about 25) medium size fish - some sight fish. After he left - in the evening - the fish got bigger, har!!!! I found the evenings to be better than the mornings overall.
City: Yuba City

Tips: The first week I saw many bass boats during the week (very few the second week) - I guess preparing for what I was told were 5 tournaments on June 3. I have no idea if that's true, but I have never seen anything like what I saw on that Sat morning - six bass boats fishing 2 adjoining points. Wow, now that's pressure!! If there are 100+ bass boats with full livewells releasing, at the dam ramp, tournament caught bass over a period or a month or so, is it time to think about a release boat - or asking anglers to take some and release them in some other areas? Maybe that's being done - I have been told it's not. One angler told me that after a tournament, an Almanor smallie can swim to the other end of the lake - the next day - where she was caught and return to her bed. That is one fast bass!! Anyway, I hope the new young anglers have the respect for a possible fragile fishery that some of us who have fished the lake for decades do. I just hope bass tournament folks will regulate themselves as this sport grows before a higher authority steps in to do it for them. Anybody remember Trinity Lake in the mid-70's? In fairness, many of those bass were killed for mounts. Gee, I wonder how many emails I will get now!!! Seriously, I just want future generations to be able to enjoy a wonderful fishery (trout included) with absolute killer scenery! On a positive note, I did catch a lot of normal early summer 8 to 12 inch smallies - a healthy sign! Good luck everyone!!!
Sunday, May 14th, 2006
Water Temp: 60-64

Water Clarity: Clear (4+ foot visibility)

Report: I made my first trip to beautiful Lake Almanor this year. Looked it over Thursday afternoon in preparation for a guide trip on Friday. A father/son team and I started working our way down the east shore around 7 am, catching a few on 4" Berkely Power worms and I ripped one on a shad colored Staycee. I though we would have some fun fishing beds that were very visable - mostly with a male guarding the nest. These guys picked the technique up quickly - actually they were 9 for 9! One nest had the male and female on it and dad got the female to bite first - she was 3 lbs even. All fish were returned to their nest immediately, not hauled off somewhere to be weighed in. We caught a few more non-sight fish for a total of 16 smallies - best five a little over 14 lbs. After saying goodby to them, I went out for about 2 hours and caught 6 more - the best one was on one of the ladder steps that are deep in the water now. She was 3 lbs 3 oz. Another 2 1/4 pounder was caught on the same Staycee. I was fishing west of Big Cove. Sat morning I slept in some and hit the water about 10:30 and fished until 3 pm - again on the east shore. There was a 40 boat tournament going on and they seemed to be fishing mostly the west side. I think 17 something won it. Anyway, using junebug and green pumpkin Berkely worms. I caught 13 bass up to 3 lbs 1 oz - most were in the 2 1/4 to 2 3/4 lb range. No small bass. An interesting thing happened in the early afternoon. One area seemed to have a large mud-line, but there was no wind. It was pollen so thick that it discolored the water. The bass were in there like cordwood. Most of my larger bass were caught there. Two were sight fish in a clear area - just for fun! Some of you might remember last May when I and probably several others nearly drown or froze to death in May. WHAT a difference a year makes!! The scenery - with all the mountain snow still visable - is simply breathtaking!!!!
City: Yuba City

Tips: I did not locate or catch any really large smallies like I did last year. I heard that the biggest tourny fish yesterday was 4.01 lbs. That's not real big for a 40 boat tournament. I have been told that bass are just being released by a lower lake ramp. Someone told me that a smallie will swim all the way back to the other end of the lake - even back to their bed. I wish I was that optimistic! Several areas that I have seen lots of spawning fish in previous years have no beds yet, so maybe there is more spawning to come. I threw crankbaits a fair amount with no takers. The magic depth seemed to be about 8 to 9 feet. We didn't catch much any deeper. Fun trip!
Monday, May 8th, 2006
Water Clarity: Clear (4+ foot visibility)

Report: Thanks for the info Ted! Hope the rumor of the two 7#'s is false. Although I have heard that trout fisherman have been picking up some large smallmouth while trolling the east side. I hope they are not making it on to someones dinning room table.
City: Folsom, CA

Tips: Please practice catch and release.

Water Clarity: Clear (4+ foot visibility)

Report: I heard that the lake is covered with driftwood. Anyone know if the lake is restricted to 5mph. How's the fishing? Got a trip planned in a few weeks.
City: Folsom
Saturday, April 1st, 2006
Water Temp: 50-54

Water Clarity: Muddy (0-2 foot visibility)

Report: Sence Larrys report the big storm came through and the water turned muddy and the fish went ?. Tom Ericson and I started out early with dark color jigs, our first bit came at noon. I'm not sure what to do in that muudy water. By the end of the day we baged 3 fish and our biggest was 4 lbs. Wait for the lake to clear up.
City: rocklin
Sunday, March 19th, 2006
Water Temp: cold

Water Clarity: Stained (2-4 foot visibility)

Report: Just a short update on whats going on this time of year. We have had snow all month 3FT of new snow the past couple weeks. The lake level is up pretty high already,with alot of run off to come also. right now the only launch open is at the dam. Just a reminder that we are still working on the large mouth recovery project. So please pratice catch and release this sping and let them spawn. there is lots of smalies out there that can pull your sting.
City: chester

Tips: If your planning a trip in the next few weeks you might want to bring along some long johns.
Monday, March 13th, 2006
Water Temp: 34.2

Water Clarity: Clear (4+ foot visibility)

Report: Dont worry about fishing this lake for another month. The snow berms are eye level off the road and its real cold. The trout fishing is real bad if you were wondering about that.
City: susanville
Monday, September 19th, 2005
Water Temp: ?

Water Clarity: Muddy (0-2 foot visibility)

Report: anyone fishing this lake? If so, has there been a topwater bite?
Sunday, August 14th, 2005
Water Temp: 75

Water Clarity: Clear (4+ foot visibility)

Report: Went to the Lake for my yearly vacation with the family. I fished for week. My son and I caught ALOT of smallmouth I quit counting. Sizes range from, the size of the 1/3 oz. jerkbait we were using, up to 2lbs. Fished by the dam using cultiva mira shad and a drop shot with a 4 inch morning dawn worm. Also fished close to Bailey creek.Thats where I usually catch the bigger fish. I used a DT6 Series in the silver, those things work great. All in all, I , along with my 8 year old son had a great week of fishing.
City: Vacaville

Tips: Use mira shads and drop shot by the dam if you just want to catch fish(great for kids). Use DT Series along deeper shorelines.
Friday, August 5th, 2005
Water Temp: 77

Water Clarity: Clear (4+ foot visibility)

Report: SUNSET RIP FISH AWSOME OTHERWISE SLOW DURING DAY
City: MOUNTAIN VIEW

Tips: LUCKY CRAFT POINTERS
Sunday, July 31st, 2005
Water Temp: 76.2

Water Clarity: Clear (4+ foot visibility)

Report: The Small Mouth bite is great, but I could only get them drop shotting. The Rip Bite was not there, so I went to the 4" robo worm, and it didn't matter which color I used. almost every cast was a hookup. I caught near 100 fish many of them in the 12-15" range but I did catch about 10 fish in the 2-4lb. range. I spent 4 days on the lake and it was great, but once the water skiers came out I went in.
City: west sacramento
Sunday, July 3rd, 2005
Water Temp: 65

Water Clarity: Clear (4+ foot visibility)

Report: Thanks again to those who threw out some info for my first smally mission to Almanor. It was a successful recon mission, unfortunately though, I couldn't buy a rip, crank, or topwater bite! Stayed mainly in the north end and found the larger fish on only a few points. The smallies did eat the heck out of split and drop shot iovino hand pours in the morning, late afternoon, and evening. Alot of 10 inchers, but each outing yielded several fish around 2-3 lbs. Tried everything, but nothing on any senkos, tubes or jigs, but got a few on a yabby and even a few on the flyrod with a hex nymph!
City: SF

Tips: I hear the rip, crank, and topwater can get real good, but don't go without some handpours and 8lb floro!