Almanor Lake and Reports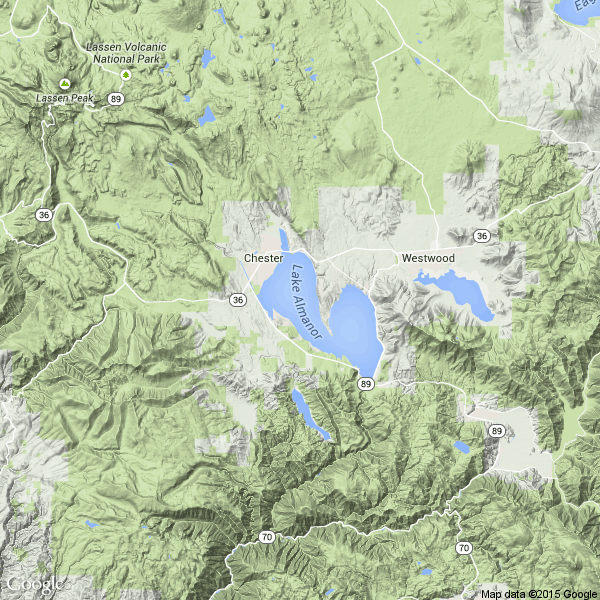 Click for Navionics/Google interactive map
Wednesday, Dec 8

Mostly Cloudy
Precip: 14%

Sunday, June 22nd, 2003
Water Temp: 72 - 77

Water Clarity: Stained (2-4 foot visibility)

Report: I just returned rom 10 days at Lake Almanor Resort (530 596-3337). This was a guiding/pleasure vacation or my wie and me. We have stayed at this resort on the water or three years now and love it! It is in the middle o some o the best smallmouth ishing on the lake. It is mostly the boulder - deep water type o structure common on the east side o the lake. I did not night ish this time - the day ishing was just too good. It is interesting to ish a lake 10 days in a row (about 3 1/2 hours in the morning and 2-3 hours in the evening is what I average unless guiding) and watch the mood o the ish change with weather ronts, heat, etc. For instance, the irst evening there was a killer topwater bite (Chug Bugs) and almost nothing ater that! In a nutshell, the irst 6 days were some o the best smallmouth ishing I have ever experienced and then it gradually slowed down in the size o the ish as more and more dinks made themselves known and the big ish moved oshore. This was a strange June - a late spawn but the warmest water I have ever seen in June - one aternoon 79 degree surace temp!! More than other years, these bass were still showing spawning sores and many had very lat bellies. But they were eating - and I mean eating!!! The three major events o my trip were - taking my wie or a boat ride in my Ranger 520 and looking over rockpiles since the lake was now almost ull. I decided to throw a Camanche Jack's morning dawn worm on a rockpile about 8 oot deep and stuck a 3 pound smallie. I have NEVER done that in the middle o the aternoon! The second thing was a lady client caught the irst FISH o her lie - a 2 lb 3 oz smallie. The irst hour she couldn't even cast! The last thrill was, as I did last year, trading trips with a great trout isherman. I was able to hook and land a 3 1/4 lb wild Rainbow on a lyrod. What a hoot!! I had another to the boat about the same size but lost it. I went to the Bailey Creek area once but ound it slower than last year. I ished stump lats on the west side and did ok. Neither o these areas were as good as the rock structure on the eastside I previouly mentioned. My main weapon against the smallmouth is a split-shot rig with a 4 to 6 inch worm. Some days I would have to cast it towards shore or best results but most days I would drag it behind the boat. I always try to drag over humps, stumps, points, and near docks. The amount o ish I caught over 2 1/4 pounds was simply amazing - and most o them were spawned out! The downside o the trip was that I couldn't ind any ish over three pounds though I lost a really big smallmouth at the boat - probably over 4 pounds - ugh!! That was ater a near 5 minute battle! Again I ound that early morning was best and then trying to stay in shadows as long as possible. Sometimes two or three quality smallies would be under a dock at 10 am - in the shadow. The evening bite was best just beore dark or quality bass. I imagine there might be a slow period until the smallmouth get into their summer routine. Work hard - you'll ind 'em!
City: Yuba City

Tips: As I mentioned, worms were my weapon o choice - or at least that is what the bass told me!! I used the Camanche Jack morning dawn worm and the Berkley 4" pulse worm in junebug and green pumpkin. They all worked every day! I caught a ew on brown/orange Rodstrainer jigs but that bite wasn't as good as last year - maybe because o the very warm water. I caught several on #240 4" Senkos. I did some drop-shotting with no success. A ew anglers were throwing lukes with great success. There was a ly-isherman who knew what he was doing and he was just nailing them or several days!! I really believe the hardest hit one will ever get rom a bass is a smallmouth hitting a crankbait just at dark! I caught several on black Wiggle Warts and one night or the last cast I threw it as ar as I could - cranked it down a ew times - and got one o the best hits o my career! And it jumped nearly two eet out o the water - I could still see a bit! Somehow I got it in the boat and it weighed 2 lbs 9 oz. How can that size o ish stretch your arm?! That is a un bite to get on! It held up or a day or two and then died. When I ish a jig or a split-shot rig in Almanor rocks, I really swim them very slowly, trying to touch the bottom occassionally. I you let your bait stop - 9 out o 10 times you will get snagged. I you are snagged, don't jerk. I you give slack to your line, lit your rod and gently shake it, the sinker will oten slide right over the rock. This is because many o the Almanor rocks are rounded. As usual, I ound most o my quality bass at the 12 to 18 oot depth. During the irst 6 days, many were very shallow but that didn't last too long. I was using 6 pound test mostly, 8 or jigs, and 12 or early and late cranking.
Sunday, June 8th, 2003
Water Temp: 69

Water Clarity: Stained (2-4 foot visibility)

Report: ished with Cottonwood bass club on sunday..water was calm..started o throwing a spook..gt 3 ish 1legal around 2...then threw the black hologram grub or 8 ish 2 legal oned around 2 also...then or the last 2 hrs the bite got ough and i threw on a drop shot and caught a 2 plus on a lake police white shad...had 7.98 all together. Not bad or anon-boater who hasnver even see this lake till the blast o.My riend jason ished to, he got 4.44 or two smallies, he ripped them both including a 3.5.
City: Redding

Tips: spooks..pop r's and buzzers in the morning..grubs and bed ishing in the aternoon.
Thursday, May 15th, 2003
Water Temp: 55-60

Water Clarity: Clear (4+ foot visibility)

Report: The bass have moved back up in the shollows the males are in making beds and lots o ish pairing up they are real spookey not wanting to have anything to do with bait should get better as the spawn gets alittle more astablished. remember it is the spawning season so you realy need to practice catch and release. We are still working hard getting our large mouth back so i you are lucky and catch one it needs to be released were you cought it. we have all the clubs that visit are lake doing small mouth only.
City: Chester CA USA

Tips: right now your best bet is to put a top water lure over them early in the day.
Wednesday, May 14th, 2003
Water Clarity: Stained (2-4 foot visibility)

Report: SORRY I WROTE DOWN THE WRONG E MAIL ADDRESS THIS IS THE CORRECT ONE THANKS!
Monday, May 5th, 2003
Water Temp: 50-53

Water Clarity: Clear (4+ foot visibility)

Report: Fished Sunday and Monday. Sunday was downright nasty, with a combination o rain and hail, 45 degree air temp. Water was 47-49. No takers. Monday brought sunshine and a 2-4 degree improvement in water temps, although the bite remained very tough. Fished 7 hours. Picked up 2 ish on a white luke, 1 on a rip bait. Very ew beds yet, and those that I saw were empty, but the hens are busting with eggs, so a ew days o good weather should break the bite wide open.
City: Larkspur

Tips: Work it real slow and stay in 10-15 eet o water until the water temp improves.

Water Temp: 46-48

Water Clarity: Stained (2-4 foot visibility)

Report: Fished back to back tournaments this weekend. Saturday(Great Basin Open) had 35 boats entered in a team ormat. 16+ lbs. won with 14+ to get in the money. Rips, tubes, worms produced or the top weights. Lots o limits. We weighed 12.44 lbs. all on rips. Sunday(B.A.S.S. Fed) had a total o 19 anglers. Weather was alot colder than previous 2 days and it showed. Only 4 limits. Winning weight was 13.5 lbs. with big ish @ 4 even. Grubs and rips produced the top weights, bites were at a premium. I would like to thank all the anglers who came up to ish on Sunday. We had anglers rom as ar as the bay area and also Dunsmuir. Weather was orgettable, ishing was tough, roads unpredictable. Diehards all o you. Tony( shasta region B.A.S.S. ed director)
City: Redding

Tips: Steve Shaer and I had 8 bites on Saturday and I had 6 bites on Sunday landing 5. All came on Lucky Crat Pointer. We chucked it all day both days or those bites. Toughest time I've ever had on this lake. Good luck!
Thursday, May 1st, 2003
Water Temp: 49

Water Clarity: Stained (2-4 foot visibility)

Report: To say the bite went tough is mild. Out today and only two in the boat and a couple other hits. Really slow with plastics. No rip bite, others I talked with had simularresults. Bite has dropped o over last week due to cold and unsettled weather.
City: susanville
Wednesday, April 2nd, 2003
Water Clarity: Stained (2-4 foot visibility)

Report: Anglers- Ino concerning Cal. B.A.S.S. Fed. tourney May 4th on Almanor: The ield is limited to the irst 35 boats to sign up, not including nonboaters. The cuto date is Mon. April 28th and entries must be received by then either by mail or hand delivered. Interested anglers can download an entry orm @www.caliorniabass.org. Entry orms also available in Susanville at the Elegant Iris, in Reno at The Gilly or you can call me at 530-243-7348. Thanks, Tony
City: Redding
Monday, January 20th, 2003
Water Clarity: Stained (2-4 foot visibility)

Report: Anglers interested in ishing B.A.S.S. ederation tournaments the 1st one will be held on Lake Shasta March 30th ollowed by Lake Almanor on May 4th. I did away with the Sept. 14th tourney. Much better bite in March! These are open events- all anglers are eligible and are guaranteed there boats. Any questions contact me (Tony) @ 530-243-7348.
City: redding
Thursday, November 28th, 2002
Water Clarity: Stained (2-4 foot visibility)

Report: Tony, just saw your post, i you are still looking or contact o Great Basin Bassers(Reno NV) I can not remember the name, but you can contact them via "The Gilly" on N. Rock st. Sparks, NV
City: susanville
Thursday, October 31st, 2002
Water Clarity: Stained (2-4 foot visibility)

Report: I AM LOOKING TO TALK TO THE INDIVIDUAL(S) WHO RUN GREAT BASIN BASS CLUB OUT OF RENO. PLEASE CONTACT ME @ 530-243-7348 OR THE E-MAIL ADDRESS ABOVE. THIS IS ABOUT TOURNEY YOU PUT ON IN MAY. THANKS, TONY.
City: redding
Wednesday, October 9th, 2002
Water Temp: mid-60's

Water Clarity: Stained (2-4 foot visibility)

Report: went trolling or trout,but caught a at 4lbs smallmouth in about 14 t. o water, then caught a 3 1/2lbs rainbow at 22t. both on nightcrawlers slow trolled.Frist time at this lake but not the last.
City: oakland
Wednesday, August 14th, 2002
Water Temp: 75

Water Clarity: Stained (2-4 foot visibility)

Report: Top water is still working. some plastics, gitzit's jigged. early and late are best. just a short update, i interested. my partner and others have been catching somenice bass. alongwith the occasional trout that take thelures.
City: susanville
Monday, June 24th, 2002
Water Temp: 64-68

Water Clarity: Stained (2-4 foot visibility)

Report: Just returning rom a working (guiding) one week vacation at beautiul Lake Almanor. The smallmouth ishery seems to be holding up well in spite o increased ishing pressure. Some o the locals I talked to seemed alarmed by the increase in tournament pressure. I guess time will tell. I saw many bass boats on the lake during the week or the irst time in over 20 years o ishing the lake. Actually, it was kind o a strange sight - thought I was at Clear Lake!!! Then I looked at Lassen Peak and thanked the Lord or the gorgeous scenery.The ishing was very good and very bad during the week - two ronts passed through which brought some serious wind or a ew days. The morning bite was the best with two or three o the evenings being very slow. That suprised me! I ished a 4 1/2 inch splitshot rigged Magic worm most o the week. Morning Dawn was the best color by ar with June Bug II second best. The bass were spitting up crawdads and baitish both, but the jig bite wasn't as good or me this year. I did lose the biggest smallie o the week on Wed evening using a Rodstrainer jig - it might have gone 4 pounds. I tried to net it mysel - should have had my riend do it. We got a ew topwater ish up to 2 pounds, but it really wasn't very good, nor was the crank bite. One ellow was using lukes with good success. The two highlights o the week were - one good evening I caught 14 bass in a little over an hour - biggest 2 1/4, on a rock wall in pretty heavy wind. All were caught on Magic worms. My guided trip Tues was good, but the Friday trip was really sweet. It ended with a double hookup beore tearing back to the dock at 60 MPH as the lightning got just too close or comort!!! My two clients rom Nevada and I watched the storm develop over Lassen and the ishing just got better as the sky darkened. We ished some avorite spots on the east shore near Hamilton Branch and urther north towards Bailey Creek. We wound up with 16 smallies in the boat with the ive ish limit right at 15 pounds. One client had a 3-2 and a 3-8, both spawned out but beautiul ish!! Again, all were caught on Magic worms, on rock ledges, about 13 to 18 eet deep. I patterned rockpiles and ledges most o the trip and did not do much with stumps this time. I sure hope we ALL take care o this ine ishin' hole!!
City: Yuba City

Tips: Warm, steady weather will bring on a good topwater bite. The trout ishermen are waiting too, as the Hex hatch hadn't happened yet at the end o the week. Dropshotting was going to be on my to-do list, but splitshotting - dragging and casting, was just too good! I tried green craw worms - usually good - but not or me this time. O-shore rockpiles are starting to hold good ish now.
Sunday, June 2nd, 2002
Water Temp: 60-64

Water Clarity: Stained (2-4 foot visibility)

Report: Spent Friday thru Sunday looking or some o Almanors amous Smallmouth--and did hit some ish to 3 1/2 lbs--though most ish were in the 12-14 inch range..Fished the north end with white on white blades and scored on the larger ish--just an casting over stumps in 5-7 eet o water...got a couple on topwater and some smaller ones split shotting an MGM watermelon/red 4 inch worm...did get a number o ish on small rip baits-but mostly small ish..May just be a week or two early or them to really break out..Good Luck
City: Mt. Shasta
Sunday, May 12th, 2002
Water Clarity: Stained (2-4 foot visibility)

Report: I was wondering i there are any tournments coming to the lake orm June 1-25. would appreciate some ino thanks!!
City: Penngrove
Tuesday, April 30th, 2002
Water Temp: 58-61

Water Clarity: Clear (4+ foot visibility)

Report: Fished annual Forest Service tourney this past weekend.There were some big weights brought to the scales with over 32# as the winner. The tremendous reaction bitedied with the poor weather-what a shame! Plastics were therule. My In-laws ished well and inished seventh throwingSenkos and Drop-shoting Predator worms-CongratulationsSteve and Jim!
City: redding

Tips: Senkos in watermelon/black & greenpumpkin/black.3" Predator worms in colors #758 & #790. The #758 is a Bluegill pattern which works real well when targetingpost spawn ish. Good luck!
Sunday, April 21st, 2002
Water Temp: 51

Water Clarity: Stained (2-4 foot visibility)

Report: Want to thank all that attended the Honey lake bass open. Reno, Redding, Burney and local's came out, weather clearedand some nice ish were caught. 1st place won with 16x onice smallies. big ish 4.86 The weather should clear and it will just get better. GreatBasin basser's have a open on may 4, 02. should be reallyhot by then. Give it a try. See you on the water.. bill k
City: susanville
Monday, April 8th, 2002
Water Temp: 53

Water Clarity: Stained (2-4 foot visibility)

Report: Hey ellows, hate to tell you this,but Almanor is coming on. This weekends two day tourney, o our club, had limitso nice smallmouth's rom about 2-4 lbs on the average. Goodighters and really nice ish. It will get better, but youcan have a blast with them right now. Topwater slow, ripping the way to go. By the way our club,Honey lake bass, i have a open tourney on April 20, 02,'launch at the dam ramp and entry o $100.00 per boat, withbig ish pot included. Sign up at the ramp, starting about4am and sae blast o about 6am. Come on up, visit and meetothers and have a super smallmouth ish tourney. Looking orward to seeing you there, Bill K, President.HLBC
City: susanville
Saturday, April 6th, 2002
Water Temp: 51-55

Water Clarity: Stained (2-4 foot visibility)

Report: Wedid not actualy ish at almanore today, went to a small lake called butte lake very near almanore. The ishin was good, we had a small club tournament there today. There were 13 boats, and several boats had 17-181/2 pounds or ive ish all smallmouth. My partner and I had just over 22 pounds or our ive,it was an incredible day.
City: susanville

Tips: This time o year smallmouth are moving up on the lats lokking or places to spawn. Try suspending jerk baits, and gitzits.