Almanor Lake and Reports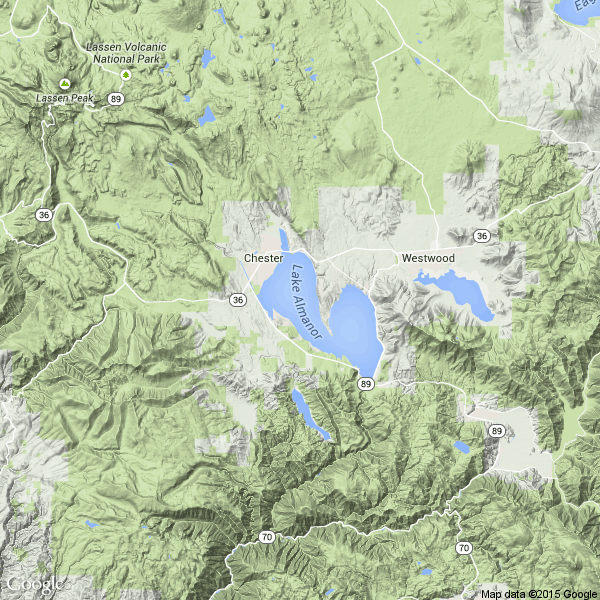 Click for Navionics/Google interactive map
Wednesday, Oct 20

Rain/Snow Likely
Precip: 63%

Saturday, March 29th, 2008
Water Temp: 42 in the after

Water Clarity: Clear (4+ foot visibility)

Report: Smallies are in smashing the tubes and rips. Caught 12 in the last 3 days after work. All big females 2 to 4 pounds.
City: susanville

Tips: Bunched up moving in and out for short periods all day
Monday, March 24th, 2008
Water Clarity: Clear (4+ foot visibility)

Report: Good trout fishing in Big Cove! Caught 2 saturday evening and 4 sunday morning. 1 King Salmon in the bunch. Missed quite a few fish as well! Good times! Can't wait till the Bass fishin heats up.
City: Sacramento

Tips: minnow imitation lures!
Thursday, March 20th, 2008
Water Temp: cold

Water Clarity: Clear (4+ foot visibility)

Report: I had someone ask if the bass are starting yet. I have not been out there yet. The lake iced over this winter and still has some areas still iced up on the west end. So things may be starting a little later than years past. The east side is fishable. We still have 3-4 feet of snow on the ground. the ramp at the dam is open.
City: Cester

Tips: stay safe and watch out for ice
Wednesday, March 19th, 2008
Water Clarity: Muddy (0-2 foot visibility)

Report: Just looking for a report on what the bass are doing. Any tips would be helpful. I will be heading up to the lake for easter weekend and will be fishing out of my pontoon boat. Launching out of rec 1 on the peninsula. Thanks!
City: Sacramento
Saturday, March 1st, 2008
Water Temp: ?

Water Clarity: Stained (2-4 foot visibility)

Report: The chester side is still locked in with ice, but the from the dam to past big springs is all open. Slimer bite is good, salmon starting to show up here and there.
City: susanville
Thursday, December 20th, 2007
Water Temp: ?????

Water Clarity: Clear (4+ foot visibility)

Report: Best top water bite i have ever had popr were ticket JACK AND MADDIE DRILLED EM Madddie got her first senko fish Myron would be proud best year ever cant wait to go back.... tried dropshotting big browns to no avail
City: mountain view

Tips: rainbow pattern popr
Monday, August 6th, 2007
Water Temp: ?

Water Clarity: Clear (4+ foot visibility)

Report: Fished lake almanor on friday afternoon and all day sat. Only second time fishing this lake and we caught some nice bass. We fished the east shore both days, We had planned to try the Bailey Creek area but had no reason to leave. We nailed them on Norman deep little N crankbaits and X-raps when the sun was up. The biggest on Friday came from the X-rap it was 3.4 pounds. We were working both baits fast. Saturday morning gave up a pretty good topwater bite on poppers and props. the biggest topwater fish was 2 pounds. We caught more fish later on roboworms, X-raps, and crankbaits but nothing real big.
City: Paradise

Tips: we were fishing the whole east shore. Most of our fish came on the points, but we caught fish everywhere. When we caught the big one on Friday there were two or three smallies following it in that had to be anywhere from 3-5 pounds. We hit that spot again on sat. morning and thats where we caught the 2 pounder on topwater. I wont fish this lake again untill next year so I dont mind telling you guys where we were. There is a point on the east shore just north of someones crawdad traps. There's 3 or 4 bouys marking them. There are some fat bass on that point. Great Lake, great times.
Friday, June 22nd, 2007
Water Clarity: Muddy (0-2 foot visibility)

Report: me and my buddy, fished for a little while with no luck.
threw almost everything i could think of, however almost everything i threw got hung up on weeds except for plastics...
City: Chico

Tips: Don
Friday, June 15th, 2007
Water Temp: 70

Water Clarity: Clear (4+ foot visibility)

Report: did this already awesome week hammered them on whatever we wanted ....... call the boys we should reload here.... and set lake record df 20
City: mountain view

Tips: 20 to 50 ft
Sunday, June 10th, 2007
Water Temp: 64

Water Clarity: Clear (4+ foot visibility)

Report: Fished Sunday morning with some success on Lucky Craft Staysee Jerk Bait. Started by Canyon Dam launch and picked up a few (1 1/2 to 2 pounds) off east shore points. Ran to the islands off Rocky Point and between the peninsula and Pratville, fish seem to have not migrated there yet since the spawn. Did the best at Bailey Creek area landing one 3 1/2 lb and one at 2 1/2. Both on the same jerk bait. Looks like the summer fishing patterns are in full swing now. Saw alot of dirty beds in the Almanor West cove. Wind did not blow while I was there but that jerk bait bite is much better when there is more than a ripple on the water.
City: Quincy
Thursday, May 31st, 2007
Water Temp: 000

Water Clarity: Muddy (0-2 foot visibility)

Report: Making a trip to this great!!Can anyone tell me what stage the smallies are in? How's the bite? ~Thank you ~
City: Redding
Wednesday, May 23rd, 2007
Water Clarity: Clear (4+ foot visibility)

Report: what people need to understand is the fact that there are more female smallmouth taken home and eaten or otherwise wasted by non-tournament fishermen than by those that fish tournaments. Tournament fishermen practice catch and release everytime out and do more for conservation of the fish than anyone. Bass fishermen as a whole need to realize that catch and release is a must if these great fisheries that "BELONG TO ALL OF US" are going to continue to be great. If you want to take some home to eat, take the males they taste just as good! However, don't take what you aren't going to eat. Lake pressure has to do with those that are taking everything that they catch, not with the tournament fishermen that are releasing the bass that we catch. Get educated before you form rediculous opinions!
City: susanville
Monday, May 21st, 2007
Water Temp: N/A

Water Clarity: Clear (4+ foot visibility)

Report: Dear "fishmore".

Friend, sorry it took so-long to respond and I hope we can agree to disagree. I wish to challenge your statement on two accounts. You state that "tournament fishing is all about $$$ without regard for environmental consideration." #1. I believe tournaments are more about "COMPETITION" than anything else. Our overwelming desire to revert back to our Neanderthal roots and pound our chests is far geater than the rewards or lack of obtain via tournamnets. This is true since less than 20% of any field recieves a form of a return. Money is just another reason to complete, but not the sole purose. #2. If nobody cared about the fisheries they would stopping spending so much money on live-well systems etc... A requirement to participate in any type of bass tournment is the demonstartion of a proper functioning live-well prior to bast-off.

The smallmouth will be spawning through the summer. What your witnessing now is the the average (mean population), somewhere in the 67%. Nature spreads out the spwan for a reason or reasons. Even though Alamanor is by far a clear lake, many of the smallmouth bass spawning can not be seen with the naked eye (they're spawning too deep). They get five days off Monday thru Friday). I like their chances.
City: N/A
Wednesday, May 16th, 2007
Water Temp: 59

Water Clarity: Clear (4+ foot visibility)

Report: Hey fish4fun, if Almanors' smallie fishery was in immenent danger of going down the tubes due to heavy bed fishing pressure, DFG would section off major spawning areas in the lake and make those areas off limits during the spawn. But they have not done that and believe me- their biologists monitor that lake, its second to only Trinity in terms of quality and Almanor has a compairable population of 2-3lb fish. I dont know why you decided to complain about the issue this year? Anyone who actually fishes Almanor on a weekly basis knows that for the heart of the spawn this year, many of the excellent areas on the lake have been nearly unfishable due to 15mph+ winds which tend to murk up the water and make some nice size whitecaps, too bad for us- "all for the $$$" tourney guys who just like to go out and compete against our local friends. Just so you know, a first place finish and big fish check now days will scarcely cover the fuel cost to go out and fish for the day. So if your gonna fish you might as well fish one of the Mtn./Westwood Bass Club or Honeylake Bass Clubs' tourneys and win back some of your gas $$$.
City: Susanville

Tips: Start early and pray for a calm day! Dont forget your glasses.
Sunday, May 13th, 2007
Water Clarity: Clear (4+ foot visibility)

Report: I'm sure the recent tourney's did not help for this years spawn. Although, the squaw fish must have loved it when 10 bed fish per boat were taken off their bed, thrown in the live well, and driven around for several hours prior to the weigh in. Why not have the tourney's in the fall or late summer at Lake Almanor when the smallies are not on beds?
City: LAKE ALMANOR, CA

Tips: Have a squaw fish tourney next year during this time. It sounds like you can find them just as easy as you can bed fish.
Saturday, May 12th, 2007
Water Temp: 56

Water Clarity: Clear (4+ foot visibility)

Report: Hey all, just had to post a BOLO to all that are fun fishing this time of year. While fishing for the spawners this weekend I saw something that really got me going. I was fishing a bed and noticed a 4-5 pound squaw fish cruising around the bed about 10' away. As soon as I caught the smallie the squaw made a mad dash for the bed and proceeded to gorge on the eggs. As soon as I released the smallie it chased the squaw off immediatley. About 25 yards down the bank I was doing the same and there was the squaw again. This time my buddy caught the fish and I proceeded to poke and jab at the squaw until the smallie had a chance to get back to the bed. This fish followed us for about 45min before we finally had enough and went to the next cove. About 30 min. later here comes the same squaw fish, circling the beds waiting. I finally stuck a hook in the squaw fish and it didn't come back. Just be aware of your surroundings while fishing during this vulnerable time. I love this lake during the spawn and would hate to see it jepordized because of the shear numbers of people and the inadequate education of those persons. Sincerely, an avid bed fisherman....
City: norcal

Tips: Lizards and grubs !!!!
Thursday, May 10th, 2007
Water Clarity: Clear (4+ foot visibility)

Report: The realtiy is, when it comes to tourament fishing, is all about the $$$. Health of the fishery is not a consideration.
City: Susanville
Monday, May 7th, 2007
Water Temp: N/A

Water Clarity: Clear (4+ foot visibility)

Report: Lets all calm down and educate ourselves a-little bit. Catching or pressuring fish on beds is not exactly conducive to a best case spawning situation; however, catching and killing spawning bass is the worst case scenario. So, that said, do a-little homework and note that since the widespread adoption of catch and release practices we've seen greater numbers of bigger fish than ever before. If you wish to dispute this finding do yourself two favors; 1. perform a statistical anlysis for the qty and size of fish caught during a specifc event over time ( 5 to 20 years) 2. Take a trip down memory lane using the old BASS photographs taken during tournaments ('70's and early '80's) and note all of the stringers of dead BASS.
City: N/A

Tips: It was another record year for Delta and Clear Lake bass. Both bodies of water repeatedly kicked out the heaviest weights in history.
Friday, May 4th, 2007
Water Clarity: Muddy (0-2 foot visibility)

Report: Just like greedy sports agents in football, etc., the amount of tourney circuits have ruined this sport. You cannot possibly tell me that bed fishing in crystal clear water during the heart of the spawn is good for "our" fishery. Thanks for pulling 20-30 bed fish off of the stumps, sticking your 5 best in your livewell, and driving them to your weigh-in hours later. I am sure that is great for "our" fishery!
City: LAKE ALMANOR, CA
Thursday, May 3rd, 2007
Water Temp: 58

Water Clarity: Clear (4+ foot visibility)

Report: Tournents are part of the sport dont hate on it buddy. Almanor has had tournements there for years guess what its still a great fishery. Its not us you have to worry about its the weekend nobodys that keep everything they catch so maybe you should direct your attention some where else!
City: Susanville

Tips: Anyone interested I can post a scedule of all the tournys this year