Almanor Lake and Reports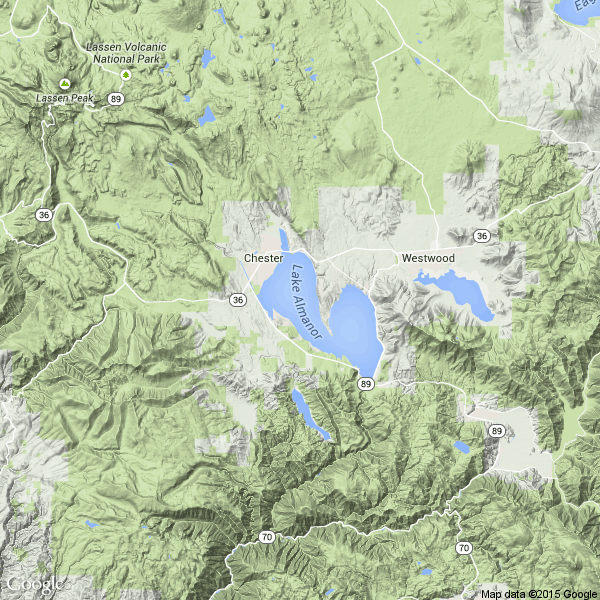 Click for Navionics/Google interactive map
Monday, Oct 18


Monday, June 13th, 2011
Water Temp: 58 62

Water Clarity: Muddy (0-2 foot visibility)

Report: Blew motor on Ranger, learned to walk shore and find lots of bed fish. Fishing was great. 6 year old Jack now can identify nest and where fish should be. Surprised Larry did not mention bed fish he was in big cove one week later. We stay at the Knotty pine across the way and they are awesome there.
City: Mountain View

Tips: Fish thought it was May with temp and big moon. Jack did not catch any popper fish probably too cold still. Lots on rip bait before lost mercury 150. Tubes worked best in cove and also caught a 3.25 on a crank bait lots of fun. Many meat hunters with bobbers, when Jack caught one he quickly returned it to its nest.
Thursday, June 9th, 2011
Water Clarity: Muddy (0-2 foot visibility)

Report: plasticman1: My lake of choice for crappie is either lake Amador or New Melones. I've always done well there. I usually do well fishing on or (if in a boat) around the boat/fishing docks. My bait of choice is a 2" red/white tube bait or a 2 1/2" albino shad Fin S Slug-go on a 1/32 - 1/16 oz jig head. Experiment with other colors if those doesn't work, or you can't go wrong with live minnows. Also, at Amador you can get lucky and hook up to some of their hybrid trouts. Those suckers are huge and a lot of fun to catch. Not to mention, good eat'n too.
City: Elk Grove

Tips: Fish the docks. Use a 2" red/white tube or 2 1/2" Fin S Slug-go on a 1/32 - 1/16 oz jig head. Fish vertical jigging, experiment with different color lures and depths until the fish finds you then it's on.
Friday, October 29th, 2010
Water Temp: 56 Degrees

Water Clarity: Stained (2-4 foot visibility)

Report: Took my first trip to Almanor today. We launched at the dam at about 7am, put the trolling motor down and starting cranking speed traps. At 7:15 I hooked into a 3lb- 8oz Smallmouth using a a crawfish color (orange belly). I had my friend throwing a shad color. Ended up being our only fish. I ran all the way to the North East end of the lake fishing submerged islands and points with the speed traps, tubes and drop shot. Not much on the graph, saw a couple of bait balls but no schooling fish. Fished till about 10:30.
City: Quincy
Friday, August 6th, 2010
Water Temp: 71-75

Water Clarity: Clear (4+ foot visibility)

Report: What a difference a month or so makes!! After my last trip, this one was beautiful - no clouds for 3 days, very warm, and flat water!! I had a half-day guide trip on Wed and the fishing was slow except for lots of small ones. The future looks good for the smallies - lots of young 'uns!! He did hook a nice one but lost it. He wanted to throw crankbaits most of the time and had quite a bit of action in spite of the 15 foot or so water clarity. Lots of nice bass at the 20 to 30 foot depth but couldn't get them to bite. I went out Wed evening for an hour or so to one of my favorite rock piles and did catch 4 up to 2 1/4 lbs and lost another 3 or 4. Boy, are they strong in the summer!!! I was using Berkley 4" green pumpkin Power worms - about 12 feet deep.
City: Yuba City

Tips: I'm sure Senkos would have worked well but didn't use them this trip. I did have one good hit on a black crankbait before dark, but that was it. During the guide trip, I had him using a chartreuse/craw Wiggle Wart which seemed to work well. Many of my favorite spots during the guide trip produced nothing - some wind probably would have helped!
Tuesday, June 15th, 2010
Water Temp: 69

Water Clarity: Clear (4+ foot visibility)

Report: The year of family and PBK ( aka ) Phoebee. Pbk hammered them. Me not so well. Awesome weather great fishery
City: Mountain View

Tips: Claim to fame schooled Pete Howell( PBK K one night on rock wall throwin favorite jig and rip bait. He is one of californias best so it made me proud.
Saturday, June 12th, 2010
Water Temp: 56-63

Water Clarity: Clear (4+ foot visibility)

Report: I spent a few days at Big Cove for a little fishing and scouting. Winter is trying to depart - but it is a slow process!! Surface temp on Wed evening was 62 and this morning (Sat) it was 56! I fished most mornings and evenings for about 2 to 3 hrs and found the smallies pretty willing hit but hard to hook. The wind blew both directions - hard - most of the time. I just fished a mile or so either direction from Big Cove. Each time out I caught from 4 to 7 smallies, but only one quality one, 3 lbs 2 oz. I caught about 25 and only 3 under 12 inches. Last night I got them to hit crankbaits including the ever-faithful crawfish Deep Wee-R. Before dark I was throwing the black Wiggle Wart and hooked a real toad. She stripped out line like I couldn't believe, but I lost her after 20 or so seconds. I did catch several 2 to 2 1/4 pounders on the crankbaits. The rest of my fish were caught on green pumpkin 4" Power worms and 5" Senkos - mostly #301. Before dark they were nailing the green pumpkin Senko w/ chartreuse tail. Lost a big one on that bait too, but it did produce my 3-2 smallie. Lots of bass were caught by the dock ladders that are now much in the water. All my crank fish were caught on a sloping rock bank with deep water next to it. That spot always seems to be good right at dark. The magic depth overall during the trip was 8 to 12 feet. I was mostly Texas rigging my worms but did catch a few split-shotting. There were so many favorite areas of mine that I was excited to work, but Almanor, like Clear Lake, will just kill your game plan. Overall, I did have lot of action (bites) but the mood of the fish, cold front, and the rough water made things very difficult.
City: Yuba City

Tips: The lake is filling rapidly. I took a photo of the inflow flood protection canal west of Chester. What a sight - running high!! If there was any spawning activity - I wouldn't have been able to see much. Most bigger smallies seemed to be post-spawn. Where I was fishing the visability seemed to be about 3 to 4 feet.
Thursday, October 8th, 2009
Water Temp: 60-63

Water Clarity: Stained (2-4 foot visibility)

Report: Well the NorCal Bass Ratz Junior BASS Club from Rocklin did their TOC today. With a cold front that came in making the bass lock jaw the young anglers did well. We had 6 boaters that volunteered from Basin Bassmasters that gave their Sunday to help these anglers. We had a three fish limit, three Juniors came in with limits. 4.06 big fish was caught by Andrew Loberg and he also had big bag of 7.86 lbs. Second place was Travis Bound with 5.30 lbs for three bass and third place was George Corp with three bass 3.88 lbs. Some bass were caught on Senkos, rip bats and crankin.
City: Rocklin

Tips: fish shallow in main body
Friday, August 14th, 2009
Water Temp: 85

Water Clarity: Stained (2-4 foot visibility)

Report: No moon... No wind... No warm summer air... no baitfish.. These were the conditions friday night at our short two fish trip to amador! Temperature had dropped of into the 70's by midnight and the bass just did not want to bite nothing! Threw big baits the whole time with no success very frustrating but hey that is bass fishing i guess i just have to get better! No excuses! Same spots in the lake hold fish year around you just have to find what they are eating and take your time and grind grind grind till you get that limit!!
City: CH

Tips: Bring a Warm cup of coffee. Maybe some cold beer and just hit the spots that hold bass and just keep your line tight!!! Fish crawdad color patters and top water before dark and all through the night but pray for the Moon!!
Tuesday, June 16th, 2009
Water Temp: 68

Water Clarity: Clear (4+ foot visibility)

Report: Tougher trip this year the fish had moved out from most of the spawn post area. DID HAVE FUN WITH POPPERS AT NITE . As to the prior gentleman I think ya ment amador not almanor
City: moutain view

Tips: bring a kid
Sunday, May 24th, 2009
Water Temp: 55

Water Clarity: Clear (4+ foot visibility)

Report: Fished for a few hours in the morning on Saturday, found fish in 10-20 feet. Found many aggressively feeding smallies in some of the coves on the east shore and peninsula. Key is finding the balls of pond smelt they are feeding on. We put 6 fish in the boat on consecutive casts ranging from 1-3 lbs. All of which coughed up pond smelt, then the bite died as the school moved.
City: SF

Tips: If you can find the schools of smallies that are feeding it can be non-stop action! Use any 3-4 inch pond smelt imitation on a drop shot. Keep moving, a lot of searching involved.
Saturday, May 23rd, 2009
Water Clarity: Clear (4+ foot visibility)

Report: We went up for 3 days fun fishing and caught 10 to 15 smallies each day. Just fish the morning bite till noon site fishing. We used 2 1/2 inch hollow belly swim baits on a drop shot rig and had a ball. Most of the fish ran about 2 pounds with some pushing 4. We caught every fish we saw and released them as soon as we landed them. You could watch them go right back to the bed and we just moved to the next one. The best lake this time of the year for smallmouth.
City: Sacramento

Tips: Thanks to Rick from Blade Runner Bait Co. for the great lures.
Thursday, May 14th, 2009
Water Temp: 54-58

Water Clarity: Clear (4+ foot visibility)

Report: Wow, no reports for 7 months? Fishing isn't that bad. But the wind is!!!! I fished Monday evening in bad wind and only caught 1 smallie. Tues I went out at 11:30 am and was back to the dock about an hour or so later - wind was getting ugly. Wed I had a guide trip with two great guys. I wish the fishing was as great - the cold wind really put a hurt on the bite. One of them had a bite or two while the other caught a 14" smallie and missed two or three others - one a nice one that hit at the boat. I fished for a lot of the trip, trying to see what was happening to the bite. I cranked and threw other lures to find out what they wanted - nothing worked except the small Beaver. I think I got 4 or 5 bites, landing 4, one close to 3 lbs and one beauty near 3 1/2 lbs that had not spawned. I am always amazed at how beautiful those fish are. I am very disappointed when clients don't have "catching" success, though I make sure to teach them all I can about techniques and fishing spots. They were casting beautifully to docks and other structures after I showed them how to "feather" their casts with a spinning reel. Good students!! They deserved better but the bite was just very slow. The big one I caught just climbed on my bait as I was reeling in and stayed on somehow. No skill involved!! The boat ride in however did require some skill. Clear Lake, Folsom, and Almanor can be scary and our trip back to the ramp was an event. We rounded the corner of the peninsula, heading north - nasty, nasty! Swells were 3 feet or so and breaking at the top. The guide made sure he got the wettest!! My Ranger 520 got us back safely but that was the ugliest water I've seen in years. One of the clients said his Triton would have kept us drier. Why were his fingers crossed??!!
City: Yuba City

Tips: I met a nice angler at the lower ramp on Monday who told me about the weigh-in (Canyon Dam ramp) over the weekend. He said somecot of the fish were handled poorly and some were belly-up after being released. Was I there - did I see that? No. The only reason I bring this up on a wb.com report is that Almanor has possibly been my favorite lake for many years - certainly the most beautiful. Things are changing there - bass fishing pressure is a new thing. Tuesday I saw 3 boats launching and pulling out - all bass boats! In the last several years I have had 5 or 6 different folks "vent" to me about the poor handling of the bass at local tournaments. Are they setting me up? I doubt it. I have seen that very thing at other lakes - mostly club tournaments, but not at Almanor since I am not there much on weekends. If anyone wants to get mad at me for mentioning this - go ahead. I care far more about the fishery and its survival for future generations than what you think about me. Again, I am not the important ingredient here - future good bass fishing for tournament folks, guides, and bassin' in general - IS what is important!
Friday, December 5th, 2008
Water Temp: 44 Degrees

Water Clarity: Clear (4+ foot visibility)

Report: My partner and I boated 21 smallmouth. 14 from the front and 7 from the back of the boat.

Tips: Fish deep and slow. 40 + feet
Thursday, September 25th, 2008
Water Temp: 65-68

Water Clarity: Clear (4+ foot visibility)

Report: I decided to make a short trip to Almanor Tues and Wed after getting my Ranger serviced at Oasis Marine in Redding. The water is very clear, though there was a slight algae bloom on the west side. The fall bite hasn't started yet - daytime was very tough though I did't start 'til noon on Tues. Once the shadows formed about 5:30 pm, I got into a fair topwater bite on shad colored Chug Bugs. I missed the first 3 - nice smallies in the 2 1/2 - 3 lb range. Finally I landed the one that made the trip. I fought her over 3 minutes, not wanting the Bug to pull out again! I won this time and she weighed almost 3 1/2 lbs! Always a thrill to see a beautiful smallie! Later I missed another 2 - one big one missed the lure going up and coming down!! Completely cleared the water! Wed was also very slow and to top it off, a big south wind came up and blew all day! I did land a near 2 lb smallie on a brown/orange Rodstrainer jig and missed another good one on topwater. The wind killed the topwater bite and cooled the surface temp 2 degrees. I landed another Robo worm smallie and missed the final bite. The quality was excellent but the numbers were poor. Scenery like that helps soothe the ego!!
City: Yuba city

Tips: I didn't see too many shallow quality bass, though I did see lots of this years spawn - 3 or 4 inches! I fished mostly on the west side - did not do well on the east side. Did not try the early morning bite either day. Maybe it was good. Nights are getting chilly - days were great!! Lake is down quite a bit - lower than normal for this time of year. I did a lot of dragging worms but found it difficult as the weeds are still everywhere.
Monday, September 8th, 2008
Water Clarity: Clear (4+ foot visibility)

Report: Cought fish on a spook when they were chaseing bait. Cought a lot of fish on a robo worm one that was between 7&8 lots of fish in 10 to 20 ft. Fished main points mostly they didn't seem to be back in the cuts.
City: Cameron Park

Tips: Through up on the bank and inch it back slowly
Monday, July 14th, 2008
Water Temp: 70+

Water Clarity: Clear (4+ foot visibility)

Report: Fished for smallmouth last week and did quite well with fish up to a little over 2#. Worms and crickets with split shot. Fish were in about 20-30' at times, then moved up to 12' at other times. Some were caught by the kids with nightcrawlers off the dock. I saw some huge fish off the dock swimming in 6' of water. They looked like big browns, but are there squawfish in that lake? If they were browns, they were big! Smoke was real bad, along with ashes on most days of the week. Worse in the afternoons. No wind.
City: Folsom
Tuesday, June 24th, 2008
Water Temp: 68 to 71

Water Clarity: Clear (4+ foot visibility)

Report: Fished 24 th thru 26 th every moring and evening. The smoke was down to about 1 mile visability. the fishing was ok but not killer. I could not get a reaction fish at all, tried ripbaits and top water with no success.The best bite was on tubes and pro leach both on purple colors. Dart head the tube and split shot the pro leach.I tried jigs and flukes and did not have much action. Did get a few senko fish but tubes or split shot seemed to be much more effective.
fished the West side of the Peninsula around Bailey creek and Hamilton branch area coves. Never had one over three pounds, had a lot of two plus smallies. Bite was one every 30 minutes or so on average.
City: Granite Bay Ca.

Tips: bring your tackle with you as area tackle shops don't have squat.I ran out of my good color plastics and could not find anything close.Smoke purple was the ticket.
Saturday, June 7th, 2008
Water Temp: 62-63

Water Clarity: Clear (4+ foot visibility)

Report: I fished for a few hours Thurs afternoon, but mostly looking around - finding stumps and rockpiles I have never seen before. The water is about as clear as I have ever seen it - some places are as clear as Pardee - 15+ feet visability. West side was dingy in some places because of the north wind. I did catch two about 2 1/2 lbs each off the same stump - that was fun. One or two more in the boat and I quit - wind was just too much. Friday morning - frost on the Ranger 520 - and cold breeze! I guided 3 young men - all about 15 years old (and in their shorts!) - dad was going to go but decided it would be a "kid" day. We fished about 5 hours with disappointing results. We had lots of bites and hookups but could not land them. Some was inexperience but mostly wind and lethargic fish were the problem. One rock bank produced four hooked smallies and all were lost within seconds. They did land 3 in the 2 lb range and one 12 incher. After letting them off at their home on the lake, I fished a few more hours in the wind but found the fish more active. Had lots of action and landed 4 or 5 from 2 1/4 to 3 lbs 2 oz - all spawned out females. A green pumpkin Power worm was the ticket. Most of those smallies were under docks on the peninsula's south side. Though I hit the usual cold front every time I go there, fishing was fairly good condsidering the very cold north wind.
City: Yuba City

Tips: It is so hard to judge the fishing at a lake when the water temp is about 7 or 8 degrees below normal and a weather front comes in every day or so. I hope the fry will survive the cold temps - I'm sure they will be fine. I did try some cranking in shadows but no interest. Friday afternoon as shadows formed from the tall pines, some fish did become active, hitting worms, in open water as long as the banks were steeper - rock helped. I did some dragging in the afternoon, but found casting to targets (docks) to be more effective. We didn't hook many below 10 feet of water. Some bass are on off-shore structure already.
Sunday, May 18th, 2008
Water Temp: 60

Water Clarity: Muddy (0-2 foot visibility)

Report: stayed away from the beds in the clear water. worked a bank in the only muddy water that i could find on the whole lake. 2 to 7 feet deep. white spinner baits with a grub trailer worked well in the early morning. then switched to a light colored grub. worked that on the bottom. caught six on spinners between me and my partner. and with the grub we must of caught at least 20 post spawned fish in that one cove.

Tips: if u want the challenge of staying off the beds find dirty water. otherwise beds is all there is.
Thursday, May 8th, 2008
Water Clarity: Clear (4+ foot visibility)

Report: Half the fish were on beds the other half not. Caught around 20 with tubes and rips. All the big hens that we caught were not on beds.
City: susanville

Tips: Get up early so you dont have to deal with the wind