Shasta Lake and Reports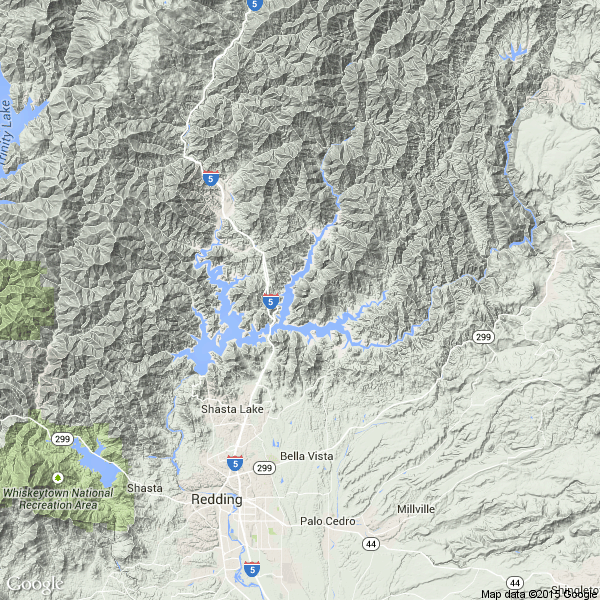 Click for Navionics/Google interactive map
Saturday, Jul 14
Storage

(ac. ft.)

Ouflow (ft.3/sec)
Inflow (ft.3/sec)
Precip.

(in.)

Evaporation (ft.3/sec)
3,421,507
11,365
1,955
0.00
328
Monday, Jul 16
Date Unknown
Water Temp: 48-52

Water Clarity: Clear (4+ foot visibility)

Report: CVBC Club tourney was held Sat. & Sun. Winning weight was just over 14#s or the two days. I belive the winning pattern was brown/brown jigs. Depth? Big ish were 3.0#s Sat and 2.6#s Sun. Sat I ished with TommyP and he managed to put me on some good ish, ended up tied or 1st with 7.0#s (2.6# & 2.0#s,other 3 under 1#) all mine came dragging 6" blue ghost Magic worms, o points with deep water access. Fish were caught rom 13'- 20'while there was still cloud cover. Sun cam out later and couldn't ind another pattern. Other people did well on jigs, brushhogs, morning dawn worms. Sunday I ished with Angel who was up ishing our tourney and to preish an upcoming tournament. He also put me on ish I just wasn't able to get them hooked and only managed 3 ish or 2.8#s. Since Angel was preishing I can't really remember what we were throwing, but he did alot better than I.
City: Newark

Tips: Keep it slow, most bites were just a little more weight on the line with the worms.

Water Temp: 48

Water Clarity: Clear (4+ foot visibility)

Report: ished riday sat with a tourney on sunday had 4 lb ish everyday with big # most ish were stagging to spawn with some sight ish . ished clear water on sot composition bottoms at depths o 2 35 eet swimming a BLUTO BAIT CUSTOM FLUKE ON WEIGHTS VERRING FROM 3/8 1/8 OZ .ish caught were good or 14.87lbs on sunday bringingour total winnings or team bluto baits to over 6000dollars ytd.
City: OROVILLE

Tips: DONT RELEY ON MAGIC TO WIN HAVE FAITH IN BLUTO BAITS TO TAKE YOU TO THE WINNERS CIRCLE .SEE YOU THERE

Water Temp: 52-53

Water Clarity: Clear (4+ foot visibility)

Report: wet,wet,wet. ew ish (spots), all deep, main body secondary points
City: Westwood

Water Clarity: Clear (4+ foot visibility)

Report: alright ellow isherman. i see alot o boats and still noones writing on these pages. come on its only a ew extra minutes. anyways i ish about 3 days a week and i mostly hit the water around 10. the best bite i ound is between 10 and 2. to ind ish i go to points with good depth. or i am inding legdes with a drop thats not noticable. i am cathcing about 13 ish a day in about 5 hours. its been a good year or me. i am dragging worms all colors and catching ish. i havent ound any rip ish yet but soon the rattle trap with start working. ish anywhere between 70 and 30 eet is the best or me. good luck
City: redding

Tips: drag worms..and watch or the bite

Water Temp: 47

Water Clarity: Clear (4+ foot visibility)

Report: lots o wind today, nearly 20 mph making boat positioning a bit tough, went into the Pit arm near Reynolds creek, ish still deep, 35-70t and usually ound around stumps, only 2 caught using twin tail grub in green pepper on 3/8oz jig head, tried jigging spoons also with no luck, lake rising 1/2 to 1t per day
City: Redding

Water Temp: 52 and dropping

Water Clarity: Clear (4+ foot visibility)

Report: Got out o town with Dave "the ishing Pol" (hes polish)Kryszak and tried to get them little spots to go. We were in the Sac arm and caught about 10 spots per each eort on the water. They were in 45-60 t. the shad were not balled up, and we got em on 3" amber worms or 2" salt and pepper reapers. You have to slow way down, and shake it and then wait or the pressure bite.No dinks, but nothing over 14" either. Good un ighting ish when you get em in 50' o water!! The points and such did not really matter, you could ind ish everywhere, it seemed i you had 70-90 t on a ledge near the 40-50 t water you could get bit.
City: San Ramon

Tips: No spoon ish, or spinners or rippin. Just them little worms shakin..

Water Clarity: Stained (2-4 foot visibility)

Report: Fishing good today. Out about an hour and had limit o trout and bass. I was jigging spoons and trolling with a bugeyed zinger. had A great day .
City: anderson

Tips: start ishing and do not give up!!!!!!!!!!!!!!!!!!!!!!!!!!!!!!!!!!!!!

Water Temp: 52-53

Water Clarity: Clear (4+ foot visibility)

Report: John Lake stoked me this weekend by dragging me up to Shasta with him. We ished hard Saturday and Sunday and John taught me a lesson boating 16 or 17 spots the irst day and 6 or 7 the next including one smallmouth. I had 4 the irst day and 2 the next. We caught them all on blades in the Pit arm. John even had one boil on his pop-r. Apparently no one told the ish it's December! Water temps were 52 to 53 and visibility was about 20 eet. Wings and mushrooms at the Whale were excellent...
City: San Luis Obispo

Water Clarity: Clear (4+ foot visibility)

Report: i ished both days o the weekend and got 5 ish each day. saturday i ished in my boat with no ish inder. i ound ish very scattered and caught one in every place i stoped and that was all..all ish in about 20 eet o water or less...sunday was a dierent story. i ished with a reind in about 50-70 eet o water near squaw creek entrance. i ound tons o ish but only got ive. my riend got 10. i think the spoon has a big dierence..he was using a perk minnow and i didnt have one and he got twice as many as me...i think it was the dierence..we also wormed...color didnt matter..we got about 4 on worms in same depth..good luck to all and dont orget to post your results
City: redding

Tips: dont orget the deep water

Water Temp: 65-68

Water Clarity: Clear (4+ foot visibility)

Report: Sorry it took so long. Fished the Won bass Pro-am, ishingwas good Thur & Fri. ripped ish all over the McCloud armand the main lake. 1 1/2 - 2 lbers. Sat. the Tourn startsguess what ripped 1 ish Sat then had 1 2.10 lber on brn& brn jig. Help Sun went spooning I bet 40-50 13 inch-13 1/2 ish biggest ish o the day was a pound and 1/2cappie. Spooned in 60 t. Good luck guys it was great weather. Which was probably the problem. See ya soon.
City: NACHES, WA.

Tips: Duh spoons, pointer minnows

Water Temp: 67

Water Clarity: Clear (4+ foot visibility)

Report: Just got back rom WON BASS tourament at Shasta.The ishing got realty tough a lot small ish.Mike Renolds caught his ish on Big Boy tube baits on wall up the Pit river.A lot o ish were caught on super spooks on points.Jerk baits working also such as pointers by Lucky Crat.Caught most o my keepers on Iovino S20 Fat Boys Texas rigged in less than 10 eet steep walls in creeks and coves.Spoons working also ind bait in creek channels with meters at 35 to 60 eet.
City: San Jose

Water Clarity: Clear (4+ foot visibility)

Report: ished out o baily cove looking or shad. No sign o shad anywhere. went out toward silverthorn with no luck and ished under the brige also with no luck. caught one keeper on shad colored crank and that was it. No birds in area. Where have the shad gone? good luck everyone
City: redding

Tips: ind the shad and you will catch ish

Water Temp: 66-68

Water Clarity: Clear (4+ foot visibility)

Report: Excellent ishing ound in deeper water. Fished Pit on Friwith excellent results in coves o main arm. Better coves had trees and ish were at a 30-33'. Best worm was oxblood though blu-ghost was OK and so was green. Sat ished Bridge Bay and Sacarea with similar results. Fish were better inside coves at a a solid 30'. Long point outside Bridge Bay was ull o ish too.Fish were not big but 13-15". Doodle it! Split shot was tooslow.
City: Eureka

Tips: Doodling at 30' inside small coves o main arms. Fish onshad!

Water Temp: 65 ------- 75

Water Clarity: Clear (4+ foot visibility)

Report: ished riday or club tourney on sat.& sun. really struggled on riday. No reaction bite to speak o, couldn't ind the shad. Ended up with three keepers all day, just barely over 13". Found the bite to be tough all weekend unless you happen to catch them bustin' shad on the surace, then a spook is the ticket. also got a ew throwing cranks/ripbaits through the busting schools. or the most part we had to resort to shaking and dragging worms to get our limits. the average limit or the tourney was about 7 lb.----- not very big at all. I did have the awesome ortune o sticking a very nice 4.68 lb. largemouth while dragging a lizard!! other than that, be prepared or alot o small spots and an occasional smally. The quality ish are probably deep chasing bait. Look or the lake to turn over soon, should bring on the bite! by the way, the tournament was won with just over 16 lb. or two days.
City: sacramento

Water Temp: 75-78

Water Clarity: Clear (4+ foot visibility)

Report: Fishing so good had to go back. Caught lots o spots and a couple o bronzebacks. Worked primary and secondary points like a mad man. Fished early morning til 10AM and late aternoon starting at 6:30 PM in the Pit River. Everyone caught ish. That makes a great trip. Marked and caught ish anywhere rom 10 to 25 t. Had a couple o ish hit right at boat. Most ish were a pound and change but did catch ish that were in the two pound range. No topwater action. Followers on cranks. But most o the ish on 6" power worms and 3" chart. lunker grubs both single and twin tails. Lots o short strikes had tails missing on baits. When bites really slowed down threw live crawdad at them and caught ish.
City: Carson City

Tips: 6" Berkely power worms (all colors) and 3" chart. w/ silver lake lunker grubs with a 1/4 oz. dart head cast and very slow steady retrieval ish will hit.

Water Temp: 78-81

Water Clarity: Clear (4+ foot visibility)

Report: Caught lots o numbers on the spotted bass 8-12 inches, shaking magic worms (Green Craw, Blue Ghost, and oxblood) in 0 to 25 eet o water in the late aternoon. Spinnerbaits (chart/white and white) in the mud lines o o points produced in the early aternoon. Top water bite was decent in the late evening ( Chug bug or Ricos) caught two Large mouth 2.5 and a 2.8 on chug bugs. Pitched jigs late in the morning caught another 2 large mouth 3.4 and a 5.1. Over all had a great trip. We stayed in the Squaw arm and ished the Squaw and Pit.

Tips: Keep your line wet. Lots o spotts to be caught in the evenings shaking worms. We looked or step drop os that had rock and shade this was the key or us. Good luck and Rip Lips.

Water Temp: n/a

Water Clarity: Clear (4+ foot visibility)

Report: main body points were certainly the key. Worm bite prevailed.We had only one evening that produced a rip bite using rattlin rogues.Caught all spots sprinkled with some smallmouths.Easily 50-60 ish days.all ish were 1.7 to2lb clones. ( but what un!!)used barbless hooks and had a 0 mortality rate. Don't ask me colors... the worms were #33&82 at phils props.We were in the sacramento arm and on points 15-20 eet deep.
City: Fremont

Tips: n/a

Water Temp: n/a

Water Clarity: Clear (4+ foot visibility)

Report: We ished in the McCloud arm. Found most ish in coves. Caught around 30 ish in 4 hours, wemissed a bunch though. All were small between 10 and 13 inch spots. We used Mojo rigged worms, in Pumpkin and also witches T. Caught most ish in about 10 to 20 eet.
City: Weed

Tips: Plastic worms in anything that resembles a crawdad, at least that is what worked or us. Fish casts all the way to the boat, most ish we caught we bellow the boat.

Water Temp: 45-50

Water Clarity: Clear (4+ foot visibility)

Report: Just spent 3 days ishing 4/9 - 4/11 ishing entirely on theMcCloud arm out o Hirz bay. The motto or the weekend was brown and down. Meaning I usedbrown lures and ished them deep and slow. I also igured out that dark lures worked well too. I'd say or the threedays our crew caught at least 300 ish. Try ishing omain points and in inlet creeks. We caught ish in wateranywhere rom 3' to 60' o water, but mostly 20-30'. Thewater level is rising quickly and the ish seem to be in transition so look or steep shels with structure. Theyseemed to come up rom the shels during the day, but wheredown deep in mornings and evenings. All o the ish werearound 1-3 lbs. I'll be going back as soon as it warms up.Good Luck...
City: San Jose

Tips: Bring your mu it's gonna be cold.

Water Temp: ?

Water Clarity: Clear (4+ foot visibility)

Report: Arrived 1500 HRS Friday and ished Pit Arm. Between the two o us we caught 11 ish, 1#-1.9# spots on pumpkin gizits. There wasn't a lack o action just a lack o hook sets. Saturday wastough, cold ront came in and it was COLD. Slow start with one ish beore 1100 am in the Pit arm.Tried Squaw Arm or about 2 hours with nothing but one. Went back to Pit Arm when tempature reachedhigh 60's to low 70's and did just ine on the north side lats, 10-20 eet o water. My partner wasskunked all day, he was missing hook sets big time. It was a tough eel! Sunday was good!!!! Coldagain but not like Saturday. We ished rom 0700 to 1100 and landed 20+ easy with a couple spots inthe 2# range. 2 bronzbacks landed Sunday also. We ished with pumpkin gizit, morning dawn 6 " worm,green weenie 6", jigs and just about anything else that was drug along bottom SLOWLY caught ish. Icaught at least 5 ish setting my rod down to do something in the boat. That really pissed my par!tner o Saturday. Primary and secondary points and lats when the sun heats things up was the keyor us. We also ished with minnows Sunday and caught some spots on a drit. A little warm weatherand things are gonna rock at Shasta.
City: McKinleyville

Tips: Drag the bottom, SLOWLY, try rip baits early, pay attention . Sti rod and sharp hooks.