Perris Lake and Reports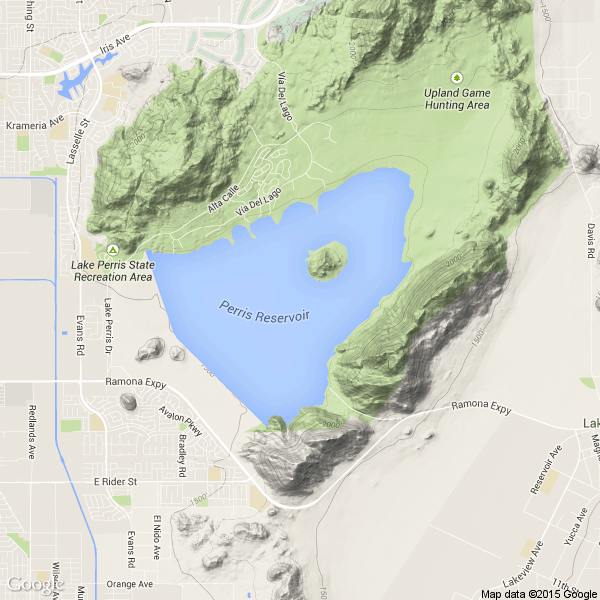 Click for Navionics/Google interactive map
Tuesday, Oct 19


Sunday, November 7th, 2004
Water Clarity: Clear (4+ foot visibility)

Report: Fished from the shore. The bite was slow. Overcast skies, drop in temperature and a cool breeze set up the stage. The lake was pounded pretty good with a major tournament on the lake that day. Caught two nice keepers at the launch ramp on watermellon tube (carolina rig) and watermellon sinko (fly line)
City: Moreno Valley

Tips: Fish carolina rig with a long leader, watch your line when flylining your sinkos. Good luck and good fishing!
Saturday, November 6th, 2004
Water Temp: 61 to 63 Surfac

Water Clarity: Stained (2-4 foot visibility)

Report: My partner and I fished the first ABA team tournament of 2005 at Perris yesterday. This was my first time fishing this lake. We were 27th out, and went directly to the north side of the island This area must hold fish as there were 10 boaters on this spot as we pulled up. We began to throw worms with no room to work our bait effectively. We did graph a few fish on this spot, and they were all tight lipped. No one was getting bit at this location for the hour we spent there. We proceeded to head to an area by the damn that was full of other boaters. This spot looked to be holding active fish, as a few boats were actually catching some keepers. They were all on the same worm pattern, split shotting very very slowly in a very precise spot. We fished around the outside of all the other boats in the hope of catching some fish that were moving up on this spot or moving out to deeper water. No luck! We then headed to the East Side of the lake when it opened up at 1:00 pm. There was a spot my partner recalled holding fish in the past and it looked to be wide open with no boats on it. We were keeping a close eye on the graph when there it was! Holding allot of fish. We threw out our marker buoy and started to catch active fish. We weeded threw some dinks on this spot but it also produced two keepers to weigh in for points. It was a tough day with no solid pattern and very unstable weather, high pressure with blue skies. At the weigh in, 1st place finisher managed to stick a fat 10+ Lbs kicker along with four other fish to lock up a win. Total winning weight was 18+Lbs, then the field dropped down to 12 Lbs and decreased gradually from there down. We placed 22nd. I look forward to taking on this highly pressured lake. If any other angler's read my post, please try to post your trip the next time you go out to this lake. I could use all the help I can get.

Thanks, Chris...
City: Corona, Ca.

Tips: Don't sit on an unproductive spot for too long. The saying 90% of the fish are in 10% of water held true on this trip to Perris.
Friday, October 8th, 2004
Water Temp: 70+/-

Water Clarity: Stained (2-4 foot visibility)

Report: Rather slow with bass off lot 5-7. Although some friends and I have caught largemouth all the way up to 14-15" dropshotting with 4" plastic worm. I even caught a spotted bass with a crankbait there. I wish they would stock that lake
City: moreno valley
Wednesday, September 29th, 2004
Water Temp: 71.3 Morning -

Water Clarity: Stained (2-4 foot visibility)

Report: We were launched and fishing by 8, and were pinned in the lanch area due to heavy fog. Fished that area for a couple of fish, drop shotting. About 9 the fog lifted and we made our way over to Rock Climbers Cove. Spent the next 3 hours drop shotting 3" plactics in Browns, Salt and Pepper, and Purple. The fish seem to be in water between 15 and 19 feet, with the point holding the best numbers. We ended the day with 14 fish, with nothing over 2 lbs. Nice day and some fun fishing. We'll be back on friday.
City: Westminster
Sunday, August 15th, 2004
Water Temp: warm

Water Clarity: Stained (2-4 foot visibility)

Report: Lake Perris has produced fish consistantly for float tubbers with a little knowledge, all year. We fish virtually any time of the day and usually on Sunday morning till the idiots run us off with their water craft, loud music and general contempt for the rules of the water. Since February 2004 till August we have never been skunked and our fishing count runs from 8-10 fish each on a slow day to 25 to 30 fish in a few hours on the good days. Fish size is not to relavant to us however we C&R from 7" to 20" fish. Our biggest fish so far this year is 9.8 lbs and we usually catch a 2.5 to 3.5 every time we go out. Shakers can be fun too as we catch lots of them.
City: Hemet

Tips: My friends and I Carolina rig either a watermelon, pumpkin or green and red plastic with a short bouncing motion along the road, weed line or in flat open spaces with consistant luck.
Friday, April 30th, 2004
Water Clarity: Stained (2-4 foot visibility)

Report: caught 3 largemouth bass off the dam, the first one was about 1 1/2 lbs, the other one was about 3 and the biggest one of the day was about 6. i was using a 5" yamasenko watermelon color worm texas rigged w/out any weights.
City: Fullerton
Monday, April 12th, 2004
Water Temp: 63

Water Clarity: Stained (2-4 foot visibility)

Report: What a difference a week makes! On the Water at 7am started catching fish at the Launch Ramps. Then headed for the East End Lots and Lots of fish all in the tree line. Got a little tired of that so I headed for the rock piles for several more fish and much nicer size. Wrapped things up at the Island with another handful of fish. In the End I had well over 20 fish mixed bag for size mostly keepers on the trailer by 11am
City: Chino

Tips: Slow presentation Split Shot, 4" Pumpkinseed was the bait of the day. with a few on White and Shad pattern shallow running crank Baits 6 and 8 pound line. Thank God for Loomis Rods!!!!!
Wednesday, March 17th, 2004
Water Temp: 64

Water Clarity: Muddy (0-2 foot visibility)

Report: Fishing was decent, just missed the spawn.New size limit 12 inches, got about 13 fish on 3"purple mist split shotting 2-15 feet. good luck all.
Saturday, March 13th, 2004
Water Temp: 62

Water Clarity: Stained (2-4 foot visibility)

Report: DID A LITTLE ON SHORE FISHING THIS MORNING WEATHER WAS PERFECT AND FISHING WAS GREAT CAUGHT 4 FISH RANGING 2-4LBS OFF THE TOWER POINT.
City: MORENO VALLEY

Tips: USING A VERY SIMPLE SPLIT SHOT RIG WITH 4INCH TEQUILA SUNRISE ROBO WORM.
Tuesday, February 3rd, 2004
Water Temp: 52-54

Water Clarity: Stained (2-4 foot visibility)

Report: Been out to Perris in the last ew weeks. Haven't had much luck here in the winter time. Cold water kicks my butt. However, my club had a tourney a couple o weeks ago and I got teamed up with the new kid in the club(only 17). This kid knows his business because o all the team tournament experience he has. He showed me how to ish cold water and now I have more conidence in it. Caught my ish carolina rigging a watermeon super luke and his on kinami watermelon spider jig on a 3/8oz ootball head. We dragged ish rom 40 eet deep around the island and rock climbers. Draggin slooooow. An old dog can learn new tricks. Water was between 52-54 and ish were caught all in the morning. Mostly 2lber's.
City: Anaheim

Tips: Fish real slow. I was using 14lb lourocarbon with 10# mono leader. Did I orget to mention to ish very slow??
Wednesday, December 3rd, 2003
Water Temp: 65

Water Clarity: Stained (2-4 foot visibility)

Report: very very slow got one 2.5lber within 2 hrs in lot 7.
City: moreno valley

Tips: drop shotting purple robo cut in hal/ very slow retreive.
Saturday, December 7th, 2002
Water Clarity: Stained (2-4 foot visibility)

Report: FISHED A TOURNAMENT AND PERRIS AGAIN PROVED TO BE A REAL HARD. IT WAS A NICE DAY, EAST END CLOSED TILL 1-DUCK HUNTERS, ONLY 8 FISH WERE CAUGHT AND RELEASED, RANGING FROM 7.4 TO 1.6. EVERYTHING EXCEPT THE KITCHEN SINK WAS USED, BIG BASS WAS ON PLASTIC, GRUB, IN ROCK CLIMERS COVE. THEY ARE THERE, BUT GOOD LUCK, YOU NEED IT.
City: RIVERSIDE

Tips: PRAYER MIGHT BE GOOD.
Tuesday, April 9th, 2002
Water Temp: 63

Water Clarity: Clear (4+ foot visibility)

Report: SIGHT FISHING
City: ONTARIO

Tips: HARASSING BEDDING FISH DOESN'T STRESS THEM OUT AND DISRUPTTHEIR SPAWNING ACTIVITIES (SURE).IN FACT GO BACK AND CATCH THAT FISH THE NEXT COUPLE OF DAYS TOO.
Friday, April 5th, 2002
Water Temp: 65

Water Clarity: Clear (4+ foot visibility)

Report: got to the lake at 12:00 p.m. cause the weather was horrible. started ishing with the cloud cover, that soon let way to sunshine at about 3:00 when i caught my second bass o the day. ater this ish was caught i ripped another lip on a bass on the next cast, the bass where just going crazy there where about 10 people around and everyone was slamming bass. bite melowed out about 4:00 - 4:30 p.m.i cant give a exact total on how many bass i caught cause i lost count. IT WAS A BLAST TODAY. :)
City: Moreno Valley

Tips: i was ishing in the marina rom shore with a 4&1/2 weenie in a bun.(plastic worm) get ready all the bass are going to be in ull swing inishing up spawning, so i your going to get out and the weather stays nice then saturaday is a ull moon and the bassin is going to be awesome.
Sunday, March 31st, 2002
Water Temp: 58

Water Clarity: Clear (4+ foot visibility)

Report: Wow! What a dierence a week can make, mixed with an ever changing air pressure! The weather was MUCH better this Sunday, however the ishing was NOT! Everyone I saw out on the lake was (or the most part)looking or nesting ish because that seemed to be the best bite going or the day. Mysel and one other riend scored only two ish, one on the irst cast o the day, which slipped the hook hal way in, and then 21/2 hours later I was able to piss o a nesting bass with a spider jig rigged "drop shot" stlye. That was it, 8:00am to 1:00pm, 2 ish, eghhh!!!! Tough going! The air pressure was jumping up and down all morning, 28.25 down to 28.10 and then anywhere in between! I believe this alone put the bite really o today. Then the other issue is that the bass are on the beds RIGHT NOW and are more interested in making baby bass than chasing anything or ood. Once we get past the "post spawn" phase at this lake the action should pick-up considerably!
City: Los Angeles

Tips: The wind is coming up around noon now and that always makes the ishing on any lake tougher. Like I said nesting ish are oering the best hook-up possibility or right now. This is not my avorite kind o bass ishing, but it seemed this was about the only thing working or a lot o people today. Drop shotting gizits or spider jigs worked or the ew bites we did get! I you do look or the nesting bass, you'll have do it beore the wind comes up. Live crawdads were reported to us as working also, but we did not check into that rumor. The camp grounds were heavy with people this morning and so was the traic on the way home. I you drive out early in the morning, watch out or the very heavy og along the reeway. It was so thick that we drove right by our exit!!! Watch out! Good luck!
Sunday, March 24th, 2002
Water Temp: 58

Water Clarity: Clear (4+ foot visibility)

Report: Well, or a Sunday at this place there was hardly anyone out here today. The weather was a little brisk and anyone who's a basketball an was at home watching their avorite game! That said, the ishing is starting to slowly pick-up here. Three o us hit the bank in two dierent locations with dierent results at each one. The marina area has some nice sized bass swimming around but with the oot/boat traic above them their not biting very well in the colder water. We also hit some rocky areas that we know o and did score some ish a ew at a time with the biggest being 3.5lbs. The weird part was that once we scored a ish in that area, it did'nt produce a ew more. Very odd or this lake. I know the BIGGER ish are out there but i you are a bank isherman your going to need to cast out as ar as possible. Also I did not see any o those very large bluegill around as o yet, but that action should be comimg up very soon now as well.
City: Los Angeles

Tips: As some olks know rom reading my various ish reports I DO ish rom a boat too, but I like the bank action as well. At this lake either way you like to ish, I recommend irst and oremost is lite pound test line. That means dierent things to dierent isherman. For me, the lightest I go is 4lbs test! I tired a airly new stlye set-up or me here. Basically it was a "drop-shot" rig with a #2 spilt shot under a gitzit tube bait on a lite wire hook. In the rocks this outit.....well, ROCKS! When you snag up(which WILL happen about every other cast)in those hideous tackle eaters the split shot simply slides o the bottom leader dropper when you pull back hard and can ish your now no weight outit in nice and slow! Works great! In all the snags I had, I only lost two complete outits all day! Great! Saves $$$$$$$!!! The only draw back is when the wind comes up you will basically have to wait or a "or sure" pull on your line to know a ish has picked up your bait. Tougher, but not impossible. I hooked-up 7 times, got three to shore, one broke o way out there, (you just KNOW that was the big ish o the day, damn!) and the rest popped o beore the hook dug in. My riends did not air as well, but it was just thier luck today. All and all not a bad day early in the regular season! Good luck!
Sunday, February 3rd, 2002
Water Temp: ?

Water Clarity: Clear (4+ foot visibility)

Report: Slow action or bass,best action at the south end.Best bait is light brown colerd worms and jigs.Trout action ?
City: Wildomar,CA

Tips: Jiging worms and jigs are your best bet!
Saturday, January 26th, 2002
Water Temp: 52

Water Clarity: Clear (4+ foot visibility)

Report: Arrived at the lake around 8:30am, headed strait to point # 3. My bud Mike & I ishing jig-n-pig's,spider jigs, 6" texas rigged worms, dropshot 4" plastics & a castaic sot bait till about 10:00(5'to30'). Not a single bite, so we went over to the dam and ished till about noon and we got sick o losing spider jigs and spit shots(5'to40'). headed over to the tire ree, Mike ished a dropshot & I ished a carolina rig or about 30 min. beore my plastic crawdad got slammed but the ish got un-buttened on the way up(35'to42'). Fished or another 30 min. & nothing, decided to try one more spot at the Island using carolina rig's but didnt get a bite(25'to30'). On the way out talked to one o my bud's ishing the marina and he only had 1 bass boated the entire day. Same story at the dock nobody caught a bass. O the water by 2:00pm. Abel
City: SA,CA

Tips: good luck!!!
Sunday, January 13th, 2002
Water Temp: 50

Water Clarity: Clear (4+ foot visibility)

Report: we caught all kinds o great whites.....a ew tuna...oh and a mackrol
City: usa

Tips: dont eat beore going in the water..youll get a stomach ache
Saturday, December 29th, 2001
Water Temp: LOW TO MID 50's

Water Clarity: Clear (4+ foot visibility)

Report: Was hoping to still get in ishing beore cold ront hit but cold ront was pretty much in ull orce on this saturday.Very little ishing pressure about 30 boats and even less on shore.Pretty much ished swim baits all day casting and slow trolling with only one hit on the tail end o the eagle swim bait (these swim baits look damn good in the water and i have no ties to this company).Talked to quite a ew boats on the water and very slow and tough day but heard the day beore was a very exceptional day with quite a ew lunkers and the lake record which i could not conirm was true.It seemed like 80% OF boats were throwing swim baits on this day.
City: ONTARIO CA.

Tips: Try a little something obeat like trolling swimbeats with leadcore or a downrigger in 25 to 40 eet o water across points and around island and east end o lake.Or ish Murphy style and double anchor and ish dads or worms or jigs very slow o o points or on the rockpiles.