Whiskeytown Lake and Reports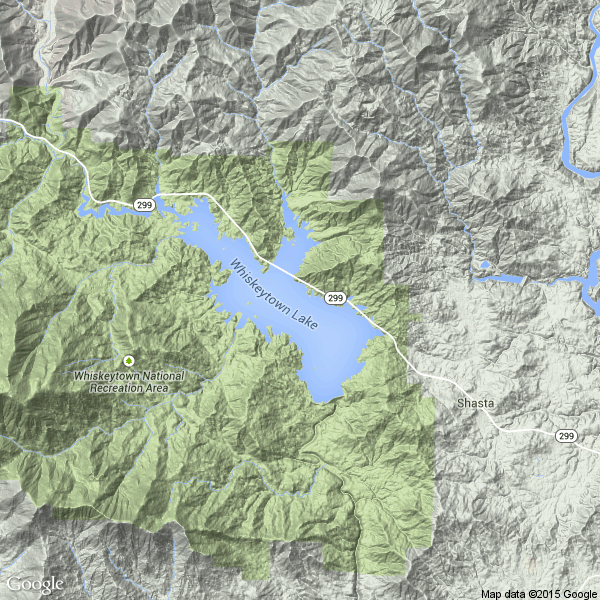 Click for Navionics/Google interactive map
Tuesday, Oct 19


Saturday, July 7th, 2007
Water Temp: 80.3

Water Clarity: Clear (4+ foot visibility)

Report: HOT HOT HOT and every idiot driving boats that should not be driving a boat. As for the fishing we decided to do a little evening and night fishing On the water at 8pm and off at 11:30 Caught a 5 pounder on a carolina rig with 6" roboworm the other fish were from 2 pounds and down My underwater camera showed some monster fish hanging out on the bottom temp 73 in the weeded areas
City: McKinleyville

Tips: SLOW FISHNG
Monday, March 6th, 2006
Water Clarity: Clear (4+ foot visibility)

Report: Finally made it back to this awsome fishery. I Fished the lake on Sunday, eather was nasty, but the fishing was decent. Began the day throwing a firetiger rougue, and a Lv100 series rattle bait. Caught several 2# smallies and one 3.2# spot. Reaction bite seemed to slow around sunrise. I started throwing flukes, and carolina rigged brush hogs in junebug and camo, for the rest of my fish. Biggest fish was a spot and came on the hog and she weighed in right at 4# even. Managed to catch about 11 total for around 14.5lbs., but bite was definetly slower than the last time I came in the beginning of March. However, a local I talked to said that there was a small bass club tourney there on Sat. I would be curious to know how they did and what the winning weight was?
City: yreka

Tips: Fish slow, they were all over the graph, but most came in 15-20ft.
Monday, February 27th, 2006
Water Clarity: Clear (4+ foot visibility)

Report: Fished the lake Sat and Sun, bite was awsome, alot of spots suspended over 30 ft. of water, most fish were hitting the bait on the fall at about the 15-20ft. depth. I started out sat. throwing 4" and 6" swimbaits, various patterns, caught two nice spots one at 4.7 and one at 5.9. after an hour of that I started thowing white tubes, red, and rootbear senkos and watermelon sweet beavers. I boated 12 more spots ranging from 2.5lbs 5.4lbs. Also boated two little smallies, and one 3lb. largemouth. Majority fo the fish came off the senkos, working points down near the dam. Sun I started off with a white spinnerbait, and a rougue. Lots of smaller spots with only one at 5.1lbs. Swithched to dropshot mmIII(roboworm) and darthead 4" senkos in orange and pumpkin, caught alot of smaller fish in the brandy creek area and lost about a 4lb. largemouth in whiskey creek whille fishing back towards ramp. It was an awsome trip and I cant wait to come back. This lake is tough to figure but once you get on a the right structure you can do very well.
City: redding

Tips: watch line as your bait falls and try to keep slight tension in it-fish are suspended and hitting it on the fall. Stay out from the bank in 25-30 ft or water.
Sunday, August 21st, 2005
Water Temp: 77

Water Clarity: Clear (4+ foot visibility)

Report: ON THE WATER AT 7:30 AM. GOT A FEW NIBBLES NEAR 299 AND PUT MY POLE DOWN TO TAKE OFF MY SHIRT AND BASS ALMOST PULLED MY POLE IN. IT WAS ONLY A 12 INCHER BUT FRISKY. I GOT A COUPLE MORE SMALLER FISH AND HEADED BACK AT 11:00 AM. BACK IN TIME FOR 11:30 CHURCH SERVICE. FISH CAUGHT ON BLUE AND OXBLOOD DROPSHOT AT 20-30 FEET.
City: REDDING

Tips: SLOW OR DEADSTICK PRESENTATION.
Sunday, May 1st, 2005
Water Temp: 58

Water Clarity: Clear (4+ foot visibility)

Report: Fished Cottonwood Bass clubs team fishoff, my partner could not make it so I fished alone. Blastoff @0545 ran to Oak Bottom Marina, caught my first anb best fish a 3 # black on a jitterbug, lost a good fish there checked the curtin near by, no fish on it. Ran to Brandy Creek and started to look for bedfish, only caught one appox 2#, flipped the back of several coves with wood for three more and splitshot several small ones on a Yum worm.
Ran to Whiskey creek and culled my three 1.5 fish for three blacks from one down tree. Finished a little over 10# , winner had a nice 6 lb'er for almost 20# all my fish were largelouths
City: Redding

Tips: Bass are on there beds now had too much ripple from wind for good visability
Sunday, March 6th, 2005
Water Temp: 48-53

Water Clarity: Clear (4+ foot visibility)

Report: got to whiskeytown at 700 with just a hint of wind out of the north..with fish breaking the surface, we held out hope for a good day..got to our first spot and threw my 6" trout swimbait across a flat with deep water adjacent..got about three cranks then wham...in come a 4.4 spot that is about ready to burst..after pictures and high fives back in the water she goes..spent the next hour just hitting points with that swimbait for nada..got to a point near the south end and jason asks for the net, up comes a big magnum Whiskeytown spot at 6 lbs!!!! after a few pics back in the water she goes..go farther south and Jason sticks another 6+ in the boat, a spotted bass also..so we are very stoked 3 fish for 16 pounds. That was it for awhile we covered a lot of water but only got two more fish, one at 2 lbs and one at about a pound...off the water at 5
City: redding

Tips: swimbaits early...then dropshot 3" white dropshot baits, tried several different baits but the#34 MF seemed to work best today, other then that just go slow and use good line the bite was very subtle...
Wednesday, January 12th, 2005
Water Clarity: Muddy (0-2 foot visibility)

Report: does anyone fish this lake?
City: redding
Tuesday, September 28th, 2004
Water Temp: 66

Water Clarity: Clear (4+ foot visibility)

Report: Fished 8 AM - NOON. Caught 4 keepers with the largest a 1.8 spot and many dinks. 1/4 oz. darter and Kalin worm did the trick.Pumpkin/green flake was best. A nice day-nobody there. Just trying out a new boat. Water 20' visibility at least.
City: Redding

Tips: Long casts, fish hit on the fall.
Tuesday, September 21st, 2004
Water Temp: 27-80

Water Clarity: Clear (4+ foot visibility)

Report: went out friday evening in my dads old duck boat(bass boats in the shop)launched a brandy creek and went back in the arm, started throwing tiny rapalas and yozuries pin minnow series,the tiny ones in rainbow and tiger stripe patterns. hooked up with the first bass at aroun 6:30 around some sticks, not a bad one for this time of year around 1 1/12 pounds. caught a few more smaller ones before dusk on rapallas. at dusk had a huge blow up in the same area as the first fish i caught, but it snapped the line quickly, i was using 4 pound berkly vanish on a microrod,(fun for little fish) went in at dark.
City: redding

Tips: water is supper clear stay low in the boat and work the topwater slow and around cover.
Wednesday, August 4th, 2004
Water Temp: 70's

Water Clarity: Clear (4+ foot visibility)

Report: Got Eric out this evening to the 3rd pond. Tyler and I were having a biggest two ish tourny I got all my ish on lats, dragging either a 6" MGM oxblood worm, or a Witches T Zipperworm. My two ish weighed 4#9# TYlers two weighed 4#11#. He got his dragging worms too. Eric got a 2#1# large dragging a texas rigged watermellon senko 4"...Nice evening.
City: Redding

Tips: drag worms, as slow as you can stand..drag..pause..drag pause..there are a lot o ish on steep walls, but quality will come o lats with tullies.
Sunday, June 13th, 2004
Water Temp: 65'

Water Clarity: Clear (4+ foot visibility)

Report: Been fishing Wiskeytown lately, as the spawn just wound down. It was really hot a couple weeks ago, having 15-20 lb days for best five fish. Senkos fished wacky, and jigs in 12' did the trick, all over the South end of the lake.
Saw a spawned out 10 pounder, with a six pounder two weeks ago. Couldn't believe how long the 10 was. Wonder how big she was prior to that? Couldn't get them to go, but caught several other site fish.
City: Redding

Tips: Seeing as they decided to fill the lake late this year, the weed line wasn't all the way to the bank. Fishing the edges, in 12'15 feet was the trick!
Sunday, June 6th, 2004
Water Temp: 71-77

Water Clarity: Clear (4+ foot visibility)

Report: Me and Eric had a two day tourny at pond #1..one day in the mornign one day at night..needless to say Eric killed me with over 12 lbs combined I ahd around 9..I ahd big fish which was a bit over 3..caught fish on jigs and worms..earth toned colors seemed to be the ticket on both..the morning bite had us throwing pretty shallow around wood cover..the night bite was tough becasue of a really bad wind, we had to fish deep, and eric got the fish..good job buddy
City: redding

Tips: 1/4-3/8 oz brn jigs....4-6" worms in watermellon, arrons magic red flake, or oxblood
Wednesday, June 2nd, 2004
Water Temp: 69-70

Water Clarity: Clear (4+ foot visibility)

Report: I have been out twice this week(Sunday and wednesday) Sunday I got two keepers at #2..one on a brn jig 3/8 oz with a 5"yama cinnamon twin tail, I got my other fish on a darthead worm 1/8oz arrons magic red flake..Wednesday me and Eric got in at 5 am, fished till 8:45am. got 4 fish combined for 6lbs8oz. 1 fish on a sppok jr(okie shad) with one of my dads tournament feather trailers to match..got other dragging worms arrons magic, oxblood, and watermellon...
City: redding

Tips: that time of year..fish real early or real late..start with top water..spook with feathered trailers to match( get ahold of me and I can have some made)...then drag worms down banks...
Saturday, May 22nd, 2004
Water Temp: --

Water Clarity: Clear (4+ foot visibility)

Report: My Dad and I Launched at 6:00 AM didn't catch a fish until 7:00 we were dragging a 3/4 oz jig in 15-20 feet of water only boated 4 fish all but one were keepers.
City: Redding

Tips: Patients is the key. Good luck!

Water Temp: 66-68

Water Clarity: Clear (4+ foot visibility)

Report: Got to Whiskeytown pond #2 heading west at 6 am, stayed till 10 am..got 6 keepers(2 spots 4 largemouths) 5 caught on splitshotted lizards in either pumpkin, watermellon red flake, or cotton candy. My lone rip fish came on a cahrtruse shad Staycee on the rock wall. fishing was tougher than Friday, took me awhile to get that first one and everyone there after. had 8 lbs even with no big fish all clones...
City: redding

Tips: poppers were good for small fish, but I got all my keepers dragging the small ZOOM lizards down grassy banks...
Friday, May 21st, 2004
Water Temp: 67-68

Water Clarity: Clear (4+ foot visibility)

Report: Went out for three hours before I had to go to work at Phils..got to the second pond at 6:20 am stayed till 915 am..got 7 keepers all on splitshotted 4" zoom Lizards in wither pumpkin or watermellon red flake..I used a 1/16 oz clamp on split shot and 6 lb P-Line Flourocarbon line...Caught a limit for 9 lbs mostly fishing the slower tapering banks..big fish 2 lbs 14 oz..Last weekend it took 18+ to win the Cottonwood bass team tournament..That was Chris Laskowski, big fish was a 6+ spot..
City: redding
Sunday, April 25th, 2004
Water Temp: 59-62

Water Clarity: Clear (4+ foot visibility)

Report: Great day for fishing...Was fishing the Cottonwood bass team top 20 team tournament with Chris Laskowski..Every time I am with this guy I do good..he got me my first 4 plus tournament fish...first limit..first Shasta Limit and now my first 5 plus tourny fish and my first win..Great guy..great fisherman...fished worms all day in different depths...oxblood 4" worms dartheaded were the ticket today but We saw nice fish suspended...We got 20+ second(Bill mcglaughlin/Roy Hunt)3rd place dropped off... Thanks again Chris
City: Redding

Tips: Worms...This lake is full of 4-6 lb fish...you just have to know where to look..
Saturday, April 3rd, 2004
Water Temp: 54

Water Clarity: Clear (4+ foot visibility)

Report: I am not a park ranger.
Real Bass fishermen are sports and don't break the laws!!!
City: Redding

Tips: You have nothing to fear from the Park Rangers as long as you obey the laws (like drinking and boating, drugs and boating and driving, ect).
They are there for you.
Why should you watch out for Rangers if your not breaking the law?
Saturday, March 27th, 2004
Water Temp: 57-61

Water Clarity: Clear (4+ foot visibility)

Report: went out to Whiskeytown for my first tubing trip there in over a month..got in at the second pond heading west on 299 at 11 am..fished till 3:00..got 5 fish at the second pond on a pointer 78 ghost pattern..I think the key was fishing it on really light line(6 Lb)got a limit for 7-8 lbs..with two 2+ spots..noticed some beds that were vacant some fish have already done their thing..best fish came on steep banks..but also got fish on the slower tapering banks..The water is schedueled to come back up around the 15th of april..
City: Redding

Tips: small Lucky craft rip baits..and splitshot too...lots of weeds so its very hard to jig...Go to Phils and we will hook ya up with what ya need...
Sunday, March 14th, 2004
Water Temp: 48

Water Clarity: Stained (2-4 foot visibility)

Report: Fishing was slow for me on Saturday with a few takes on a Deep diving "Fire Tiger" crankbait, working slow.
Other fishermen said that they also had poor luck to no luck, but did well on Friday the day before, they couldn't understand how it could turn on to off overnight.
City: Redding

Tips: Water temp is still cool.
Only one dock at Whiskey Creek is operational.
Believe it or not, the Tube Pullers are already out! Someone get a clue! It may be 82 outside, but the water temp is still 48!!! Hypothermia!!!
Did I feel sorry when those kids fell off the Tubes???