California Delta and Reports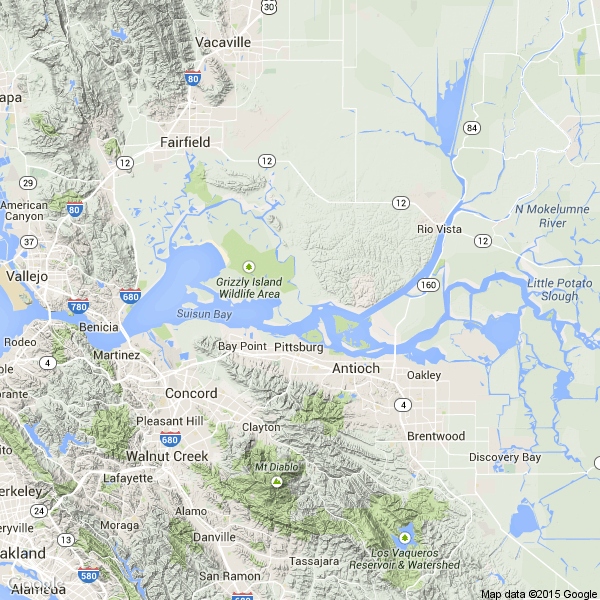 Click for Navionics/Google interactive map
Wednesday, May 27
Date Unknown
Water Temp: 68-73

Water Clarity: Muddy (0-2 foot visibility)

Report: Fished the meat wall out of Ladds with 5a's in crawdad and white on white blades . Had a 5.6 and a 4.12 along with 4 others for 17 #'s
City: folsom

Tips: slow cranking and rolling

Water Clarity: Muddy (0-2 foot visibility)

Report: Went out today in the later afternoon evening...and the bite is still TOUGH. I mean, I couldnt belive how hard I had to work to put together just four decent fish. And what was weird is that they were all caught doing pretty different things. Caught the first in shallow water(1ft) on some rip rap next to REAL sparse weeds, he hit a tube deadsticked for like 10 seconds. Then the other four came on various other types of weeds. two more on a tube and one on MY handpoured zipper.
City: Antioch

Tips: The fish are up TIGHT to the cover with the muddier water. The current is keeping the smaller fish (1-2lbs) handy but the better fish want a slow presentation RIGHT in their face. My tip is to flip small stuff and wrok it REAL SLOOOOWWWWW.

Water Temp: 75

Water Clarity: Stained (2-4 foot visibility)

Report: I went to Middle River near the Rock Dam again this morning. Here is a summary, BUZZBAIT, Flippin, Spinner Bait, Texas Rig Worm. I was flipping an black and blue fluke and texas rigging a june bug 6" magic worm. The blades are basically shad color and almost a clear skirt right on the rip rap. Oh, first cast of the morning with a buzzbait, 2 cranks on the handle, BOOM! 2.5 lb'er, thank you very much. The tide was on the way out. Great fun! Check out the Bass n' Tubes homepage at members.xoom.com/jeff_sxx
City: San Jose CA

Tips: Buzzbait is my latest (isn't it everybodies?) favorite bait. But when buzzin isn't working I am flipping with good success.

Water Clarity: Stained (2-4 foot visibility)

Report: Went out with DanD today. Got out at about 6:15 and headed in at about noon. It wasnt to good of a day but got some fish. In the morning caught small fish off tules on riprap on jigs and a tube. Also a crank fish. Then as the sun got higher and the water got lower fished a weedbed...the outside edge produced two nicer fish...the best of the day...on a blade fished quikly. Then flipped some more fish off tules with weed clumps around. Not all that good of a day but would have had a limit but nothing to speak of. Tried froggin and a spook with no takers.
City: Antioch

Tips: Be careful out there with so many boats on the water.

Water Temp: 76

Water Clarity: Stained (2-4 foot visibility)

Report: Okay, so miracles happen. I went out to Middle River near the rock dam (on both sides of the dam) and I caught a limit plus a couple. The tide was way low in the afternoon when I got there. I was mid way up when I left in the evening. I caught 3 flipping a black and blue fluke and 3 on a buzz bait. Top water is better than flippin any day. Oh, I had one shake off a red and black brush hog too. I did go after fish using a frog and only messed around with other (live) frogs. I sure do like the Delta in the Summer!
City: San Jose

Tips: I got lucky... But buzzing during the early evening close to the weedbeds sure did work well!

Water Temp: 75+

Water Clarity: Muddy (0-2 foot visibility)

Report: Friday fished the break area early...got one 2# fish on a black jig with watermelon twin tail grub. Went to Franks Tract and we got 10 more (dinks to 4 1/2#) flipping plastics (black/red flack) and the black jig/grub. Biggest fish came on the jig. Saturday, worked Taylor Slough...partner and I probably caught 30 fish...better fish ran 2-21/2 pounds. Two fish over 3 but no "big" fish. Caught them on jigs, frogs, and a variety of plastics (Zipper's in several colors and Kick'n Bass ribbon tails in Watermelon).
City: Fair Oaks

Tips: Look for shade and a little deeper (cooler) water nearby.

Water Temp: unknown

Water Clarity: Muddy (0-2 foot visibility)

Report: A buddy and I got a late start at the delta; around 0700hrs. I picked up 19 bass and my buddy hooked 15; believe it or not we only had two dinks a piece. The bite got pretty good for us on low tide. We used some handpoured 6" zippers in an oxblood w/red flake, brown worm w/black flake-chartruece tail, light watermellon 6" lizards w/chartruece tail, and 6" brown lizards w/black flake-chartruece tail. We didn't use anything else because this was working for us. Most of the bites we on the fall. WATCH THAT LINE!!! Since we are pretty new to the delta I dont know exactly what the name of the area we were in. All that I know is that we launched from Ladds marina (#39) and went left toward stockton.~~~sorry guys!
City: Fresno

Tips: Use 1/8 jig heads in the above colors. Skip cast your bait under any overhanging trees/brush. WATCH THAT LINE!!!.......GOOD FISHING TO ALL!

Water Temp: 58-59

Water Clarity: Stained (2-4 foot visibility)

Report: Fished the Viper tourney shootin' for 99th and to have a good time..Man did I!! first day caught 40+fish crankin' speedtrap in bright red craw...first 2 casts..4.9,4.4 not a bad start considering 50llbs was gonna win the tourney..caught nothin' but 3's the rest of day..2nd day cold,wind,rain, shoulda'been shootin' ducks!! crankin'dark craw trap...killed'em again...caught a 7.6 w/ plenty of 3's and one 4..man what a fun day..finished 27th!! I was ecstatic..very proud of my finsih..fished hard and kept thinkin' it paid off..flipped 3 fish w/ bro/grn jig also..
City: Fremont

Tips: Tips: dark colors dark days, bright color bright days, put a crawdad bait in there face at the right pace/ depth you will catch lots of fish this time of year...pay attention to what's going on around you and have fun..flip white/potato slough if you have the chance...