Diamond Valley Lake and Reports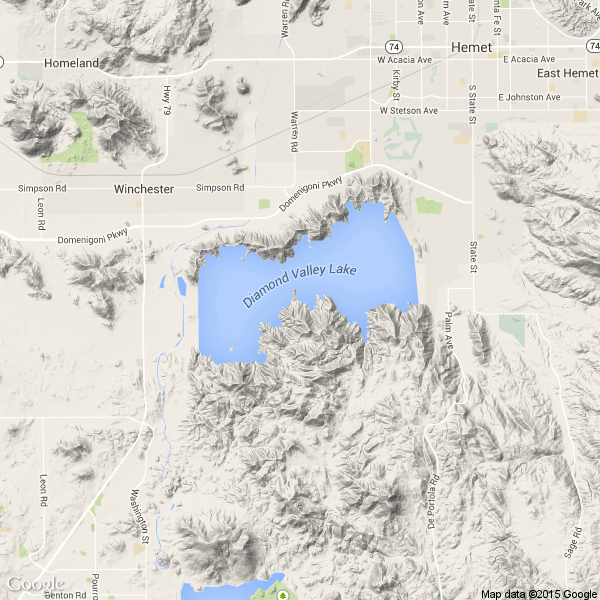 Click for Navionics/Google interactive map
Saturday, Apr 10


Friday, February 19th, 2016
Report: We stocked 1000lbs of Mt.Lassen trout yesturday by the eastdam.
Saturday, February 6th, 2016
Report: We will be stocking before we open Wednesday Feb. 10th with 1000lbs of Mt.Lassen rainbow trout!
Sunday, January 17th, 2016
Report: Here's a recent catch by Ryan Rocha! He caught these striper off shore using slides. Biggest was 13.47 pounds!
#dvl #diamondvalleylake #diamondvalleymarina
Saturday, January 9th, 2016
Report: Se Yang caught this 29lb catfish yesterday using bloodworms near the east dam!
Friday, April 25th, 2014
Water Temp: 72.0

Water Clarity: Stained (2-4 foot visibility)

Report: Pre-Fishing for NBW tourney and throwing crank baits, Well the wind was blowing into the dam so I got the wind to my back and casting as far as I could throw it along the dam and bam; hook up! I am thinking this is a giant as it peel drag and head to deep water, then I am thinking its a catfish or striper. Low and behold I finally get it turned around and its a 15lb carp foul hooked.
So, I continue on and proceed to hook up four more times with them peeling off line and going to deep water before I turn em around and came to realize this is what I came out here for; to hook up and fight a fish.
I was a blast and my best five would have went about 70lbs; lol.

Tips: Go fishing, don't get locked in on bass and fish for what you can get hooked up with. It happened to be carp today and it was a blast.

Cranks running 3-6 feet, long cast with medium retrieve and sharp hooks.

We did catch fifteen bass on plastics and jigs; NuTech Green Pumkin/Brown and Water melon red. Slow off deep points. 15-25 feet.
Sunday, March 16th, 2014
Water Temp: 65

Water Clarity: Clear (4+ foot visibility)

Report: Sunny about 85 degrees and I was thinking the big girls would be up in abundance. They were there but not like I thought they would be. Picked up a few on beds but could not get the big ones to eat. Caught twelve total on jigs in fifteen to twenty five feet off the rocky points. Threw the Nutech 3/8oz in green/purple with a Yamomoto twin tail trailer and fished it slow, pause, slow pause!

Tips: If you want to catch fish stay out in 20-30 feet and fish points slow with jig of drop shot.
Bed fish are starting to move up and should be locked on in next few days.
Tuesday, December 10th, 2013
Water Temp: 59

Water Clarity: Clear (4+ foot visibility)

Report: Fished three days last week and could not find a steady bite, started shallow with swimbaits, jigs and reaction baits with a few fish on jigs up to 3 lbs. Moved out to deeper water and caught a few on drop shot but nothing worth bragging about. I think it should get better after this cold front passes.

Tips: I did get bit on the Nu Tech jigs I was trying out; 1/2oz Brn/black with Yamomoto twin tail trailer got me several fish. Drop shot in 25' got me a few bites also but mostly 1 to 2 lbs.
Had to fish em slow!!!
Saturday, February 23rd, 2013
Water Temp: 59

Water Clarity: Clear (4+ foot visibility)

Report: Fished from 6:30 till mid afternoon and bite was decent. Threw jigs most of the morning with pretty good results, four fish to three pounds on Johnny C's California Resevoir jigs that Matt had turned me onto at Last Chance Bait and Tackle in Hemet. Decided to go try and find a bigger bite so we started throwing swimbaits and we ended up catching two more; one about 4.5 and the other a 9.3; River to Sea S-Wave 6". Best three went 16.79 and would have had about 22 lbs for five.
Jigs on rocky points early and reaction when the wind comes up later in the day.
City: Desert Hot Springs

Tips: Johnny C's California Resevoir Lure jigs in natural colors you can get them at Last Chance Bait and Tackle.
Swim bait is hit and miss, we just hit it right that day but it was our only two swim bait bites in four days of fishing.
Friday, December 9th, 2011
Water Temp: 62

Water Clarity: Clear (4+ foot visibility)

Report: No more green slime!! Bite still a bit tuff though. On the water at 9am, fished until 3pm. Found no swimbait, top water or reaction bite. Caught 12 bass total, best five around 14 pounds. All on DS finesse worms with light line.
City: Menifee

Tips: Fish deep and slow, but keeping checking the shallows for those big girls that sun themselves in the rocks. Then toss the Flickshake or Senko with long casts to catch those bigger spooky bass...
Friday, December 2nd, 2011
Water Temp: 60.8

Water Clarity: Clear (4+ foot visibility)

Report: I only caught one fish today (very tough bite) the one I did catch was worth the pain! Check this 27.6" bad boy out. If I can figure out how to attach a picture I will???
City: Winchester

Tips: Mornign Dawn on a drop shot; casted right up against a rocky ledge & worked it towards the boat. About 10 to 15' out, he hit! The fight was on (5 lb test). Fun, fun!
Tuesday, August 9th, 2011
Water Temp: 78-82

Water Clarity: Clear (4+ foot visibility)

Report: I spent a few days on the water this week and had some good fishing. The fish are doing a few different things like busting shad, bitting on structure and running with stripers. The structure bite in 30' is the most constant, but the fish are small a 4 pounder is a good one. The fish busting shad are better, but finicky they are very keyed into the real stuff.
City: Oceanside

Tips: Fish your topwater baits very slow around the busting fish, they like it right now. The afternoon bite is way better than the morning bite so make sure to stay late the wind is really helping the bite. Fish very slow on your structure spots. Best of luck! If you want to learn even more come out with Bucketmouth Adventures it's an on the water bass class.
Saturday, July 30th, 2011
Water Temp: 78-81

Water Clarity: Clear (4+ foot visibility)

Report: The lake is awesome right now, with several ways to catch them. The fish are busting shad, and there is also a great deep bite. If you find the right point or hump you can really load the boat. I'm not catching giant fish, but lots in the three to four pound range.
City: Hemet

Tips: Fish real slow with worms and jigs in 30 feet, and try a scrounger with a tiny fluke on the busting fish. Look for structure that is less obvious then a main lake point. If you find something good it's possible to catch a bunch of fish off one spot.
Friday, July 22nd, 2011
Water Temp: 75

Water Clarity: Clear (4+ foot visibility)

Report: Just another shameless plug and fish report for/from Diamond Valley Lake.

Today, Saturday July 22, 2011 I went out fishing with fellow Mojo Pro-staffer Brian Day. We caught something close to 20 largemouth bass by 1 PM; but to be honest, neither one of use were actually counting. We were just having a good time.
Nearly all of our fish were keepers and were caught on the drop shot rig with MOJO weights. I would estimate that our best 5 would have easily broken the 16 pound mark but no way the 20 pound mark.
Now the best part was how we ended the day. About 15 minutes before we headed in we had a double hook up of a 2 and a 2.5 pound fish, Brian's was larger. Then, a few minutes later, on my last cast of the day, I caught another nice keeper and while I was stowing my rods Brain also caught a keeper on his last cast. Man, wouldn't it be nice to end every day of fishing like that.
Now for those of you who want pictures... I sorry but I haven't figured out how to post pictures here in the reports but I have three pictures on my blog site.
http://www.SchneiderFishing.com
Besides, if I posted the pics here, how would I get you to visit my site.
Like I said, it's a shameless plug; and while I'm at it, if you've been waiting for a good time to get out and fish DVL, now's the time to go and/or book a trip! Have fun and catch fish!!
City: Temecula
Monday, May 30th, 2011
Water Temp: 67-70

Water Clarity: Clear (4+ foot visibility)

Report: Just a quick report on DVL. I got out on the lake from 9:45 - 4:30. I caught 6 fish, 5 keepers and 1 short. All the fish came drop shotting pink worms on the south side of the lake from 5-25 feet. The senko bite that I had expected did not materialize.

For a complete report with pictures please visit my website at
www.SchneiderFishing.com
City: Hemet
Saturday, May 14th, 2011
Water Temp: 67

Water Clarity: Clear (4+ foot visibility)

Report: The fishing is great lots of numbers with a few 4 and5's on occasion. Wave Tikki Sticks and drop shotted worms are your best bet with a few jig bites mixed in. The fish are everywhere from 3 to 30 feet. Fish slow and be patient the fish are there. The key is the under water trees on main lake and secondary points. Have fun and best of luck!!
City: Hemet
Tuesday, March 29th, 2011
Water Temp: 67

Water Clarity: Clear (4+ foot visibility)

Report: 3 of us stuck 14 bass to just under 5 lbs., dropshotting Morning Dawn and running Traps. My buddy (Neil) who has a knack for big fish, stuck an 11 pound rainbow trout while Flicka Shaking in the marina.
City: Simi Valley, CA
Monday, October 11th, 2010
Water Temp: 72

Water Clarity: Stained (2-4 foot visibility)

Report: Tough day! Caught fifteen total with nothing to brag about, all small fish. We threw everything; top water, drop shot; shallow to 40', cranks, blades and senko's..Just plain tough.
We watched as the middle of the lake blew up with schools of stripers chasing bait fish, it was probably a fifty yard circle that was exploding with fish. Talked to a couple of guys in different boats and they said that bite was slow for them also.
City: Desert Hot Springs

Tips: Get to lake early to beat the traffic, we did not get on the water due to all of the boats ahead of us until close to eight. The gates dont open until 6:45am so that makes it even tougher for the early morning bite.
Wednesday, September 29th, 2010
Water Clarity: Muddy (0-2 foot visibility)

Report: EPIC bass boiling on shad everywhere. Easy limits on small flukes. Lots of stripers to 15 pounds on the spoons or towater. Smallies mixed in. It is sic right now get out there NOW!!!

Tips: Look for the fish flying out of the water all over the lake. Find shad find thousands of bass and stripers.
Monday, August 16th, 2010
Water Temp: 78

Water Clarity: Clear (4+ foot visibility)

Report: Water level on the way to full pool again!! LM bass and stripers are busting on bait all over the lake. Shared my boat with two other DVL vets and targeted stripers. Caught some really nice ones and off the water by 1030am. Several seven - eight pounders, also three over ten pounds, biggest went 14.02 lbs. Great job Kay from Anglers Marine!!
City: Menifee

Tips: Toss your favorite top water and rip baits in the morning on or near the busters and you'll catch stripers and LMB. Toss hair jigs and spoons after the sun comes up and make sure your reel's drag is set. Hold on!!
Friday, March 12th, 2010
Water Temp: 60

Water Clarity: Clear (4+ foot visibility)

Report: Went out with the top guide on the lake Art Hill, had a great day!
After he schooled my friend and I for about two hours, then we finally caught some fish. We fished dropshot and jigs and had a good time. I threw a swimbait and had some big fish follow it to the boat, one ate and I could have stuck her but I decieded to wait till my tourny next week to set the hook.
City: santa Clara

Tips: Wait for the wind to blow....then throw swimbaits.