Diamond Valley Lake and Reports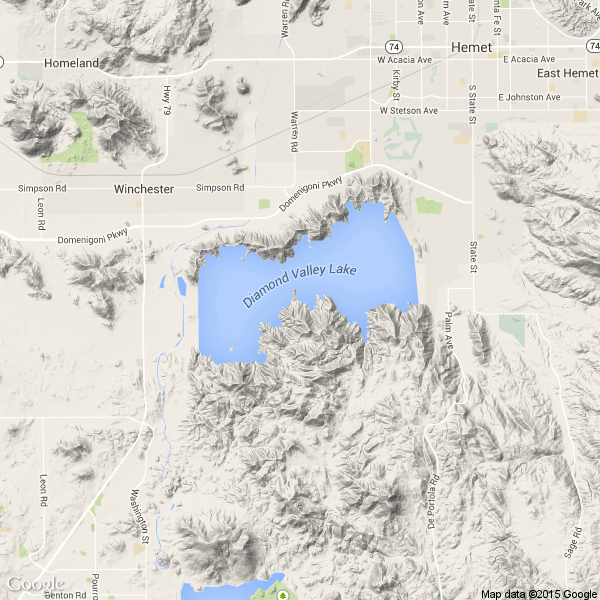 Click for Navionics/Google interactive map
Saturday, Apr 10


Saturday, April 21st, 2007
Water Temp: 61

Water Clarity: Clear (4+ foot visibility)

Report: My partner Brian Pippens and I had a pretty good day for amatures.About 15 keepers best five went for about 18-19 lbs. Lotta room for improvement though.Heaviest three 4-0,4-11,5-09 cruisers and post spawn females.Beautiful day on a beautiful lake!
City: hemet

Tips: Big baits=Big fish! G-R-I-N-D-I-N-G!Know what to throw,where to throw.....WHEN! I LOVE THIS SPORT! THANK GOD FOR BASS FISHING!
Tuesday, March 27th, 2007
Water Temp: 61

Water Clarity: Stained (2-4 foot visibility)

Report: Listen Up!
City: hemet

Tips: THREE SIMPLE RIGS! (1)Carolina Rig( 18" fluorocarbon leader 8lb seaguar, Gamakatsu 4/0 EWG hook "River2Sea" 1/2oz "brown" worm weight "red" bead Spro powerpro swivel 12lb maxima main line! *TWO* killer baits 1)Yamamoto kreature "watermelon w/ red flake" 2)Berkeley 10" powerworm in "junebug". **USE A HEAVY ACTION ROD!** keep it moving in a natural rhythm! (2) Texas rig 10lb fluorocarbon 3/8- 1/2oz river2sea worm weight wtrmelon or green "varies" USE BIG WORMS in water temp above 72degress,below use tubes "Power tubes" watermelon, green pumpkin or "Yamamoto" pitchin tubes! (3) SWIMBAIT RIG! Add a little "BLUE MAGIC"(not available in stores) attractant to the tail! (4) JIG ROD 10lb Fluorocarbon and wtrmln and brn, color jigs! Get offshore and on structure and fish hard! Tune yourself in! Every cast..A FISH SEES YOUR BAIT! BIG FISH LOVE A CHALLEGE....BE PATIENT AND GIVE EM SUM! THEN SHOW YOUR LOVE AND LET EM FIGHT AGAIN! GOOD "SKILL" TO YOU DUDES! I GUARANTEE 80% OF THE FISH YOU "BANG" WILL BE OF TOURNAMENT QUALITY! IF NOT LET US SHOW YOU HOW IT'S DONE AT "BULLY BAITS"....AS WE SAY EVERYTIME WE "BANG" EM........BONUS!!!!!!!!!! 25-45ft of water anybody? GET THERE! BIG SHIRLEY and BO JIMMIE IS A WAITIN FO YA! DON'T BE SCURRRRED!
Tuesday, January 2nd, 2007
Water Clarity: Stained (2-4 foot visibility)

Report: Seventh time at DVL since october, Can't wait till spring....havent cought a thing yet.(bass)
City: Orange Co.

Tips: dont bother with the bass you can see.
Sunday, December 10th, 2006
Water Temp: 58-60

Water Clarity: Clear (4+ foot visibility)

Report: Been waiting for some rain as the lake is very clear. Typical DVL winter bite as a few swimbait fish in the first hour, 6.75 and 6.05. Then a long period of no fish as the sun hit the water. About 12:00 as the water warms go to the long points and c-rig a lizard in 35-60 and scratch the rest of the day. 6 fish total, biggest 5-23 lbs. Water is also dropping fast. Shad very deep, 75' plus.
City: anaheim

Tips: Stay on the outside.
Saturday, November 11th, 2006
Water Temp: 56

Water Clarity: Clear (4+ foot visibility)

Report: SWIMBAITS ARE AWESOME! TOURNAMENT QUALITY FISH 5 FISH= 26.72lbs!
City: HEMET

Tips: DUDES YOU GOTTA TRY THIS!6-18inches ahead of your SWIMBAIT put 2-3 curly tail grubs in white or watermelonseed "NO HOOK!" JUST center the "FLOUROCARBON" ON TO THE GRUBS(couple of inches apart)THE METHOD SIMULATES " A FOOD CHAIN OR SHOULD I SAY THE HUNTER BEING HUNTED! A BRUTE WILL SEIZE THE OPPORTUNITY TO CAPITALIZE ON A"NEW JACK" NOT PAYING ATTENTION TO ITS SURROUNDINGS! DVL BIG BASS DONT JUST SMASH FINGERLINGS AND STOCKERS CAUSE THEY'RE DELICIOUS! BIG BASS VIEW THEM AS TRESPASSERS ESPECIALLY "AT MEAL TIME!A 6-8" TROUT FEEDING ON SHAD IS DISTRACTED LONG ENOUGH TO FALL VICTIM TO PREDATORY VIOLENCE DUDE! BIG BASS STALK THEM AND WAIT....................THEN *&%$@! LIGHTS OUT!
Friday, October 20th, 2006
Water Clarity: Clear (4+ foot visibility)

Report: The day started with my cranking battery having a dead cell, and not getting on the water till about 9a.m., and then I broke the gator mount on my trolling motor, but you know... It was still a gorgeous day on the water, and we caught fish. not like last week, but we probably had a 13 pound limit, which was cool, considering it was a short day, and we tricked most of them on top waters. All in all who could gripe? It was fishing, and not working!
City: desert hot springs

Tips: get a delorean that can go back in time, and travel back to last friday.... you'll kill em!
Friday, October 13th, 2006
Water Clarity: Clear (4+ foot visibility)

Report: killed em!!! Nailed a 3# first cast with a devilhorse, tricked another one 3 cast's later on the same thing. both on a point.
Went across the lake to some flats, and tagged a 5# while backreeling because of the serious wind. he fell for a smoke colored grub. I learned from this happy accident and and went back across the flat again, and nailed another 5, and a couple of 2's, and then one more five in the same exact area.
The wind waskicking my bass, so I went back across the lake to hide out, and found a point with white caps coming acrossed it. I hid back out of the wind and cast the same grub way out into the white caps. instantly I felt a hard thud. It took everything I had to keep the boat off the rocks, and get the fish in. It was a 7 # kicker. My best day yet out there. I guess I have to start saying good things about it now.
City: desert hot springs
Friday, October 6th, 2006
Water Clarity: Clear (4+ foot visibility)

Report: Had a # 14 limit today. Most were fooled by a chrome smithwick along the edge of the stained water in the coves, but we probably caught just as many on watermelon colored plastics. (gitzits, shakeyhead grubs, and senkos)
City: desert hot springs

Tips: throw your stickbaits thru the stickups, then burn em up to it, and stop.... then wait
Sunday, August 6th, 2006
Water Temp: 80

Water Clarity: Stained (2-4 foot visibility)

Report: MY Partner Brian PiPPins and I put together a five fish limit for 15.24lbs. JERKBAITS AND PLASTICS WERE THE TICKET.
City: Escondido

Tips: DO YOUR HOMEWORK!
Sunday, July 30th, 2006
Water Temp: Very warm

Water Clarity: Clear (4+ foot visibility)

Report: Really good bite throwing 6 - 8 inch Roboworms in 35 feet of water. Awesome fishing!
City: Fullerton

Tips: Throw Oxblood Light w. Red Flake
Tuesday, June 27th, 2006
Water Temp: 72

Water Clarity: Clear (4+ foot visibility)

Report: HIT THE WATER AT 6:30 WITH MY DAD BECAUSE OF FATHERS DAY AND EVERYTHING. HAD TO RENT ONE OF THIER BASS BOATS BECAUSE MINE HAS A TWO STROKE. TOOK ABOUT TWO HOURS TO FIND A PATTERN. GET DEEP WITH LARGE PLASTICS WAS THE TRICK FOR US THE REST OF THE DAY. CAROLINA RIG 5" GREEN SALIMADER ALL DAY LONG FOR 8 LMB FROM 1.5lbs TO 3lbs. WHEN WE WERE LEAVING, I BRIEFLY TALKED TO A TOURNAMENT GUY WHO SAID THEY WERE HAVING LUCK IN 5'OF WATER WITH SMALL SWIMBAITS. ANYTHING WITH A SHAD PATTERN. ALL IN ALL,A GREAT DAY WITH THE MAN WHO GOT ME ADDICTED TO FISHNG.
City: ALTA LOMA
Sunday, April 9th, 2006
Water Temp: 59 - 65

Water Clarity: Stained (2-4 foot visibility)

Report: Tough bite. Two weeks ago the bite was killer. LAst week was a little slower but still easy 30 fish days. Then this week it slowed down big time. We caught 12 - 15 fish each day. Lots of smaller fish this weekend. Texas Rig 7 inch Roboworm Oxblood in 5 - 15 feet. Some bigger fish on the bank but hard to catch. Next weeks full moon should really help things. Good luck!
City: Fullerton

Tips: Fish SLOW!!!!!! The bite is very, very subtle.
Saturday, October 29th, 2005
Water Clarity: Clear (4+ foot visibility)

Report: Started out tough, tough, tough! I was finally able to find some biters dropshotting. I got a limit, fish between 2-1/2 and 3-1/2 pounds. Work hard, stick to the 30 foot depth range, and you'll get some to bite.
Sunday, October 23rd, 2005
Water Temp: 68-69

Water Clarity: Clear (4+ foot visibility)

Report: Had an O.K. Day, 2 four pound swimbait fish first thing in the morning fishing proto type bait from Japan.Cloud cover helped with that.
When the sun cam up went to split shotting points and the Eastern dam with 6" Weenie Bass AA worms for 6 more fish between 2-5.5 pounds.
City: Fontana

Tips: Fish slow in 20-30 feet of water for the bigger bites.
Thursday, October 20th, 2005
Water Temp: 67

Water Clarity: Muddy (0-2 foot visibility)

Report: finally had a good day at dissapointment slough.
caught about 2 dozen bass. my second best ever, a 7# and a 4# a couple 2# and the rest 1# and less. plus several shaker stripers throughout the day....then got on a school of stripers at the end of the day! landed about 30 of em but all undersize, but my partner got a 6#.
i'd like to thank burke for helping me out..it was a blast, .............keith
City: sacramento

Tips: i used a white speed trap on the shallow sides of the islands most of the time...slow retrieve and also a white fish trap swimbait.just drag your lures thru the weeds or on the outside and hold on!
Saturday, October 8th, 2005
Water Clarity: Stained (2-4 foot visibility)

Report: Fishing was hit or miss today. the only thing i caught was a little 9 inch bass on a nightcrawler. i saw a few guys come in with some 5lb trout and someone came in who had realesed 6 keeper bass.
City: Hemet

Tips: for bass use small shad imatation baits. you can also use deep diving crankbaits. all you need to do is find a good point and you found good fish.
Saturday, September 10th, 2005
Water Temp: 75

Water Clarity: Stained (2-4 foot visibility)

Report: Pretty good bite overall. Throw C-Rig 7inch Robo (Black Grape). We went through about 25 fish. Best depth was 15 - 25 feet and fish slow. Killer bite for this time of year and the quality is sick!
City: Fullerton

Tips: Watch for busting fish. If you see them busting, land a tailspin on their head within a few seconds and you'll catch some nice fish.
Sunday, August 28th, 2005
Water Temp: 84 degrees

Water Clarity: Clear (4+ foot visibility)

Report: Hot!!! no wind. The morning saw the bass chasing the pin head shad and that was it. The shad are around 25 foot deep and spoons and trolling the new Z-Plug # 400 in the perch and silver shad produced big time. Trout are down 45 -60 foot, Try trolling or drifting a night crawler.
City: Alta Loma Ca.

Tips: Get out early and enjoy a wonderfull morning, as the bass dance to the sun rise.

Tight lines
Friday, July 29th, 2005
Water Clarity: Clear (4+ foot visibility)

Report: it seem like nobody send a report from fishing from shore, Ok I did fish from shore almost one day a week every week with good results.I did catch limits of Largemouth bass 2-5 pounds,using plastic worms riged either texas or carolina rig
City: Winchester,CA

Tips: you has to be early in the morning, and work all the shore until find a good spot, stick to it,cast in every direcction to cover the whole shore.
Saturday, July 16th, 2005
Water Clarity: Stained (2-4 foot visibility)

Report: When we got to dv lake we fished the brush piles, and points with lizards and brush hogs we got hits but nothing big. when we went to the dam we through plastics and silver kastmasters we finaly got one bass that was 3lb's we went back to a cove and found tons of small blugill and caut 4 of those on mealworms and crappie nibbles.
City: Riverside

Tips: Use silver lures by the dam on the staircases it looks like baby shad. also use yellow jigheads tipped with mealworms or crappie nibbles for blugill