Merced Lake and Reports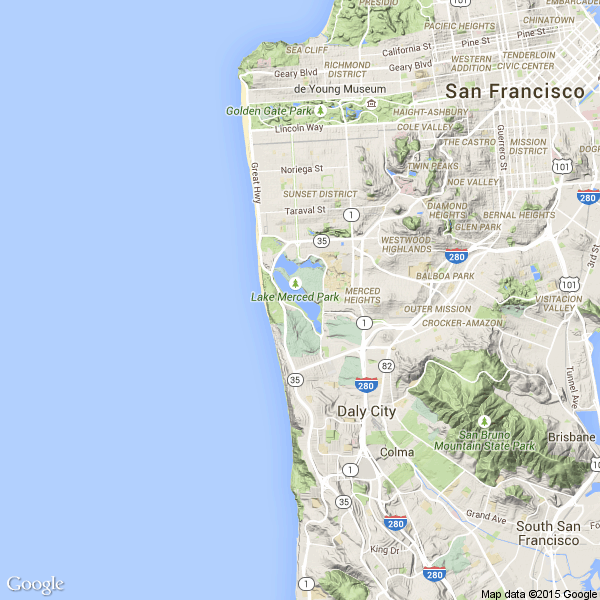 Click for Navionics/Google interactive map
Friday, November 16th, 2001
Water Clarity: Muddy (0-2 foot visibility)

Report: The lake is deinitely as green as I've ever seen it. But, the last two times I've walked by, I've seen a 24' rainbow caught and a 2-3lb large mouth caught. But I still would not take my pontoon out there...
City: San Francisco
Monday, March 26th, 2001
Water Temp: N/A

Water Clarity: Muddy (0-2 foot visibility)

Report: I have no idea why Lake Merced is on the report list. The City o San Francisco and the concessionaire are doing everything in their power to kill this lake and are pretty close to making it reality. Cal Trout has joined in the ight to bring water levels and quality back to what it once was. But until that happens, Lake Merced continues to be an eyesore, ecological disaster and a 5 star carp ishery.
City: San Francisco

Tips: Dough balls and garlic ona pencil bobber will get you a limit o carp.
Saturday, November 11th, 2000
Water Temp: unknown

Water Clarity: Stained (2-4 foot visibility)

Report: Decided to give Lake Merced another try. Got there about8:30 a.m., stayed until about 1:30 p.m. Not many peopleishing--only maybe 10 or so altogether--possibly because o cold weather. Again, it was a waste o time; didn'tcatch anything and didn't see anyone else catch anything.Heard a couple o stories about "six-pound trout" thathad been caught last week, or maybe it was the weekbeore. . . you know how it is; there's always "some guy"who caught some whopper "last week." I don't put much stockin ish stories, especially when all I see is a bunch o people sitting there catching nothing, hour ater hour. Talked to a couple o people who said the lake is poorly and inrequently stocked. Now, THAT I believe!!
City: San Francisco

Tips: Everybody, including me, was using PowerBait, not that itdid any good.
Saturday, August 26th, 2000
Water Temp: Unknown

Water Clarity: Stained (2-4 foot visibility)

Report: Never ished Merced beore; went there Saturday and it was a complete waste o time. About two iteen ishermen scattered along south shore o north lake, looking glum, with nothing to show or their eorts. Saw only one person catching anything; he was ishing or catish with anchovy pieces. He caught two large catish (app. 10 lbs) but one was sick-looking and had maggot-like parasites all over it. Talked to a couple o guys ishing or trout; they said that ishing "isn't nearly as good as it was last year," and blamed this on the person in charge o restocking, who, they said, stocks only 100 ish at a time, which are quickly ished out.As or the south lake, there is no place to ish rom except the one boat pier that is not closed o, and it is so beouled with bird dung that the stench is overwhelming. Indeed, the whole area around the boat docks reeks, and the water itsel looks stagnant and oul.
City: San Francisco

Tips: None, except that anchovy chunks seem to work or the catish.
Friday, March 31st, 2000
Water Temp: Cold

Water Clarity: Stained (2-4 foot visibility)

Report: I walked the south shore o the north lake on Wednesday and happened upon a man pulling a very nice 18" to 21" rainbow that was well ed. It seems the recent two weeks o warm weather have helped the bite. He caught it on powerbait, I'm not sure what color. I do have to say it was a beautiul trout. Big solid spaced out spots like a Brown. I plan to go to Berryesa tomorrow and see i the spawn has started. We hit record temps today all around the Bay. Check or my report on Berryesa.
City: SF

Tips: For those o you using 2 lb test or a leader, you may want to use heavier line or ish in the North Lake.
Wednesday, March 29th, 2000
Water Temp: ? TOO COLD

Water Clarity: Stained (2-4 foot visibility)

Report: The ishing today was exellent! I got a 6 lb. bass along the tooles, and got a 3-4 lb. trout by the gol course. I got the bass on a rapala deep diver, and the trout on a rooster tail.
City: Paciica

Tips: Take a boat out near the tooles, and try chumming or a while
Tuesday, February 1st, 2000
Water Clarity: Stained (2-4 foot visibility)

Report: Boat house tackle attendant says the lakes were stocked on Jan 21. The north lake recieved 1000 lbs o rainbow trout in weight up to 2 lbs. The rains have kept the bite to a minimal but with the recent plants the bite should be good when water clearity improves. Didn't ask about the south but with spring coming it may be worth your while to try or bass o the shore o the south lake by the impound. Lake Merced isn't known or bass but that just means they aren't lure shy. I've seen largemouth bass weighing up to 5 lbs taken with worms and tube jigs.
City: San Francisco

Tips: Basic trout setup is a size 14 treble hook on a 1' to 2' leader. Tie to a swivel and the other side to the main line but add a 1/2 oz egg sinker using the swivel to stop the sinker rom sliding to ar.
Friday, June 18th, 1999
Water Temp: 65

Water Clarity: Clear (4+ foot visibility)

Report: This is a test o the automatic report cgi
City: San Jose

Tips: lets hope it worksFishing Reports or Lake Merced
Monday, February 15th, 1999
Water Temp: 54

Water Clarity: Stained (2-4 foot visibility)

Report: Recent rains have put the ish o the bite. No recent stocks lately and people have been hammering the lake. Best bets seem to be behind the bridge since reports o limits there are being heard o. Some sun and stocks should improve the ishing.
City: Montara

Tips: Use green or rainbow power bait on a Lyons Leader. Cast one rod as ar out as possible and cast one about 20-30 eet out. They bite when you least expect them too so keep a note on your rod constantly.Be sure to buy your permit.
Monday, January 18th, 1999
Water Temp: n/a

Water Clarity: Muddy (0-2 foot visibility)

Report: Seems like the ish have gone towards the center o the lake. the best way to ish it right now would be to take a boat out. the water is muddy because o the rains.
City: montara

Tips: green or rainbow power bait.
Date Unknown
Water Temp: 60

Water Clarity: Muddy (0-2 foot visibility)

Report: i am the king of this lake...i catch atleast one every time i come...but u have to no how to fish this lake....and sometimes that one bite from this lake can be a fish of a lifetime
City: ssf

Water Clarity: Muddy (0-2 foot visibility)

Report: Too bad salTIE. maybe better luck w/ the water warming up. tight lines.

Water Clarity: Muddy (0-2 foot visibility)

Report: nice!

Water Clarity: Muddy (0-2 foot visibility)

Report: Ya i ws in the tube and i got 2 10lbers on nightcrawler!
City: SF

Water Clarity: Muddy (0-2 foot visibility)

Report: LOL, Feels good dont it? I mean you, try, try and try and finally get em. Thats merced!

Water Clarity: Muddy (0-2 foot visibility)

Report: Very Nice fish Rusty!
City: SF

Water Clarity: Muddy (0-2 foot visibility)

Report: 10 fish in two days????? Let's see some proof!
City: SF

Water Clarity: Muddy (0-2 foot visibility)

Report: Sorry about the prior post. Once I got started I could not figure out how to attach the photo's I have of my Lake Merced (LM) Large Mouth trophy's.
City: SF

Water Clarity: Stained (2-4 foot visibility)

Report: Here's some Lake Merced Bass
City: SF

Water Clarity: Muddy (0-2 foot visibility)

Report: there seem to be more large mouth in the south lake then any other at merced. there hard to catch but they are there i have landed a 12.5 out of the the south lake last year keep trying and your efforts will be rewarded!
City: pacifica

Tips: the bass are tucked deep into the tules pitch a t rigged worm in as deep as you can and you will get them. ><{{}})*>